Missionary Boys – Free Gay Porn Videos from MissionaryBoys
Missionary Boys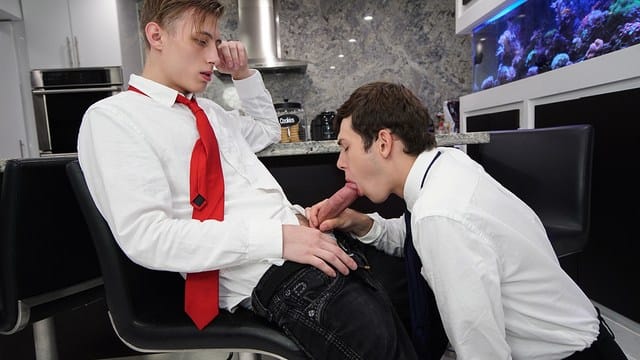 The Missionary Boys are here and they are hornier than ever. It's really hard for them to keep their dicks in their pants. They are surrounded by hot missionaries all day long and their elder are very accepting of their experimenting. Especially when than experimenting happens with one of them. But this time we have two boys trying their best to please one another and their dicks and they aren't stopping until they get their faces covered with jizz.
The Bishop's Visit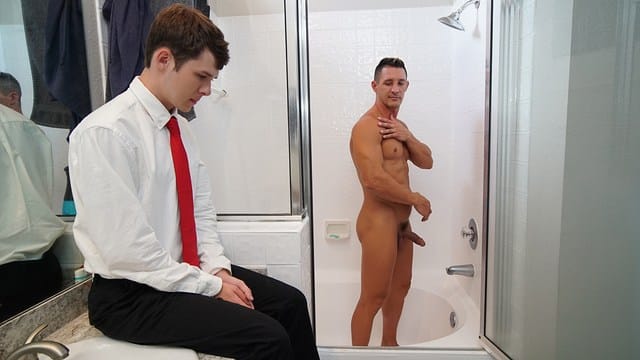 This young man got a surprise visit from his bishop, just to make sure he is a good boy and he isn't up to anything unholy. That was the first part of the plan but the sneaky bishop had other things in mind too. He took the poor guy in the bathroom with him and made him watch while he showered, safe to say that the boy good a cleaning too. The bishop likes all his boys to be nice and clean and properly fucked.
Gay Missionary Fucking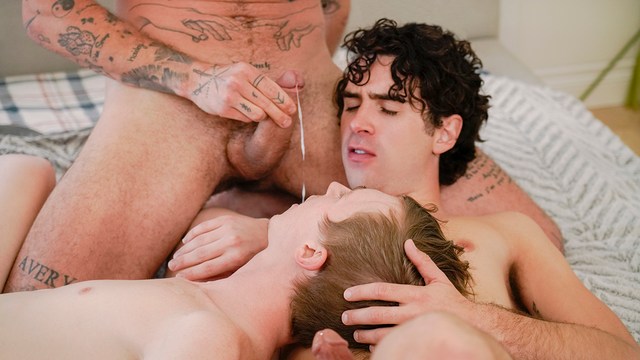 You've been asking for some gay missionary fucking and we delivered and over delivered, because in this scene we have a threesome for you. Don't worry there is missionary fucking too somewhere in there. The boys got to play around with one of their elders over the weekend. They were to only two in the dorms so they had some fun together…getting to know one another better and especially those holes. None of the two horny missionary boys left until they got a proper facial!
Sinning With My Roommate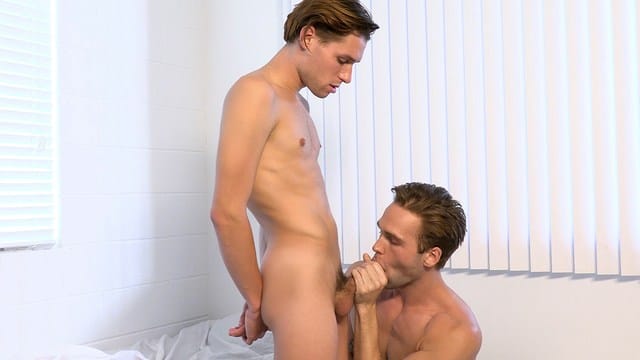 There is a lot of sinning happening around here as you noticed by now. You might expect just the elders convincing the younger guys to sin, but no. This time the two horny boys got things started by themselves without anyone knowing. There is so much fucking going around and that's hard to resist to. One of the guys caught his roommate jerking off under the sheets and decided to give him a hand…and then his mouth. He's such a good boy helping out someone in need!
Missionary Boys Blowjob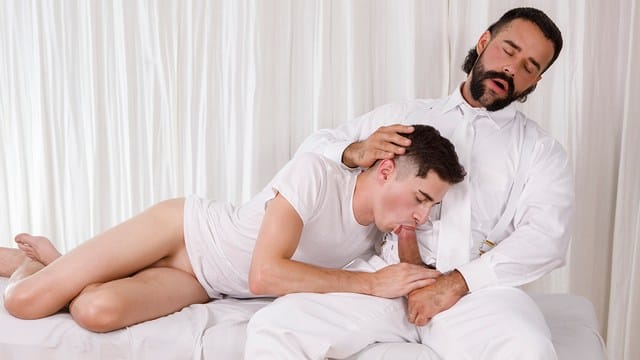 Ok, back to our usual schedule with a proper missionary boys blowjob. Earlier we had two roommates fucking, now we have an elder teaching this youngster they ways of a proper blowjob. He was such a good boy, listening and doing his best to please his elder. Look at him taking that massive dick in his eager mouth and sucking it clean…and he is a hard worker..he didn't stop until he got his mouth filled with cum! No worries his ass was next on the list and the bishop took really good care of it!
New Experience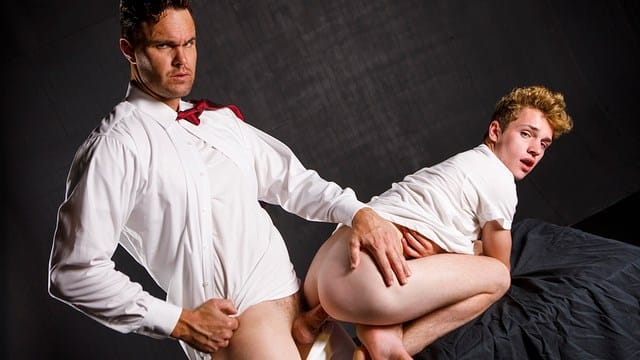 This missionary boy got to experience something new the other day. He is new around here and didn't got his 'talk' with the bishop yet. He's hear from the guys about it but he didn't really know what to expect. The cute blond twink got invited to his office after hours and got to know each other inside and out. Once he saw that cute little face of his, the bishop knew he wasn't getting our of that room unfucked and he is a man of his word!
Missionary Boyz – Shower Buddies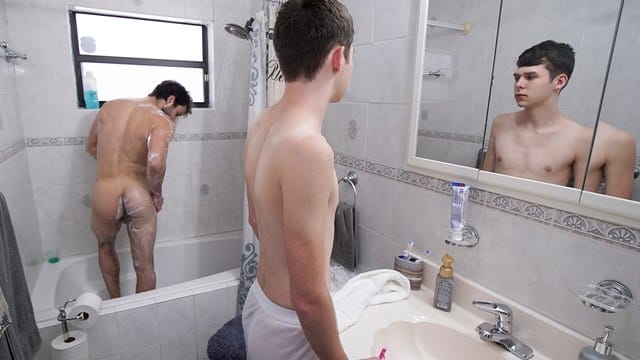 The missionary boyz are having a really hard time keeping their hands of each other. It already happen in the previous scene and now here we go again. Spending so much time with someone in a confined space can be tricky especially when both of you are into guys. Sharing the same bathroom and shower makes it almost impossible to keep away from one another's dick. This is also the case with our two horny guys. One of them was in the shower while the other was trying really hard to brush his teeth and not focus on his roommate's dick and ass. It's an impossible task…
MissionaryBoys Obedient Ordination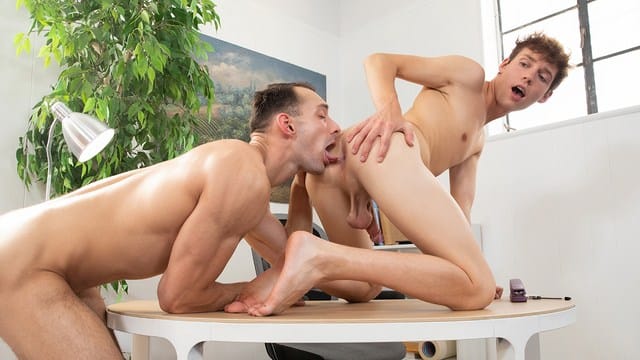 The elders like their enigmaticboys to be cute and obedient, listening to every order and doing everything they want. While the missionaryboys fuck one another during the night, during the day they had to please their elder if they wanna stay on their good side. This missionary boy was called in his bishop's office for a special consultation. The bishop was horny and needed an ass to eat out and stretch out. Done and done! The twink is on the desk butt naked ready to get his hole pounded and filled!
Supervising His Sin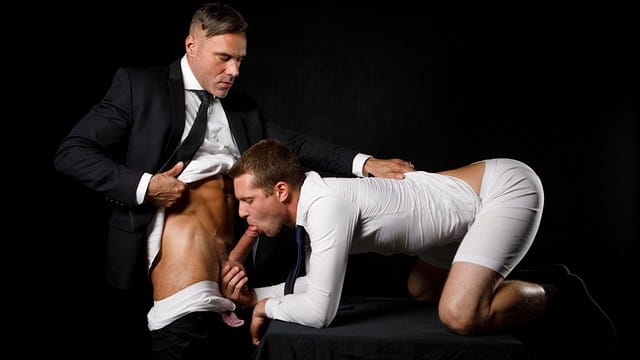 Supervising can be such a boring task but everyone has to do it. During the night things can get out of hand with so many horny guys. So there's always an elder walking the hallways making sure everything is in order. The other night while taking his walk he saw this twink getting out of his room to go and see his boyfriend…big mistake…because the bishop was bored and really horny. So instead of him sucking off his boyfriend's dick he got to suck the bishop's dick. You know that's just the warm up to get that dick nice and hard for that cute ass!
Missionary Boys Gay Sex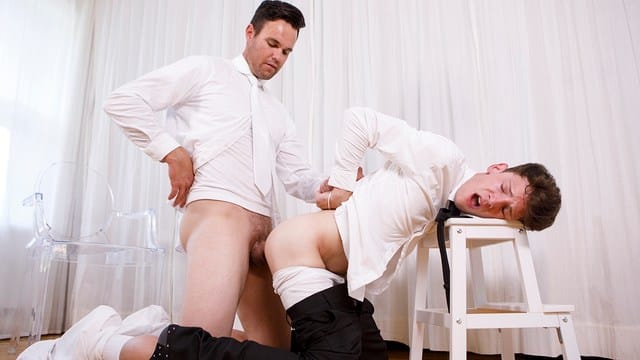 Nothing beats a nice missionary boys gay sex scene and we have another great one for you. We keep talking about obedient boys, well now we get to see what happens when you weren't so obedient and the bishop catches you doing something you shouldn't be doing, like sneaking around after hours. You get a very 'intense' talk with him in his office and what that means is that you are getting roughly fucked either you like it or not!