BreederFuckers – Free Gay Sex Videos and Pics
If it's a noisy, passionate and painful spank, we all wanna enjoy it! Sam's day is off to a bumpy start as he gets dragged out of bed and right into Jeff's heavy hands slapping his tight buns. He gets the boy over his knees and delivers the much needed punishment bare handed, then proceeds to stern paddling his round butt cheeks over his tighty whities with highly effective results. Not a lot of time is wasted on this treatment causing the young guy to finch, as our punisher bares his bubble butt and uses a leather belt on those firm muscular buttocks, turning them into a bright shade of red. All this time Sam grits his teeth and fights to carry on through the pain, but the story has a softer side for the young hardbritlad as he gets to redeem himself with his cock blowing skills, taking a thick hard tool deep in his mouth, and working on it until he gets his treat!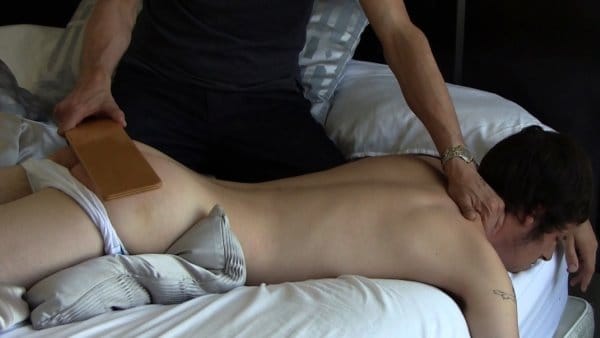 In our latest BreederFuckers porn update we have naughty boy Marco getting in trouble after a car incident in the garage and his lack of insurance. Angry Jeff wants his his ass on the line in exchange, and maybe he'll just get away with it. Since the damage to his car isn't gonna pay itself, he wants to teach him a lesson, he bends him over his vehicle's hood and smacks his tight rear end with his bare hands over his jeans. He's obviously not satisfied with it, as he could barely hear any response or sign of pain, so he gets our dark haired youngster all tied up and ready for the rough stuff.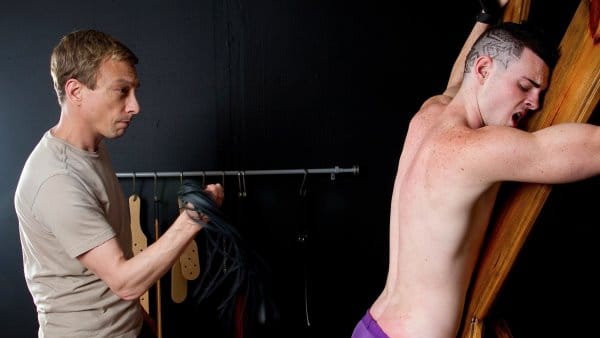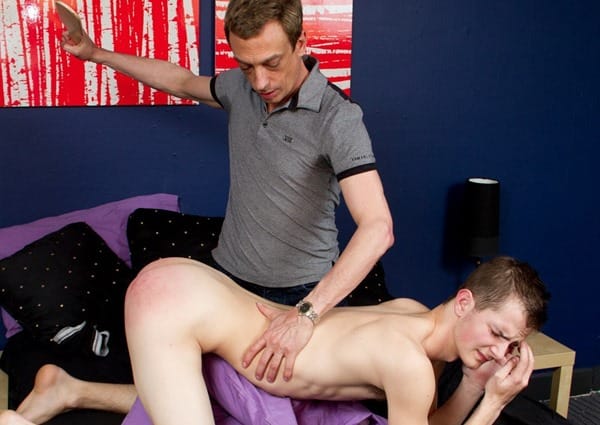 As the camera starts to roll we have him entering the bedroom pulling back the covers and before our twink realizes what's happening he's getting spanked by Stern's strong bare hands, and then a wooden paddle, before pulling off his boxer briefs, exposing his pert buttocks. His next move is all about smacking them good with his leather belt, bouncing his buns with every strike he makes, as that red ass is starting to veer into purplish territory. By now the boy is wincing in pain, but willing to endure the agony and humiliation, submitting to a man he considers his master. The confidence and desire to inflict pain is astounding and our ass handler decides to stop only after the boy promised to watch his language in the future. Maybe we will see them in one of boyzparty' s updates!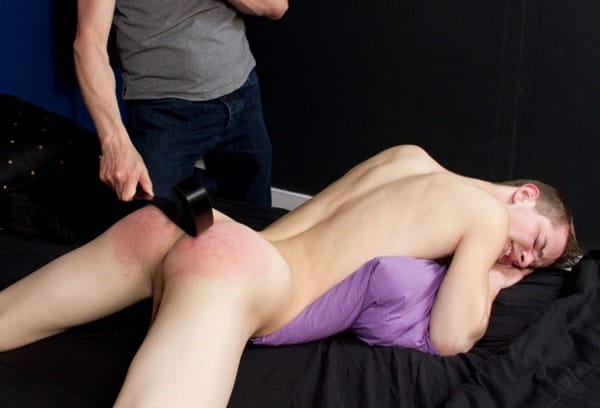 He's got him backed against the dirty shelves, grabbing his muscular arse through his pants, giving him a good sample of what's coming. The guy has developed a real taste for physical punishment as a way to handle bad boys under his employment, and he doesn't hesitate applying corporal pain to those who really deserve it. Most young boys would try to get away but this one is helpless like a little puppy and apparently willing to receive a relentless bare hand spanking.His boss friend is yanking down his underpants exposing his perfectly shaved derriere and proceeds to slap mastering his smooth bum, until it gets all flushed in pain. A thousand times ouch! Enjoy! Different fetish? Check boys pissing!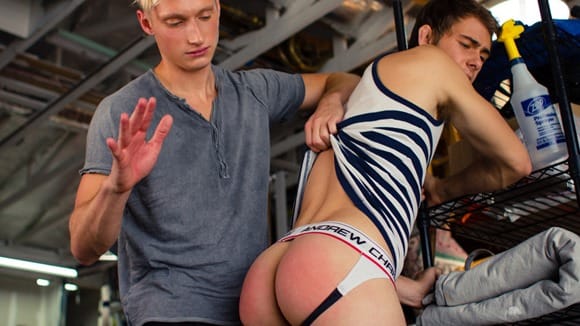 These next two young boys sharing a room get into a fight over their clean up schedule, and it all ends up in hot pain smacking. It was supposed to be blondie boy's week, but he showed no intention to take his chores seriously and the only thing his roommate can do is give him a proper disciplining BreederFuckers session and just maybe he'll learn his lesson. The impossibly fresh faced twink, gets his friend's real taste for the nasty treatment, bent over their desk, pants down, full arse on display, the complete package. He knows he's in real trouble as he just begs for mercy and offers his bum for some rough treatment, hoping he'll cut him some slack. If you are looking for more, check boyfun, has something for every taste!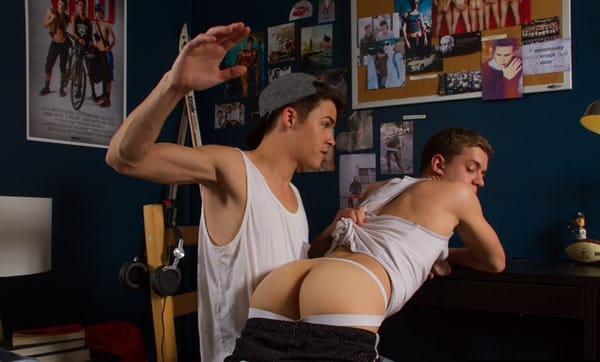 I think I'm speaking for everyone when I say that all these BreederFuckers videos just make you wanna head out and find a hot bad boy to take over your knees. Well Mr. Stern gets to do this quite a lot, where does he find all these naughty lads, it's only for him to know and for us to wonder. Today he caught disobedient Christian watching real inappropriate content on his computer, despite the fact he knows the rules. So he gets our guy on the bed, with his cheeky bottom arched up, pulls his leather belt off and proceeds to an old fashion ass whipping. I am heading to breedmeraw to watch more gay action, if you are interested….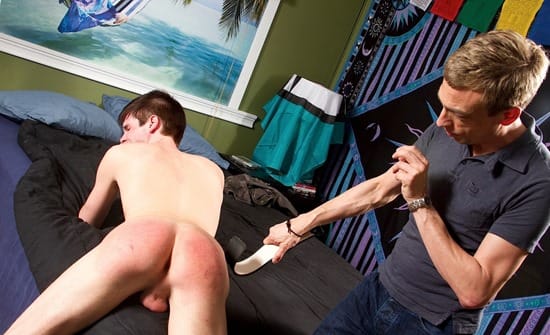 Once they are there, he tells him to take his clothes off after some light strokes with his jeans on, and bend over with his hands on the shelves. He pulls out a thick paddle that just happened to be in reach, and delivers a thorough and much needed lesson, with his sharp smacking blows over his baby smooth rump. The twink doesn't twist or thrash around, showing no intention to escape his torturing punishment and he gets his ass lashed firmly until it's candy red and throbbing with pain. The boss sure works a good sweat on it, and that slick flushed toosh gets his dick growing harder, but the desire to cause agony gets the best of him, right back to swinging his wooden piece against the tender flesh.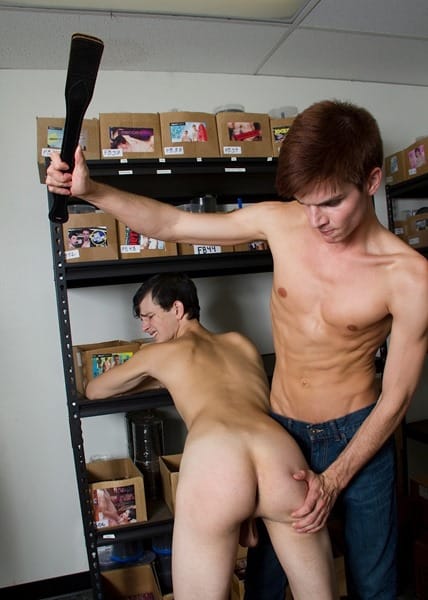 After a terrible BreederFuckers game performance, young Luke has to face some retaliation from his coach and buddy, and you can bet the guy's angry as hell. We all know by now that discipline and punishment go hand in hand, and it's pretty easy to guess what's coming up next on our kid's plate. He must improve and learn his lesson the most painful way possible, so after some serious lecturing about it we get ready for action. After tossing the boy on his bed he pulls down his pants, exposing his plush bouncy backside. It's fucking delightful!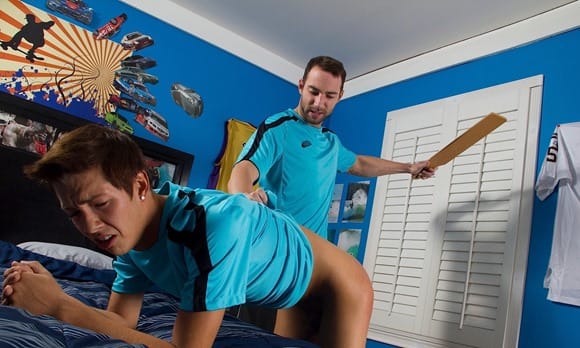 He also loves to role-play the mean master who is going to punish his submissive slave, from time to time and this kid is today's sexy victim. His clothes are all gone and his milky soft bod exposed to Evan's naughty ways and you can tell by the cheeky and dominating look on his face that he's gonna take full advantage of it. It takes a little time for him to really decide which of his nasty toys to take out for play on his prey's baby fresh booty. Well his red whip wins by a long shot and goes on flogging his firm behind, and much to his surprise the young boy kinda likes it. Not the helpless little puppy he was hoping for, but he'll have to make do. All might change as he's going harder at it, until his cheeks are all red and fiery hot and thrilling pain takes over. Enjoy these BreederFuckers!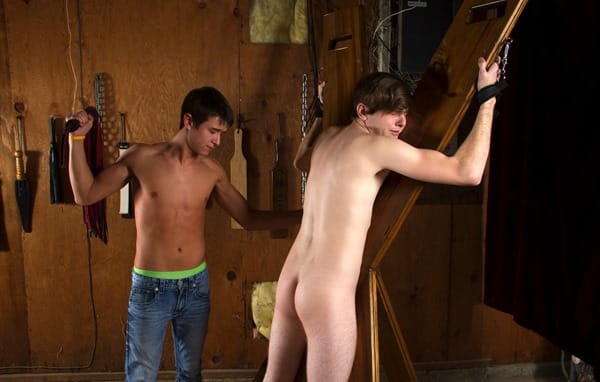 His partner in sexy crime strokes him sternly all bare handed, over his boxing briefs and he's just loving it. It's time for his undies to go way so we get a nice and up close view of his enticing round ass getting master slapped.Who could resist to the sight of that perfectly round butt, and no be up for really cracking the leather palette hard against his flesh? Not this guy's lover, as he's delivering the twink's punishment without hesitation and genuinely getting off on it, as the flesh gets all rosy just radiating steaming heat. Have great fun, guys and don't forget to check out our future updates!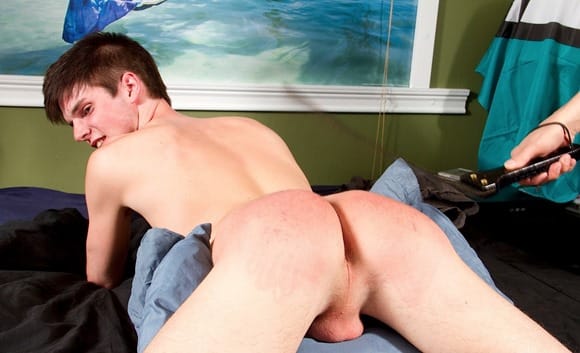 This new and fresh BreederFuckers has a new and hot show featuring two gay guys going at it nice and hard and you just have to see them enjoying the whole thing too this fine day. As you can see, it just so happens to be a nice interracial fuck as well, and this fine chocolate stud gets to use that black cock of his to make this white guy moan in pleasure all throughout the whole action scene here. So yeah, just take the time to see another simply stunning and Next Door Raw gay interracial fuck going down here today with these two and we can guarantee that you will not regret it one bit if you take the time to check this one out.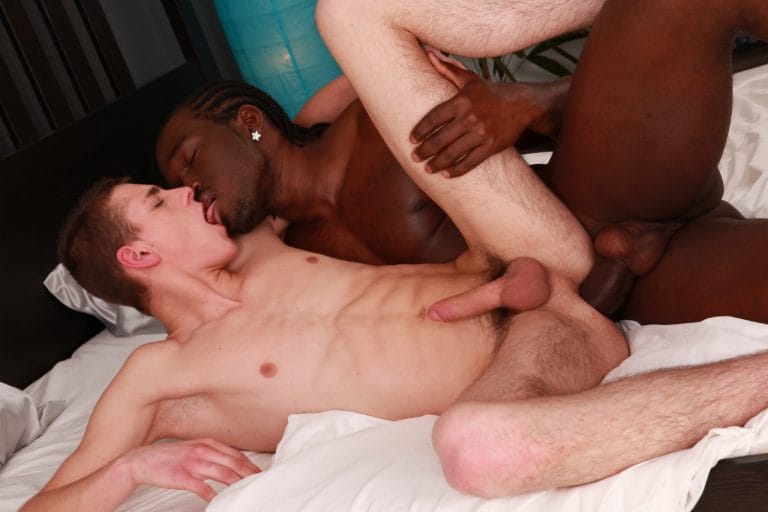 Right from the preview you know that you'll be in for a good time with this one as you will get to see a nice and juicy interracial action scene with the guys getting to play naughty and nasty with each other. The pair was superbly eager to get down and dirty and fuck this afternoon and you can rest assured that you get to see each and every single image in their naughty gallery here this fine day. So let's get right into the action with this one and check out the interracial couple fucking kinky today and hard!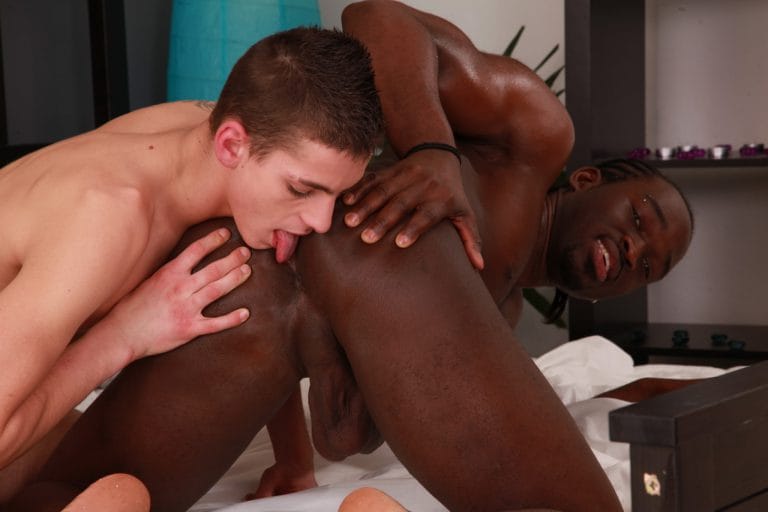 Bent over the sink with his dick still stiff, and creamy smooth rump all bare and jiggling in such a sexy way when it gets a hard bare hand smack from his angry friend. He's not giving his punisher the satisfaction of seeing him regret a single thing, he's rather enjoying it all, and his tool is erect like a flagpole that stands proudly outside the house. The kid is hornier than before but with more flushed color on his buttocks, and it's pretty obvious where this is all going. Shoving his thick shaft deep in our redhead's tight butthole, is a more rewarding end to the ordeal, as they are now both late but got to cum!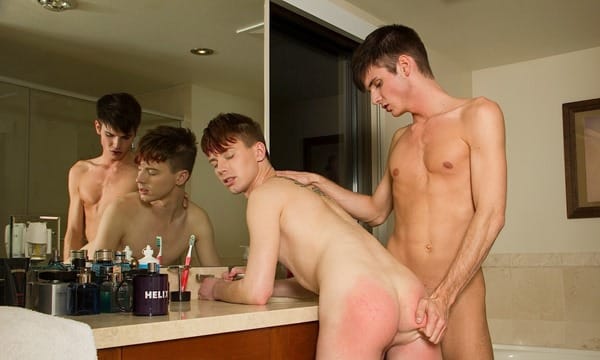 You know that this site is the one and only best place to come and check out when you want to see some cute and sexy twinks getting down and dirty with one another and for this one there's quite the pair here to see. The two guys go for one another's dicks as soon as the show begins and you just need to see them sucking one another's dicks to make sure that they are both rock hard. Then they get to take turns to fuck each other in the ass for the rest of the show and it all ends with them blowing their loads over each other. Simply amazing. Well, have fun with this new show. Also check out the past updates for more too!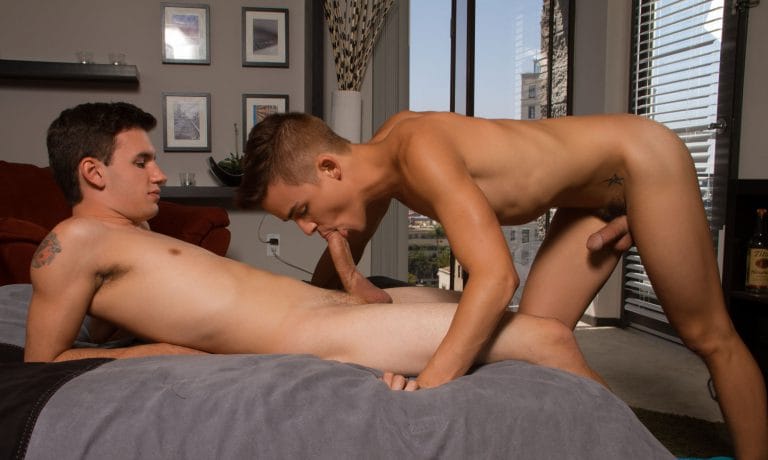 You waited and you get a reward, a new BreederFuckers scene. You know that we have the best of the best ass punishing content as we always know what you love to see and bring it straight to your screens. But on top of just naughty butts getting spanked, you can also see some juicy gay action from time to time as well, and this happens to be one of those kinky occasions. You will get to see this guy getting to have his sexy ass spanked in this BreederFuckers scene, but on top of that, he also gets to have a nice ass pounding from a big cock. So let's watch him bend over and take everything he gets shall we?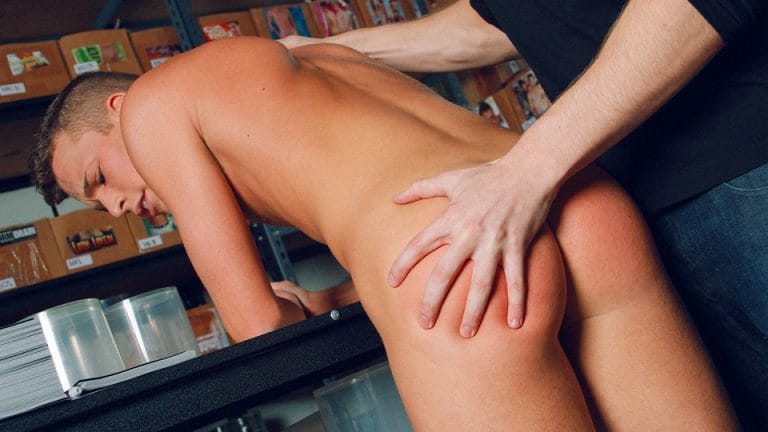 Well well well, here we are once more and we have a fresh and new BreederFuckers scene that's quite kinky too. Once more we have two guys that you got to see here before in the past and you can bet that both of them are very very good at being a cock tease and on top of that showing off their glorious and sexy bodies too. They get to have some truly unforgettable fun with one another and like the title says one of them is quite too eager for all this to go down too. Either way it makes for some great action in this spanking scene and you just need to watch it go down without delay. So yeah, let's get it started and see the guys at play shall we?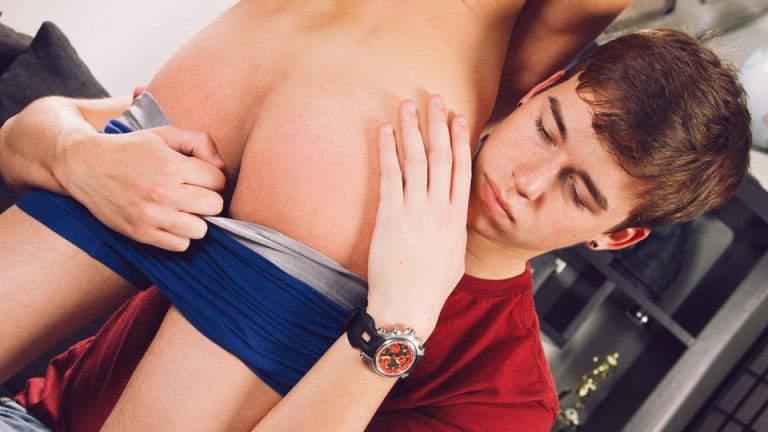 Of course, first order of business is showing off and that there butt is one amazing showpiece of course. See those masterful hands show off that cute ass as they fondle it and spread it nicely before anything. Soon enough they get to do the spanking as the guy moans in pleasure and it's quite superb to see too. The guy getting the spanking naturally moans in pleasure throughout the whole thing and you can see it all only here. We hope that you had fun and we'll be returning soon with another new and fresh show for you as well. All you need to do, is just like always, come and drop by to say hi and enjoy the view and the new content!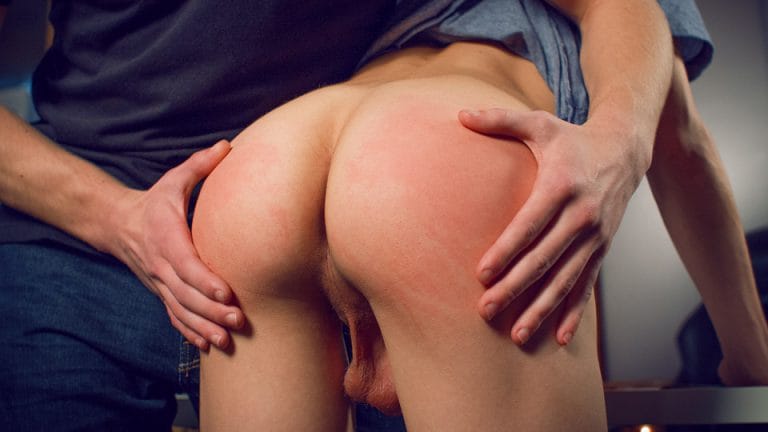 Another gay couple in this new BreederFuckers scene having some nasty fun. The whole thing with this one seems to be that this guy in the black cardigan got into some trouble and his boyfriend needs to punish him with a good and hard spanking this afternoon. See, he kind of borrowed his bf's car and he managed to bang it up a bit on his way back from downtown. He's very sheepish about it but his man still needs to punish him in some way as he's not about to make him pay fully to fix the car now. So yeah, see those pants dropped and that guy moaning as he gets his ass spanked as punishment for today!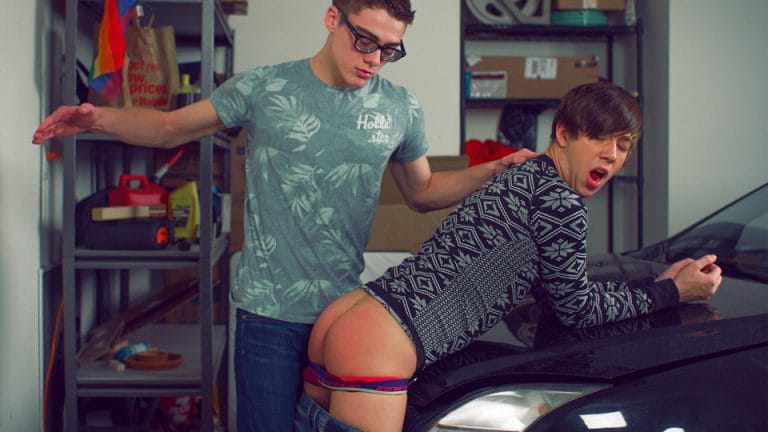 Our Favorite Gay Videos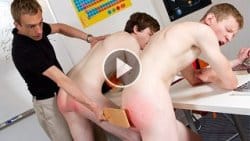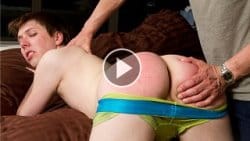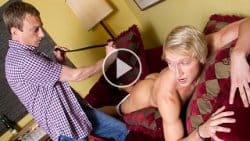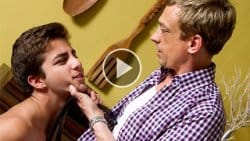 Our Favorite BreederFuckers