Kristen Bjorn – Free Gay Porn Videos from KristenBjorn.com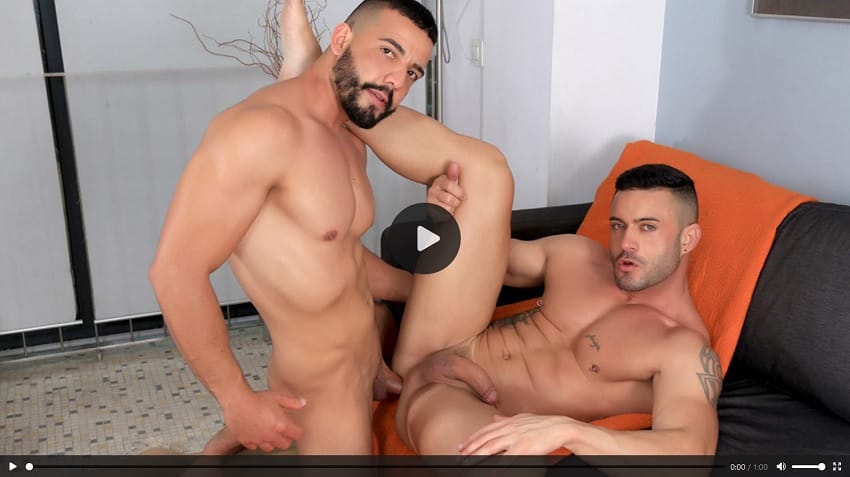 Kristen Bjorn Porn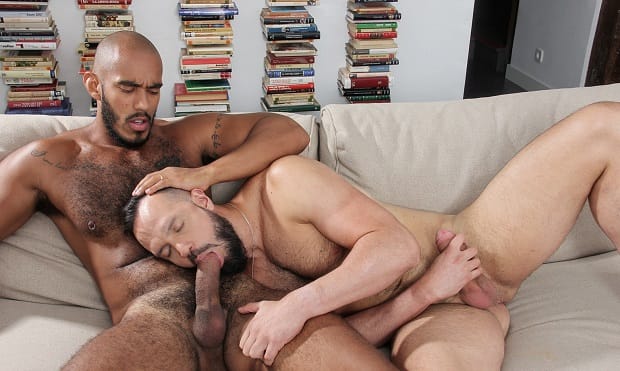 In this Kristen Bjorn porn scene we have Andy's first time, first time getting fucked and first time in front of the camera. So we have quite a few first in this one. His good buddy Louis is there to help him out and to make it easier for him. They are both hot and muscular with massive, fat dicks. Andy has worked out an appetite for a fat dick so he begins sucking on Louis' huge slab of meat…
Suddenly: Lucio Saints, Jonathan Miranda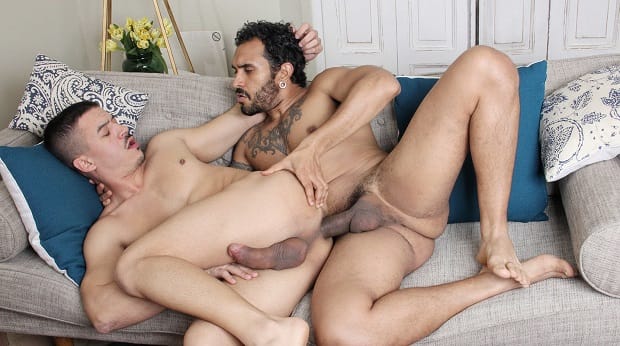 Jonathan Miranda was passing through town square and finds himself as the object of desire to Lucio Saints, the international pornstar. Jonathan notices him and tries to get rid of him on the many little streets but you can't shake off Lucio that easily. He follows him and before you know it he is next to Jonathan with a big smile on his face and his hand slowly going down Jonathan's leg towards his dick. Jonathan was curious but he wasn't going to do anything in public so Lucio took him to his hotel room and smashed Jonathan's tight ass.
Kristen Bjorn Gay Porn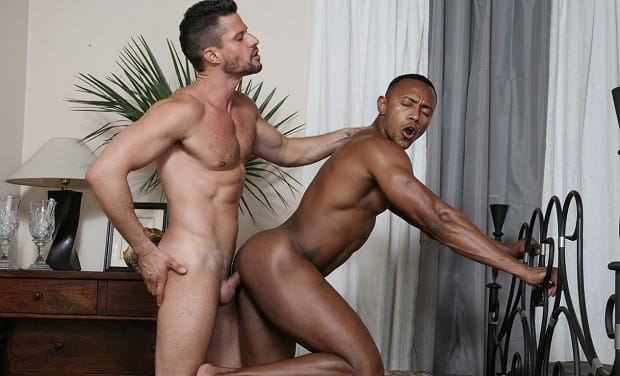 In this Kristen Bjorn gay porn scene we have our first interracial gay couple…well new couple. Kris De Fabio made it sure that his first time would be with hot black stud Santi Sexy and once he got him, he couldn't care less about getting it all on camera. All he wanted was that massive dick up his ass and getting a piece of Santi's chocolate ass in return. The boys did just that and it all finished with both of them getting covered with loads of cum.
Menage A Trois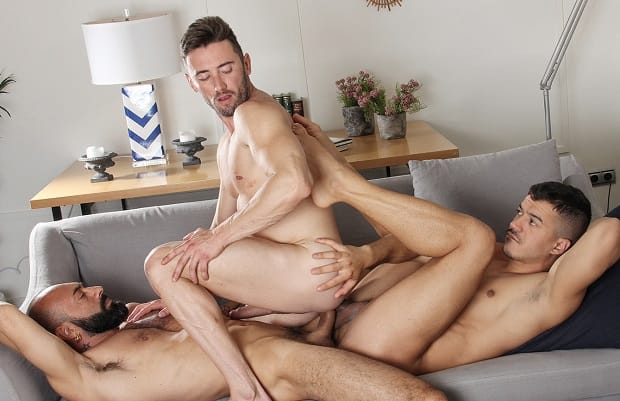 Its time we spice things up around here and a Menage A Trois is the perfect way to do it. Jonathan Miranda is looking for a fun time so he invites 2 of his friends over, Gianni and Marcos. After they all strip down and get a look at those massive dicks it clear….Gianni's monster dick needs 2 guys for proper handling. Marcos and Jonathan work their mouths with his lengthy shaft. Each taking turns on sucking and then doing it together. But that's not why they got together, no no…so their asses are next..and they are all ready for the monster cock invasion.
KristenBjorn – Bare To The Bone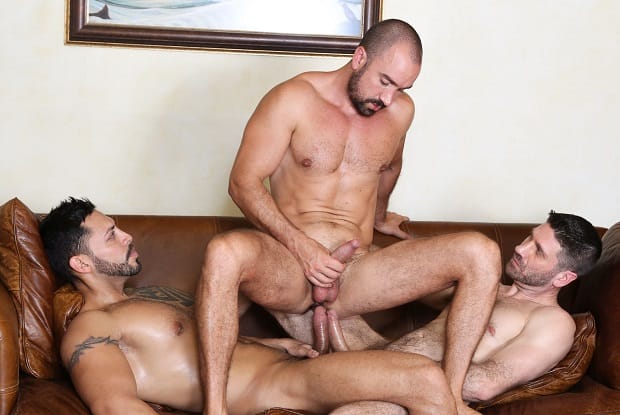 These KristenBjorn videos are getting wilder and wilder. When is the last time you saw a guy taking 2 dicks at once. Two dicks up the same asshole? This is crazy. Manuel took taking dicks to a whole new level. Him and Viktor found a new fuck boy on the internet. Both men were eager to get a piece of Craig's massive dick. Manuel was on the receiving end of it all. He warmed up by taking both giant cocks in his mouth at once and fucking him hard. But Manuel has a lot coming up his way, once they got to the couch, Viktor and Craig put their dicks together as Manuel lowers his ass down on both …at the same time…
KristenBjorn – Falcon Bonus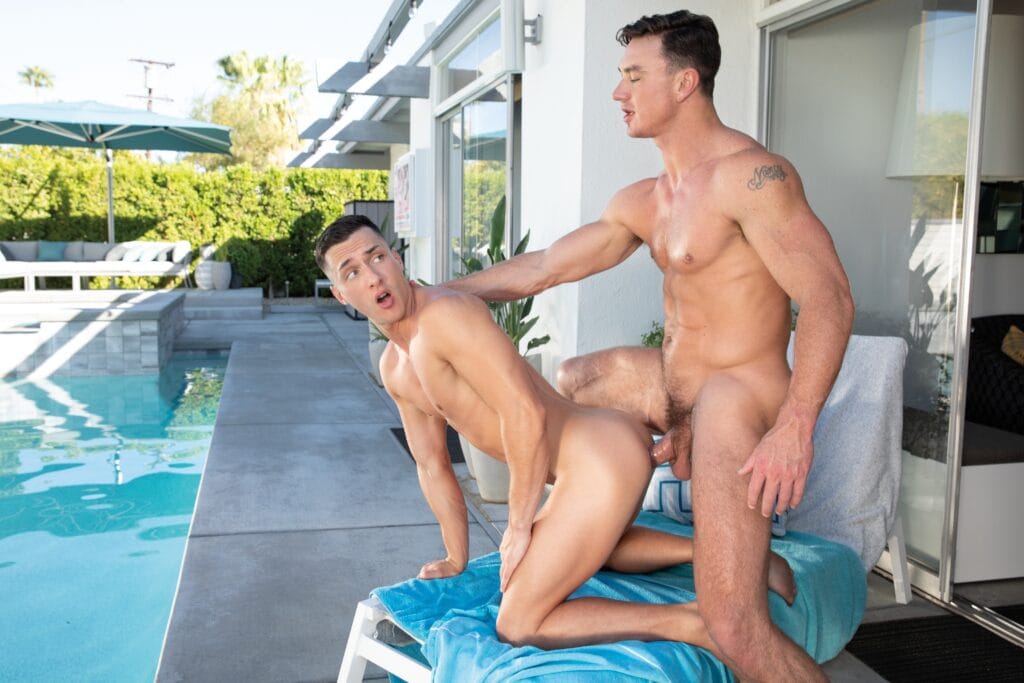 The moment Tristan Hunter and Cade Maddox saw one another at KristenBjorn they instantly locked lips. Tristan didn't waste any time and went straight to Cade's dick to reveal it. Once he saw it his mouth starts watering as he gets down on his knees and starts working his mouth…up and down on Cade's cock. Next they move outside next to the poo where Tristan bends over and takes Cade's Next Door Raw dick up his asshole…over and over again and we get to see it all.
Tie Me Up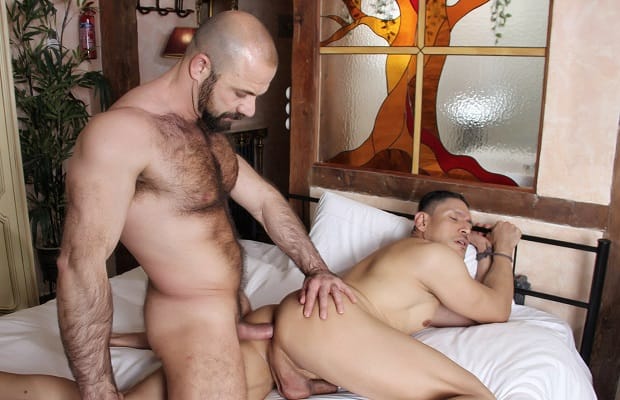 John Rodriguez and Felipe Ferro have been talking for awhile and setting this night up. So there is a lot of build-up. John is lying in bed when Felipe arrives, wearing his jockstap. There's no need to waste time with anything else, they both know whats about to happen. Felipe walks in the room and without saying any words he starts taking off his clothes. Felipe works his mouth up and down on John's big dick. And his ass is next in line for some pleasure….
In The Flesh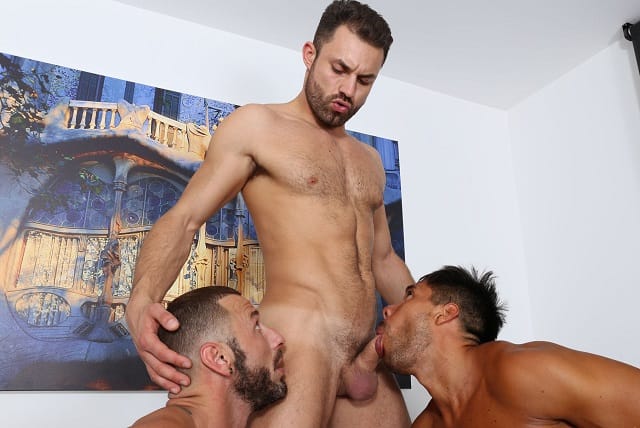 James Castle made the first move on Ansony and Antonio Miracle when he was looking for a light. After a few words Antonio convinced him to join them at their apartment for some friendly fun. The guys jump straight to bed and strip off their underwear showing off some impressive uncut dicks. James is the first one to start sucking and he takes Ansony's massive dick deep in his mouth as he started the game of cock tag…and they go on and on switching between them until everyone gets to taste each other's dick.
Kristen Bjorn – Full Of Spunk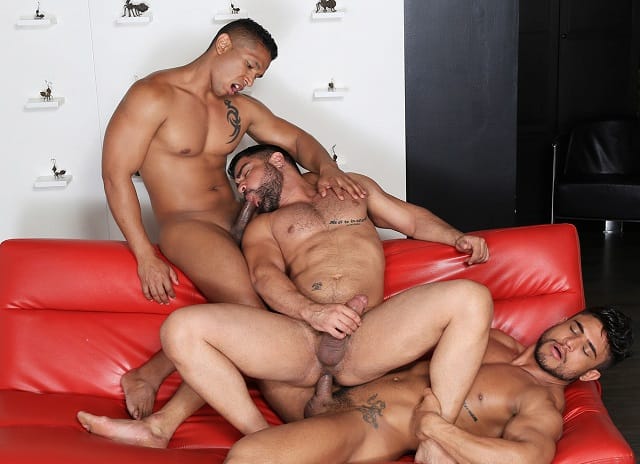 We know just how much you guys enjoy these Kristen Bjorn threesomes…these gay threesomes always keep us on our toes, because you never know what could happen, so many options so many combinations available. Diego, Wagner and Adrian are the guys making our day better. You know we bring you only the hottest guys so there's no surprise here. All three are hot as fuck and horny as fuck, so it didn't took them too long to get butt naked and to start fucking and filling each other's holes with loads and loads of jizz.
The Best Possible Plan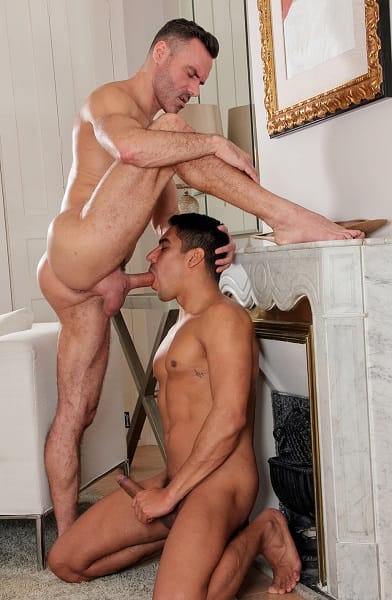 Salvador Mendoza and Manuel Skye have been trying to link up for awhile now. Both being busy its been a bit of work but the finally made it happen and here you have it. Two more hot hunks getting down and dirty on each other. That's what I like about these encounters, there little to no foreplay and we just straight to the fun stuff. The guys taking turns on working on each other's hard dicks and then stretching their asses, everything happening in front of the camera of course.