House Of Taboo – Free Extreme Erotica & Role Play Porn Videos And Pics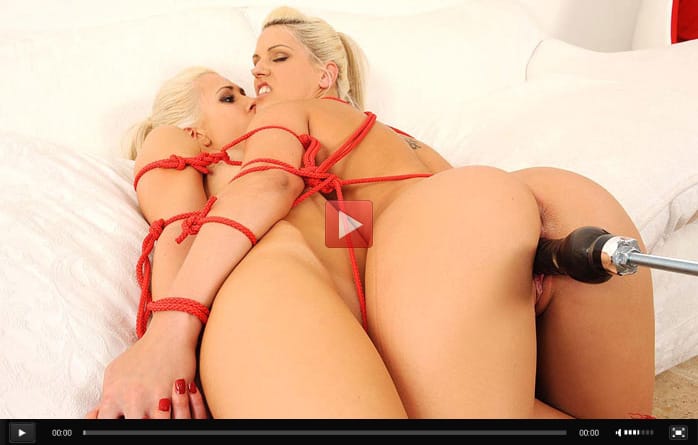 House Of Taboo Nikita Bellucci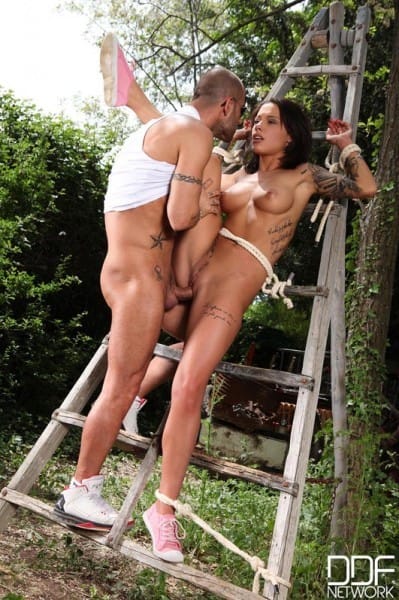 Nikita Bellucci stars in the House Of Taboo episode "Wicked Measure of Pleasure" with Mike Angelo. Nikita Bellucci has that air of modesty and innocence about her with her pretty pink dress and matching sneakers. Mike Angelo comes into the picture and you'd know that the tattooed guy does not bring good news. The muscular Mike kidnaps Nikita and ties her upside down in the woods. At the mercy of her captor, Nikita has to endure having her tight little cunt exposed, her pussy and mouth filled with a dildo and thick cock. Mike's fetish is not satisfied yet, he still has to make use of all Nikita's holes.
Anita Berlusconi and Lorena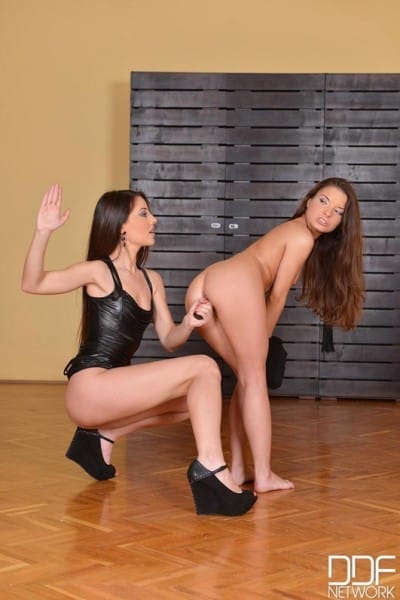 Anita Berlusconi & Lorena star in the episode "Crawl For Mistress". Anita Berlusconi is the light haired slave tied to the closet rod by her wrists. Mistress Lorena has dark hair and a big sly smile on her face as she approaches carrying a whip. Mistress Lorena makes Anita crawl on the floor, worship her shoe, and work on her pussy and ass. The dominatrix then takes out a silver bullet vibrator, shoves it into Anita's mouth then the ass. The mistress spanks her plaything, makes her lick the vibrator once more and orders her to crawl back into the closet where she came from.
Danika and Victoria Redd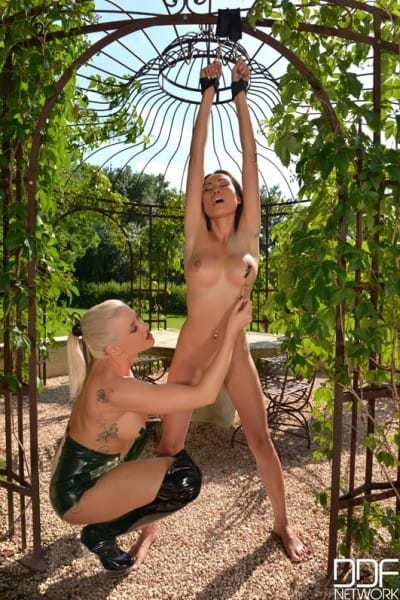 Danika & Victoria Redd are the featured babes in "Crammed and Conquered". Victoria Redd is the domineering blonde chick from Lesbian Kinkdom who met the submissive brunette Danika at a party. Danika loves the torment and gets off being brutalized so she lets Victoria Redd use wrist cuffs, floggers, nipple clamps, chains and all sorts of bondage on her. For her Femdom Empire part, the blonde dominatrix has so much fun whipping Danika, licking the sub's clamped nipples and plugging her ass. Just when you thought they've had enough, the pair will kick it up a notch with clamped pussy lips and use of dildos.
House Of Taboo Victoria Daniels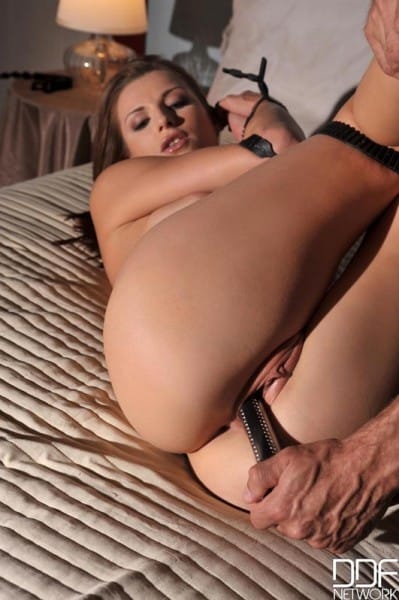 Victoria Daniels is the featured hottie in "His Power Over Her". We get to see the beautiful Victoria Daniels naked and bound by her wrists, ankles and thighs. A man comes into the dimly lit room and plays with Victoria Daniels' lady parts. He uses a toy to tease her pussy and her ass before pushing his fingers into her cunt. Victoria Daniels could not believe the sensation of the fingers in her pussy and the vibrator in her ass. He keeps on doing this until Victoria Daniels squirms and tries to resist further. To humiliate her more, the guy sticks the dildo into Victoria's mouth.
Cindy Hope and Madlin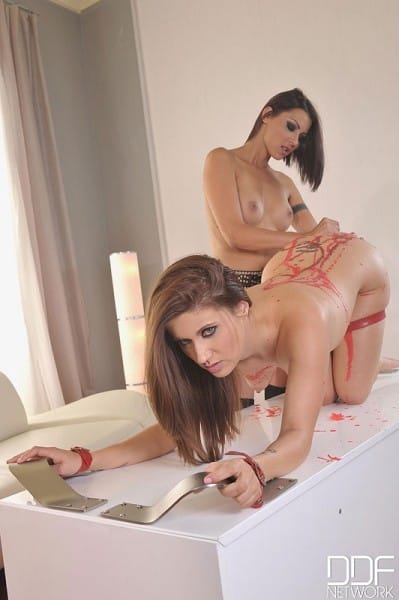 Cindy Hope & Madlin make us drool in excitement in the video clip called "For Her Amusement". Cindy Hope plays the brunette mistress who owns Madlin, a ginger slave girl. Mistress Cindy is enjoying leisure time on the couch with her naked slave leashed nearby. Once tugged, Madlin eats out her mistress' cunt deeply and masterfully. At some point, Madlin receives punishment through intense spanking and pouring of candle wax. Mistress Cindy is not done yet though—she sits on Madlins face and rams a dildo into her slave's holes. These ladies sure know plenty about humiliation and BDSM!
Alysa Gap and Kathia Nobili and Sophie Lynx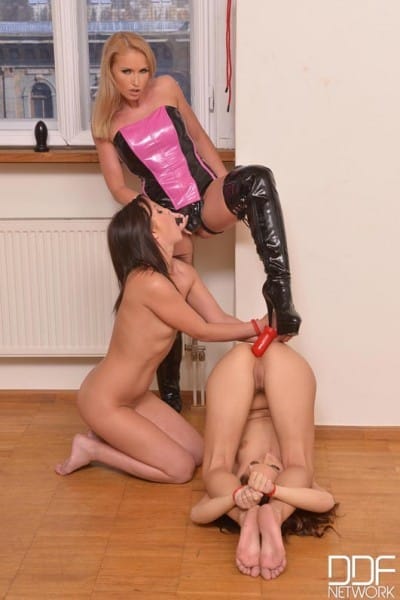 Alysa Gap, Kathia Nobili & Sophie Lynx are the gorgeous goddesses in "You Are My Playthings". Mistress Kathia is the blonde hottie who dominates both Alysa and Sophie. Sophie has a red mask on while Alysa has the black mask. The submissives are tied to the wall by their ankles and wrists. Mistress Kathia spanks her slaves in love, fucks their mouths with her black strap-on and uses butt plugs on them. What the mistress says must be followed. The ShadowSlaves can't help but surrender themselves and their holes to the blonde Mistress Kathia. Lesbian BDSM has never been this smoking!
Brandy Smile and Tina Hot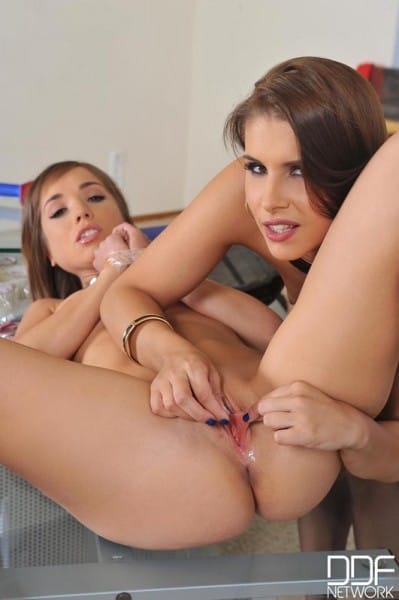 Brandy Smile & Tina Hot star in the video clip called "Her Disciplinary Experience". Tina Hot is the hardworking office secretary in charge of keeping things in order all the time. Brandy Smile, her stern supervisor is not happy to find that the office is messy and decides to punish the sexy secretary. Tina finds herself unable to say no to the powerful boss. This clip involves heels, nylons, tight skirts, bending over desks, spanking and binding too. And you think office fucking is oh so conventional eh? Let Brandy Smile and Tina Hot show you the real deal here.
Emma Leigh And Lexi Lowe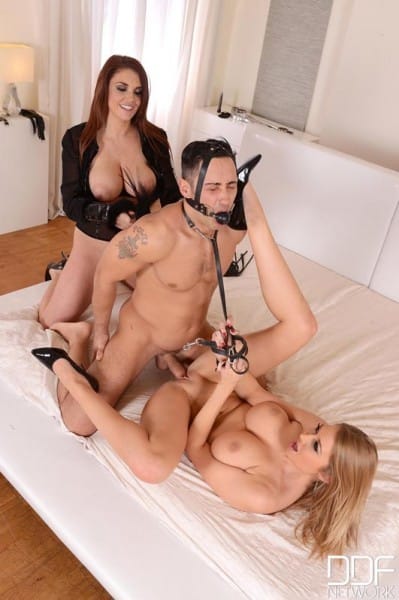 Emma Leigh and Lexi Lowe star in an explosive BDSM episode that is simply too hot to handle. Lexi Lowe is the blonde mistress who enjoys femdom with her dear friend Emma Leigh, the brunette bombshell. Mistresses Lexi and Emma play with their slave Mugur, who is on a leash and gagged with a ball. The lovely Divine Bitches mistresses make him obey every command and take turns giving him torturous pleasure through his cock and balls. Emma and Lexi also have fun with each other, getting swapping kisses and licks. It is a threesome like you've never seen before!
Alice Axx and Armana Miller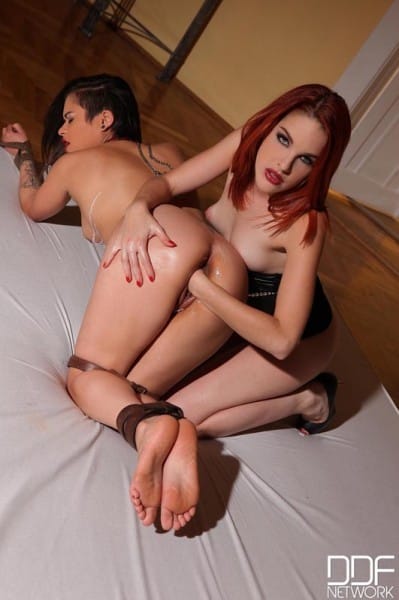 Alice Axx & Armana Miller are the featured babes in the episode called "The Cruel Hand Goes Deep". Armana Miller is the ginger dominatrix and Alice Axx is her gorgeous brunette play thing. Mistress Armana pours candle wax all over Alice's pussy and tits and does not stop though her slave quivers in the heat. The redhead mistress clubtugs on her slave's pubes and her wax-covered nipples. Armana goes on SicFlics fisting the brunette, making Alice go on her hands and knees for more fisting, spanking and candle waxing. Armana will only be satisfied once her loins water and swell from being turned on with all the stern punishment she gives.
Ainara Reina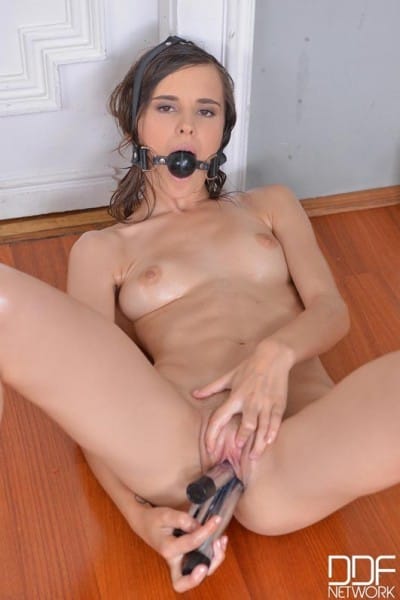 Ainara Reina is the beautiful Spanish chick who has quite a fetish for bondage. And when Ainara Reina is struck with lust, she does not wait for a partner to dominate her. As we can see in this feisty and sizzling episode, the young babe with a hot body is alone and feeling very kinky. Ainara Reina has the ball gag, the grease on her body and her three silver vibrators. Think you know what'll happen? Well, you have to watch to really see 'coz she's got harness, suspension and so many other wild stuff in store.
Chelsey Lanette and Kayla Green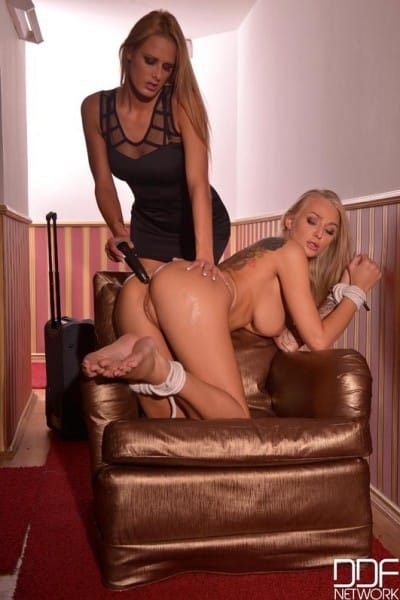 Chelsey Lanette & Kayla Green star in the video clip and set of photos called "Bound To Obey". Chelsey Lanette is a blonde Dutch chick who meets Hungaran babe Kayla Green in the hotel while both are travelling. What the two hotties find out soon is that they both love BDSM. Chelsey Lanette is ready to play the domme while Kayla Green looked forward to being the sub. Kayla was ordered to drop to her knees and submit to Chelsey right on the hotel hallway. Once Kayla is bound, Chelsey gives her some elite spanking, fingering and anal play.
Hot Pornstars