Nuru Massage – Free Porn Videos And Nuru Porn From NuruMassage.com
Nuru Massage Porn Video – Bridgette B and Aimee Black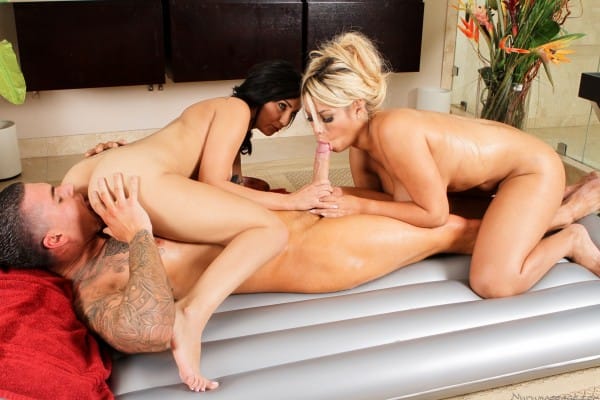 Bridgette B and Aimee Black are the two gorgeous babes in the Nuru Massage Porn Video "Four Hand Massage". Clover went because he heard such great things about the place from his buddies. Even though he forgot the password, Clover was still able to charm his way to the exclusive massage parlor. Aimee Black was the masseuse on duty but she was eagerly joined by Bridgette B. Clover is one lucky dude to get such a special treatment from these two delicious ladies. He better be ready to give it to them good too or there is no more charming his way back next time.
Nikki Hunter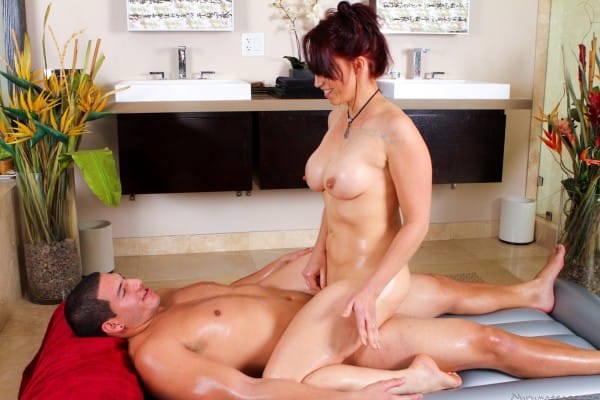 Nikki Hunter stars in the video clip called "Accidental Entry". Nikki Hunter was just closing up the shop when Tony came in. Tony is kind of the shy guy who has always wanted to try NuruMassage but only got the courage to do it now. Nikki Hunter does not give happy endings like the other girls, which is okay since it was Tony's first time at the shop and he is really nervous. However, Nikki Hunter's sensual touches eventually get Tony fired up and he ends up accidentally slipping his hard cock into her pussy.
Nuru Massage Tia Cyrus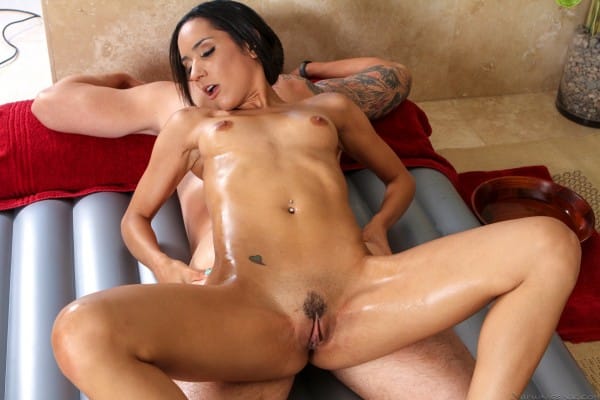 Tia Cyrus plays the sexy masseuse in the steamy episode called "The Milking Maid". Aaron came to NuruMassage with a really depressing and embarrassing issue. He has not been able to cum for months so he is seeking the help of experts to possibly figure out what is wrong. Lucky for Aaron, Tia Cyrus gives him more than expert advice. The petite beauty shows Aaron the special milking technique which heats him up in a few minutes. Tia Cyrus' mouth is so warm and moist, Aaron found it so hard to concentrate. Surely Aaron will not have any trouble cumming after Tia Cyrus is done with him.
Cameron Dee and Eva Angelina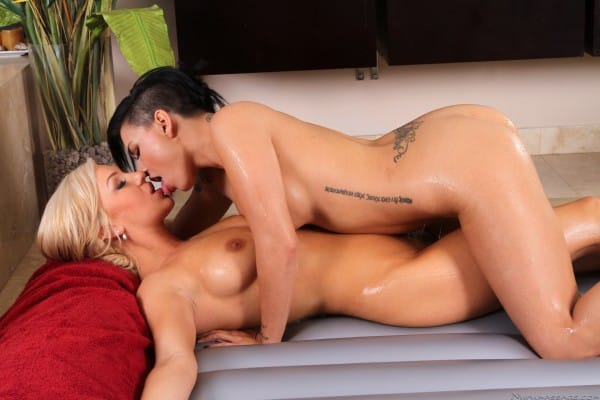 Cameron Dee and Eva Angelina star in the video clip called "Teach Me Nuru". Cameron Dee just got hired as the newest therapist. Eager to start her first work day and learn the ropes, Cameron Dee came to work early to get the training from Eva Angelina. The sexy and more experienced masseuse begins to show Cameron Dee some special techniques and things heat up pretty quickly between the two. Good thing there are still no clients at the shop or they would have to postpone their fun for later. Cameron Dee will surely be one of the best at the technique since she learned from the best too.
Natasha Starr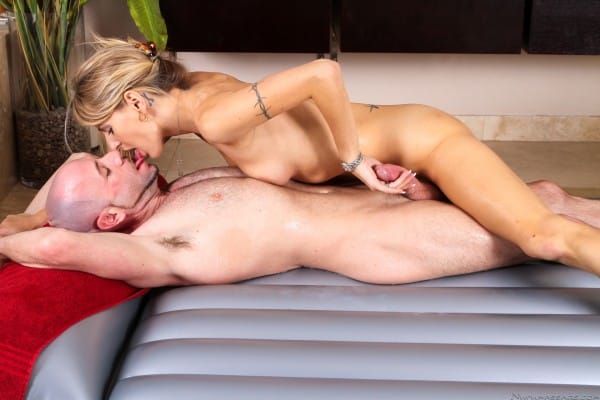 Natasha Starr is the beautiful blonde bombshell featured in "Polish Treat". Natasha Starr went straight to her new job and started working as one of the clients favorites the moment she landed from Poland. One her first day she gets one of the new clients named Flynt Dominic. The guy heard awesome things about the therapy and wanted to check it out for himself. She may be new but Natasha Starr knows a few tricks that only Polish women know how to do. Lucky Flynt Dominic is in for a real treat. He is about to find out what all the buzz is about as he gets his own happy ending massage.
Gaia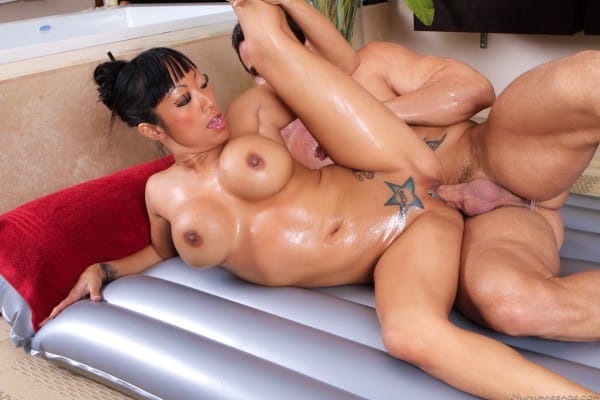 Gaia is the gorgeous stunner who stars in the episode entitled "Officially Single". Being a licensed masseuse, Gaia knows exact the pressure points and right touch that make her clients always come back for more. Talon is one of the guys who come in weekly to get relief from stress and body pains that he gets. To his surprise, Gaia was acting extra wild on his visit, almost immediately burying her face on his lap and sensually stroking him at the showers. Talon senses that the hot Asian chick must be horny and out to seduce him and so he is more than willing to fuck her good.
Nadia Capri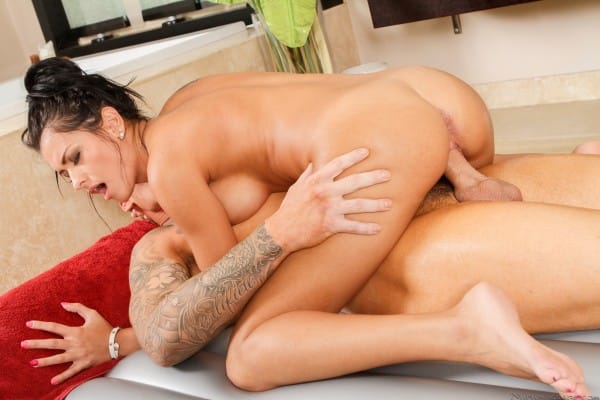 Nadia Capri is the attendant in charge during the episode called "Worth Your Money". Clover was a referral with a strong recommendation from some of his friends. Clover was excited and really curious about the massage and happy ending services he has heard so many stories about. Not to be disappointed, Nadia Capri channels her inner sex kitten and shows Clover why NuruMassage can be very addicting. Nadia Capri gets more playful with the new client as the minutes pass. We know Clover will leave very relaxed and satisfied. And he sure will be back for more.
Bunny Freedom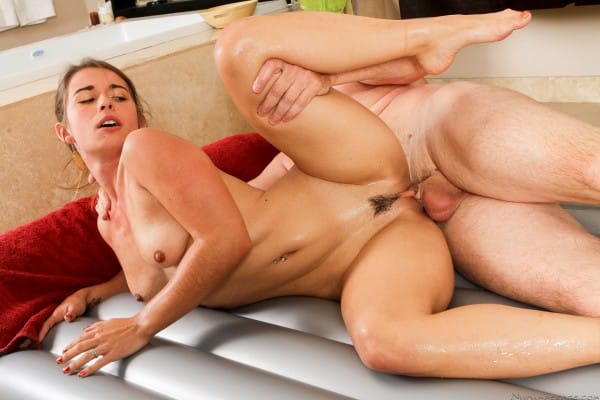 Bunny Freedom is the young beauty featured in "Military Leave". The older client Dick just got home and is on a break from serving in the military. Bunny Freedom is the masseuse assigned to service the hunky older serviceman and she took a liking to him right away. It has been a while since Dick has been with a woman and he is lucky because Bunny Freedom actually has a fondness for men in uniform. She was quick to flaunt her naked petite body and lets Dick take all of her as a way of thanking him for his service to the country.
Chloe Amour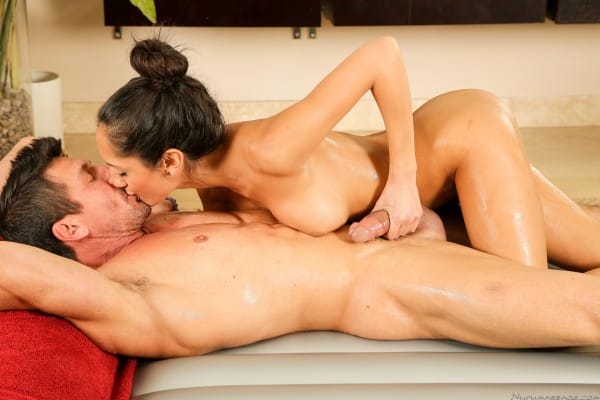 Chloe Amour was left in charge while the manager stepped out for a while. "The Lucky Landlord" is the story of Tommy the landlord coming in to inspect his property and collect the rent for the month. Chloe Amour, being the sly and naughty chick that she is, comes up with an idea that could help her get a promotion and a new client. She jumps at the chance of offering a massage creep to Tommy in exchange for rent discount. Tommy did not really know what it was all about but he sure loved it when he found out.
Nuru Massage Holly West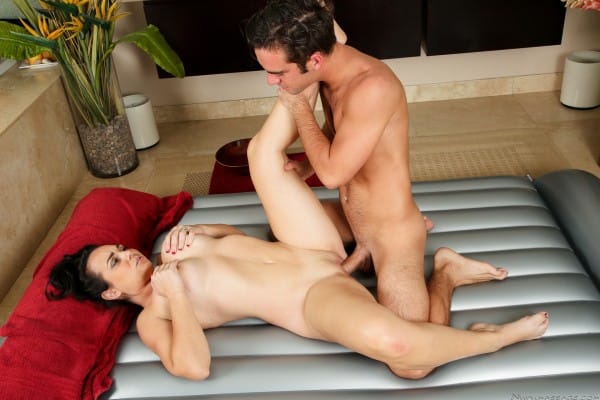 Holly West is the hot MILF featured in "My Mother In Law". Logan has been hearing about this place from his buddies for quite a while. He finally got the courage to try the services and got the shock of his life when he found out that his wife's mother is one of the hot masseuses working there. Holly West felt very uncomfortable and begged for Logan not to tell her daughter about her work in exchange for a free HD Massage Porn session. Logan agreed and Holly West was apprehensive at first but was pleasantly surprised at how nice her son-in-law's package is.
Vanessa Luna and Cherry Morgan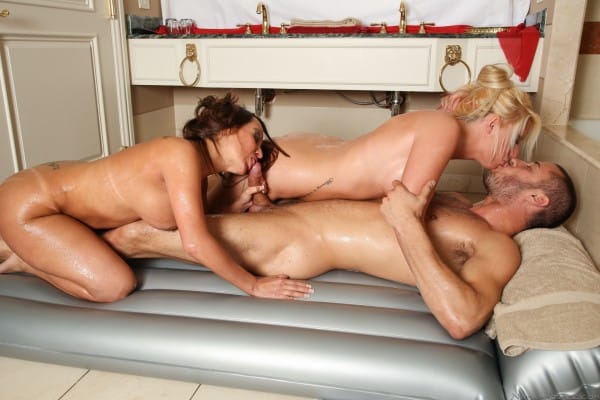 Vanessa Luna and Cherry Morgan form a formidable team in this steamy episode. The Venezuelan hottie Vanessa Luna and her husband Danny Mountain came to Nuru Massage on Valentine's Day for a relaxing massage date. Little did Danny Mountain know that his wife has asked the sexy southern chick Cherry Morgan to go on a sensual manage a trois. Cherry Morgan and Vanessa Luna are soon working on one cock together. This is one Valentine's Day surprise that Danny Mountain will not forget in a long time. How about a cool wife like Vaness Luna right? Mmm hot!
Hot Massages