Dors Feline – Free Videos And Pics Starring Dors
In this scene you get to see this naughty and fiery red head as she gets around to have some solo fun once more, but this time in the kitchen. She wanted to get around to bake something, but it seems that she forgot about all of that when she started to feel horny and just started to undress and act as her usual naughty self. So let's watch her little sexy kitchen adventure as she does one of her classy solo scenes for you.
Like we said, DorsFeline forgot about all the cooking as soon as she started to feel horny. And if there's one thing that you learned so far about this busty beauty is that when she feels in the mood, there's nothing stopping her. So let's just sit back and enjoy her scene.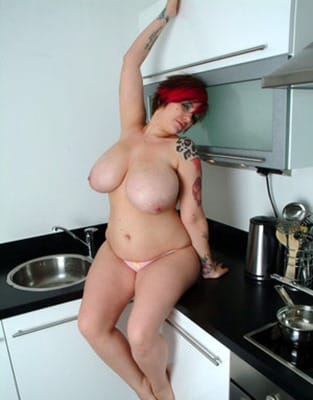 Feline looks better then ever and she is horny as always. Enjoy watching her exposing her enormous natural boobs and massaging them until her pussy gets dripping wet and ready for a good fuck. In the second set she is a naughty police officer. She unbuttons her shirts exposing her huge naturals and starts fucking herself with a dildo.
In the third gallery sexy DorsFeline is waiting for her date to come and pick her up. She wants to be sexy for him but can't decide what to wear. Finally she decides to wait for him naked because she is planning on getting on her knees the moment he enters the door to suck his cock, what a naughty babe. While waiting and thinking about all the things she's going to do to him, Feline gets wet and starts rubbing her pussy to orgasm. Have fun!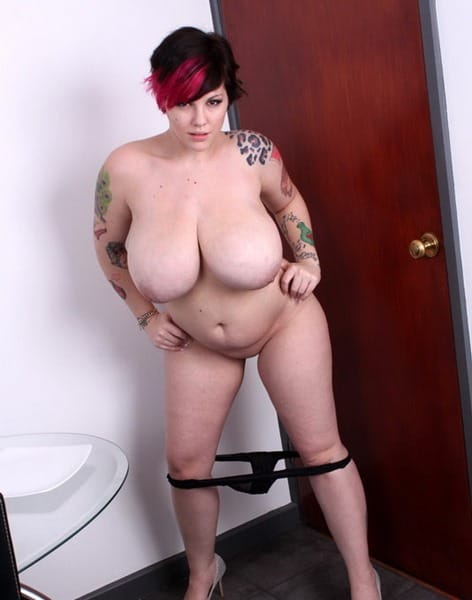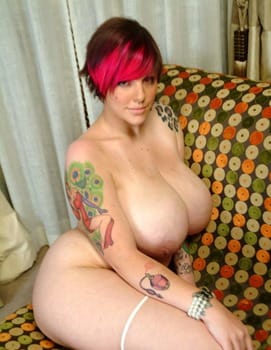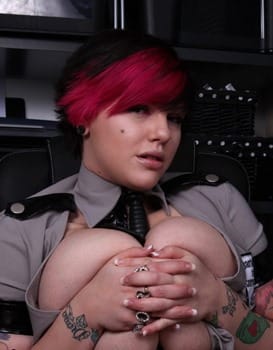 This scene has her wearing another sexy and hot dress and as last time she's going to be taking it off to show you her body and her huge tits once more. And you know that you'll be in for a good time with this superb little woman. that being said, let's sit back and get her sexy show started without further due!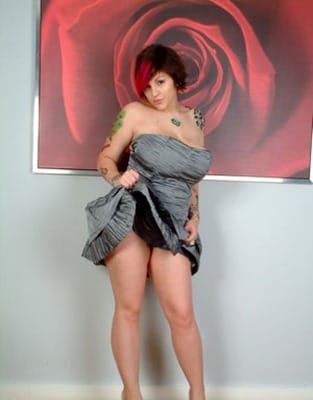 The color for DorsFeline 's sexy dress was a dark grey and she looked super sexy again wearing it. As she begins to pose and tease, you can see that this time she wants to outdo herself. And well, we can pretty much say that she did that. Again she starts to undress but this time more slowly as she wants you to get to enjoy her beautiful and big breasts before she reveals more. So watch her as she undresses and poses naked once more for your entertainment everyone!
The sexy and hot miss Feline was getting rather bored once more, and she had to do something to pass the time. Well since there was a gallery update due for this, she decided that it would be the perfect pass time as she felt a bit horny and in the mood as well. So she decided to have the photo shoot while she plays with her amazingly hot body just like in farangdingdong galleries. You know that DorsFeline never disappoints so let's see what she brings you for this update.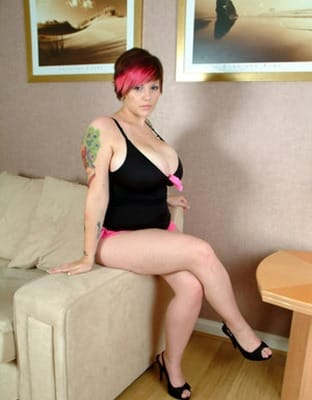 As the cameras start to roll, you can see that sexy miss Feline is intending to use her living room as her set. And for her sexy outfit? She was dressed in a black tank top with cleavage, that well…Let's just say it offered allot of it. And a pair of pink sexy panties. She begins doing her usual hot and sexy teasing session to set the mood and get you interested, and then she starts to strip out of her clothes. And when sexy Dors is all naked, then you know it's time for the good stuff to begin. Watch her as all naked she begins to play with her big and juicy boobs just for your entertainment!
Oh and did we mention that she made a very unsought of pairing of clothes? She wore a superbly small and sexy bikini underneath all of her latex clothes. Oh don't worry, you will get to see that too. Don't you remember what this sexy little cutie likes to do? Well exactly she's going to be doing another strip show and you'll get to see that bikini too.
When the cameras start to roll this sexy woman wastes no time in getting naked at DorsFeline.com , and as you'll see she did a wonderful job at teasing once more. You can see her sitting at her desk and browsing the net on her laptop all dressed in her outfit. But as soon as she realizes that you guys are quietly watching her she begins her routine. Watch her taking off that superb latex outfit to present you with her sexy red bikini underneath. And also watch her remove that too. Because as you know, this red headed cutie just has to show off her amazing body as much as she can to everyone. Enjoy it! Check also the latest update of Candy Monroe, she does some nasty stuff!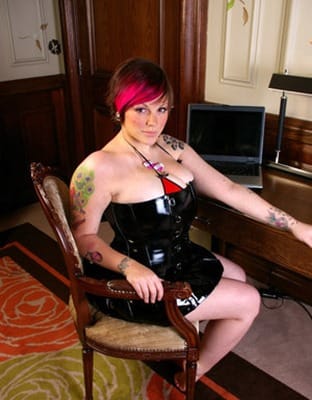 This is a rather quick update, but by no means should you thing that its bad. Oh no, even if her photo shoot didn't last long for this scene, she wanted to to a superb job. So watch as miss Dors treats you to more of her nude posing sessions as she presents her early morning routine! For similar galleries come inside the website and have fun watching other busty babes getting naked in front of the video camera for you!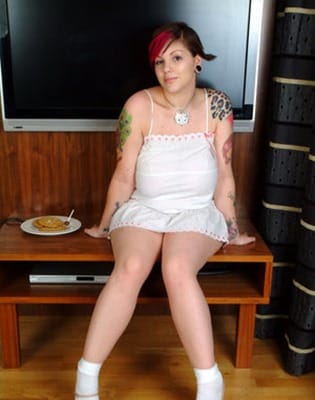 DorsFeline wanted this little update to serve as a little show off of how her morning usually goes. But as usual it transformed in one of her classy and sexy mature solo strip tease sessions. Well either way, you guys get to sit back and enjoy her flaunting her amazing curves in our face. So enjoy her scene guys!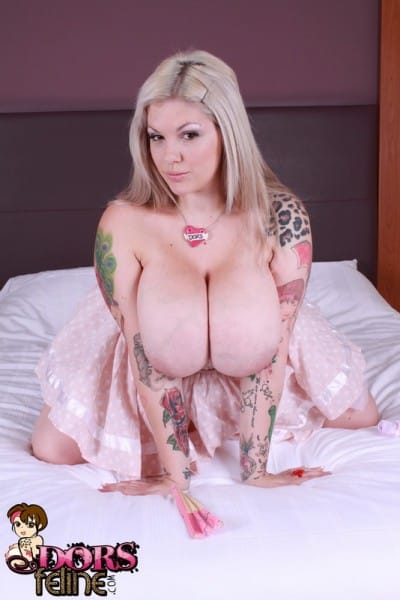 Blonde model squeezing together her Huge Tits. She has long blonde hair. Her two arms are in front of her. The blonde haired girl is squeezing her huge boobs. This is to make her boobs appear bigger than they are. The arms of the woman are covered with tattoo. The blonde haired girl is wearing short lace skirt. The sexy girl is sitting down on her legs. There is a heart pendant around her neck. The hair of this cute girl has clip on one side. The blonde haired girl is on top of the bed covered with white sheets. The walls are painted in purple. If you prefer brunettes, check Ewa Sonnet, she is a hottie!
This was a really hot day. And miss DorsFeline seems to have found the perfect way to relax, cool off and also do her photo shoot. She decided that the best way to accomplish all of these perquisites is to head to the beach side with the camera crew following her. Well naturally everyone rejoiced as the day was just perfect for that, and also because we'd get to see Feline wearing some of her super sexy and kinky outfits. And we were right. She decided to go for a small sliver bra to cover her tits.
Well she wanted to go for the thong as well, but sadly the place has a policy about revealing too much, and even because of her bra she might get in trouble, but this sexy lady didn't care. She just wanted allot to at least be able to show off her incredible sexy tits for this gallery. Watch her as she gets underneath a public little shower and watch her as she gets all wet, with the water dripping all over her superb and sexy body. So enjoy it guys! Check also dream Kelly, she has some awesome updates!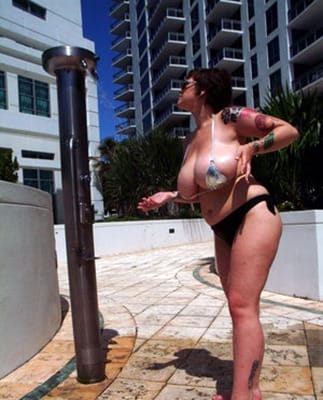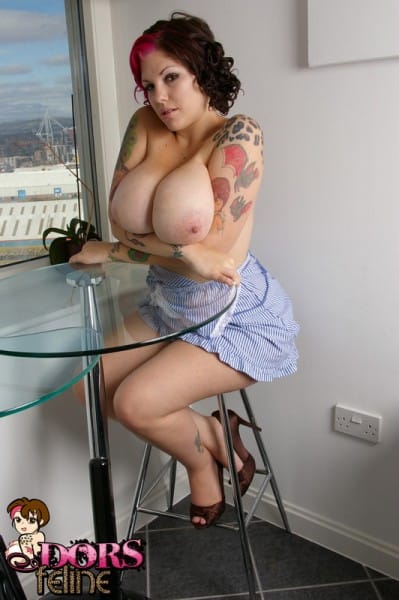 Topless lady with Big Boobs are taking time off. She has tattoo on her arms. Her two arms are resting on the glass table. Her big boobs are resting on her arms. The woman is wearing blue dress but it is lowered down to show her boobs. The girl is wearing gold high heels shoes. Her feet are resting on the steel. The woman is sitting down on a stool. There is a glass table in front of her. The walls are painted in white. There is a huge window on one side of the room. The floor is made from grey tiles.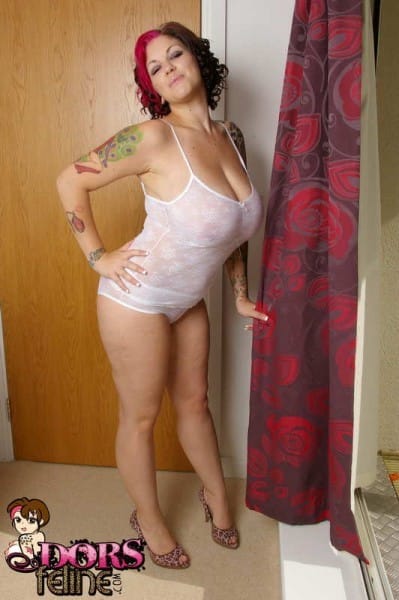 She is wearing nothing but a white sleeveless, a pair of brown high heels and white undies on. She placed her right hand on her waist and used her left hand to hold the maroon curtain on her left. Her nails are long and it has french tip design. She turned her head at the right side of her body with a smiling face. Her eyes are slightly closed. She has smoky eyes and light pink lips. Her thighs are close but her feet are few inches away.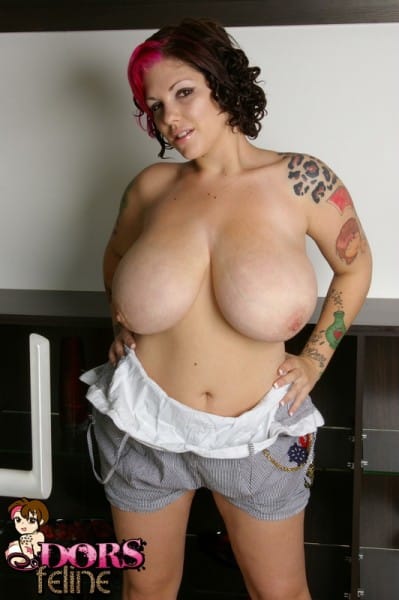 This BBW is showing off her huge boobs. The woman has short and curly hair. Her bangs are highlighted in pink. The arms of this woman are covered with tattoo. The feminine girl is wearing grey shorts. The woman is wearing white top but it is lowered down to her waist. Her two hands are resting on her waist. The brunette haired girl has huge boobs. It is hanging on her waist area. Her waist is quite bulky. The lips of this black haired woman are painted in pink gloss. The big beautiful woman is standing beside a brown cabinet. The walls are painted in white.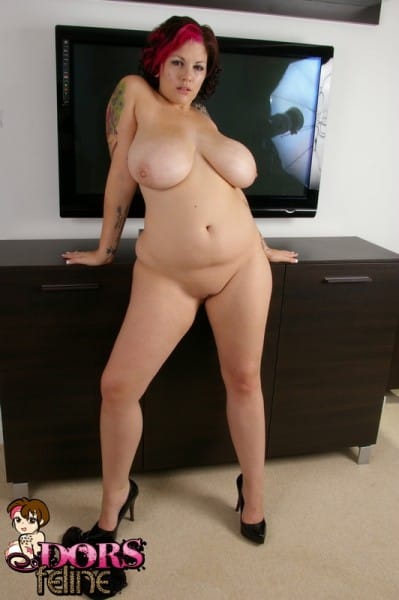 Big Boobed woman Naked in the television. The arms of the big woman are covered with tattoo. Her legs are wide open. The pussy of the woman is not covered with any hair. She's wearing black high heels shoes. Her pussy is full of fat. The hair of the woman is short. Her bangs are highlight in pink. One leg is extended and the other is bent. The floor is covered with white carpet. The walls behind her are painted in white. The woman is resting her hands on the brown cabinet. There is a flat screen television behind her.
The outfit itself was a small top that barely managed to cover up her big and round natural boobs, and a small mini dress, both of a fiery red color. And she didn't even bother to use a proper setting. She just went ahead or her shoot and got naughty on the floor. So watch her pleasing herself at DorsFeline.com right there on the floor.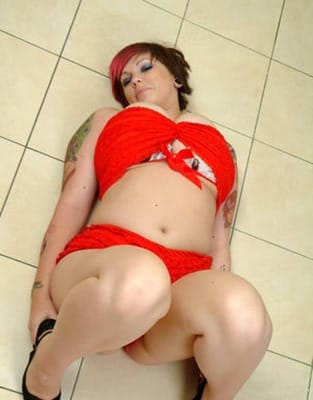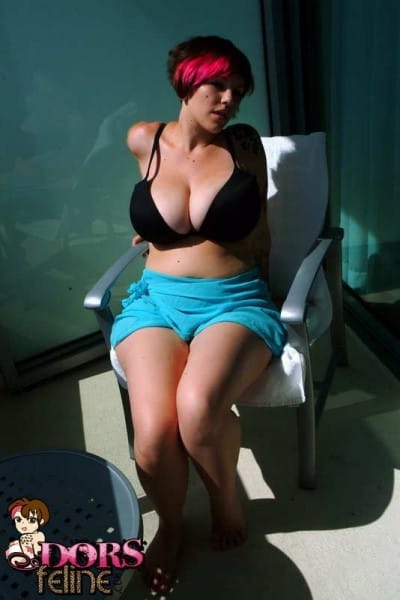 She turned her face at the left side of her body with open eyes and mouth. She's wearing a black bra and blue skirt on. Her boobs are visible. She placed both of her hands on her back. The babe closed her thighs and knees. Her feet are on the ground. She is sitting at the corner of the room with a grey table right in front of her. There are glass windows with blue curtains at her back.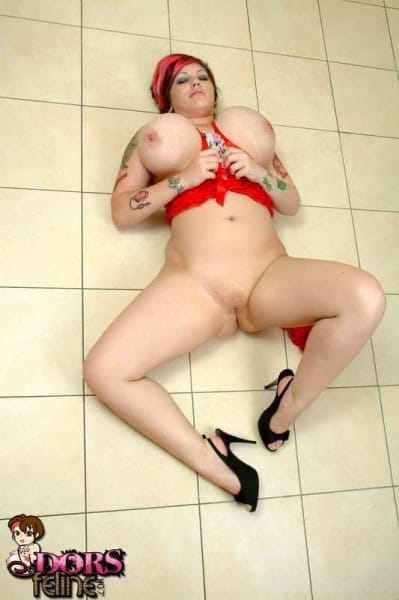 Her tits, shaved pussy and butt are all showing. She has brown and erect nipples. She placed her hands under her tits while holding her necklace. The straps of her dress are in the middle of her tits. The girl spreads her legs wide open and raised her left leg. She stepped on the floor with her left foot. Her right foot is few inches away from her left foot.
Our Favorite Dors Feline Videos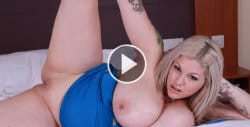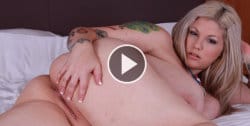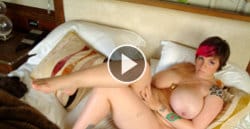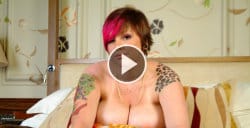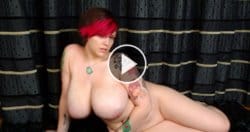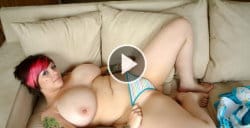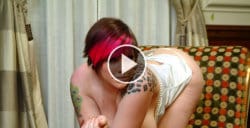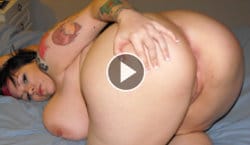 Our Favorite DorsFeline Pics