Aaliyah Love – Free Videos And Pics AaliyahLove.com
Aaliyah Love Lesbian
It's hard not having a serious crush on this beauty, and our next Aaliyah Love video, is the perfect proof of that. She's cheeky, blonde and giggly, and has an insanely hot body. It's no secret that this chick loves to be naked, showing off her sweet tits to anyone that wants to see them. Today, she's goofing around with her kinky girlfriend and decides to pose for her: tight ass, pink pussy, perky boobs, anything she wants to see, she bares for the camera.
But all that posing and exposing herself makes both sexy gals get super horny. They strip their clothes off of one another, revealing their delicious lithe bodies. These, sex charged babes can't keep their hands off one another, start getting down and dirty between the silky sheets and they are in for an awesome lesbian strap-on action. Aaliyah's partner in crime, gears up with a kinky blue dildo ready to stretch every inch of her always hungry cunt, fucking her senseless. Watching her juicy crack get split wide open around that thick sex toy is as wild as it gets and she wants that kind of pounding in as many positions as possible. That's what she gets next, some good old doggy style banging, and you can be sure our slutty one has her moist slit plowed hard and dirty. Our two hotties get busy fingering and sex toy boning each other through one jumbo orgasm after another and neither one of them will be the first to give in!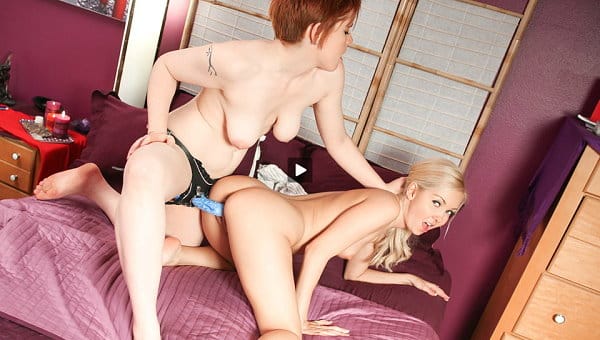 A Splash Of Love
What better way to start the day than with a mouthwatering Aaliyah Love video. We have the naughty blonde babe showing off her flawless pornstar body, all for you to enjoy and we are talking luscious tight ass, small waist, cute face, perky round tits and a nice juicy slit. Kinky Aaliyah is completely naked lounging in the sun getting all worked up for some poolside skanky twerking action and sweet posing session. She's on her knees, with her sensual back all arched up, her tantalizing legs apart, and her masterful hands running all over her creamy and delicious body.
It's the perfect time for some hot booty bouncing, and she proves that this is really her area of expertease, thrusting their hips, getting those delish hot buns up and then all the way down, on a real wild ass parade on camera. This is one attention lovin' little whore, that's for sure and she wants you to take a good look at her moist fresh cunt, and perfect pink butthole. She's moving back and forth, getting her goods closer to the camera, caressing and toying with her slutty love holes. For sure you can imagine her on top of your fat hard cock, taking it all in and ridding you bad boys hard like the always eager to fuck slut she really is. Have fun, guys!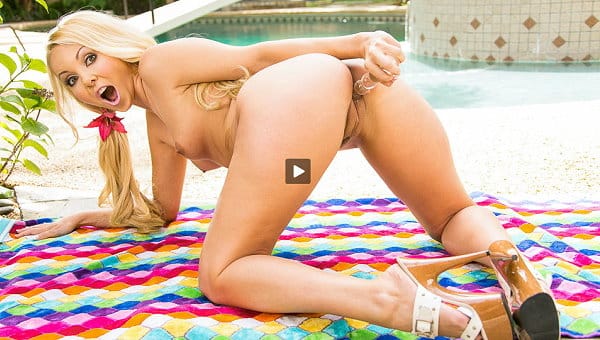 Horny Lesbians Need Attention
We bring you yet another mind blowing episode. Our slutty babe is back at it with her equally racy pornstar friend. I guess we all know by now that this super kinky blondie swings both ways, enjoying the same way a good ol' cock sucking or some sweet pussy eating. When these two hotties get together, it's instant fireworks, they're so into one another and turned on by each other, that they can't keep their hands off of their tight delicious bodies. Their silky lingerie disappears quickly as their mouths and fingers begin to explore those appetizing curves.
The little whores are drooling over some smooth, perfectly shaved and wet pussy and waste no time, taking turns in rolling their hot tongues around those dripping wet cunts, and pink buttholes. Sweet pussy tasting is one hell of a treat, feeling some hungry for fucks, twat pulsing and tingling against their masterful mouths. Watching these two dirty gals, taking turns in showing off their amazing fuck talents will have your cock hard and throbbing in no time, and you can be sure all they want is for you to cum right along with them!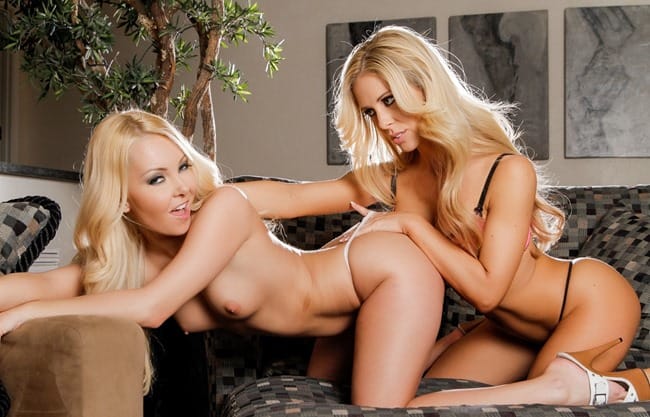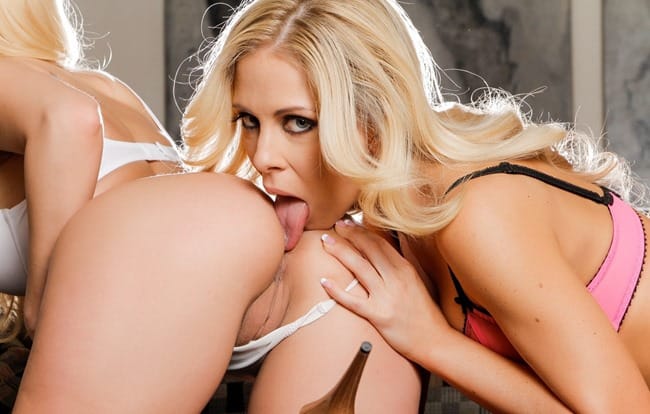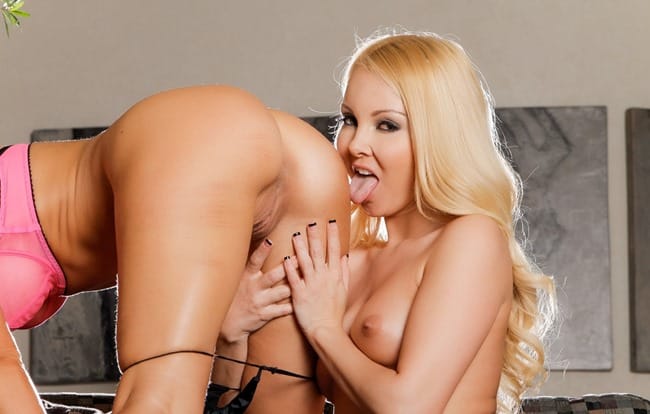 Sucking The Pool Guy
Lovely Aaliyah Love just gets herself into kinky situations all the time. This time it's a fun day in the sun, by the pool and she meets a hot young stud ready to take her for a good fucking ride. We know the little slut never says no to a fat hard cock near her face, in her mouth or deep inside her randy cunt. The dirty blonde strips out of her tiny swimsuit in no time at all, flaunting her luscious body, getting her guy all hard and ready to play.
This sassy temptress slowly starts to unzip his pants, set that bad juicy monster free and she gets down on her knees worshiping a massive fuckpole, taking in every inch of it with her soft watery lips and playful tongue. The cheeky gal is sucking his enormous johnson hard, gulping on it with a passion, getting more aroused and ready to be pounded, than ever before, ready for his dick no matter where he sticks it. Of course her horny peach is where his rod ends up next, sliding it all in her slick wet cunt, going for it without mercy, until he gets to fill her hungry twat with a hot load of sticky jizz. This video is so similar with another one i saw on fuckafan with a different pornstar. So hot!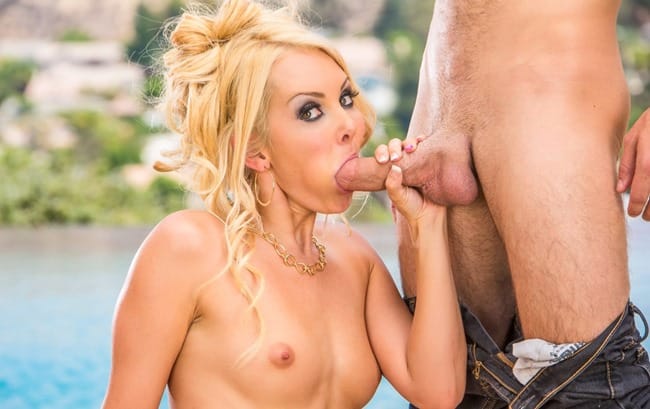 Fun Times At The Pool
You've come home to find sexy kitten Aaliyah by the pool just waiting for you, as she's actually got something very naughty in mind for you today. This honey is completely naked, with all her goods on full display, and her long blonde hair tight up in a super sexy hairstyle. This slutty one is spreading her delish pussy on camera and all you have to do is sit back, unzip your pants, and enjoy! If you prefer a hot brunette, check Flower Tucci, she is awesome!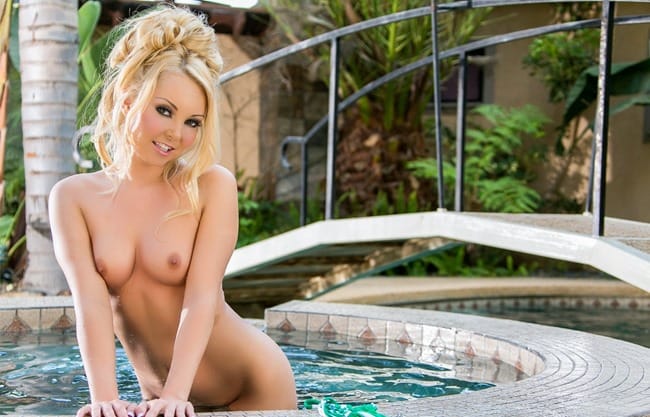 The moment she knows all eyes are on her flawless figure, she will tease you with her dirty moves and erotic poses, all with a fun and cheeky smile on her sweet face. She wiggles her fine ass at you, her hands are running along her every sensual curve, bending over, revealing that juicy twat she's offering you for dessert. Her legs are long and supple and look so tantalizing as she gets in the water, she loves the cold shiver it gives her lithe body while diving in. Aaliyah's silky smooth skin is only tickled by the sun, her rosy nipples are already perky and throbbing and her always eager pussy, all warm and tingling.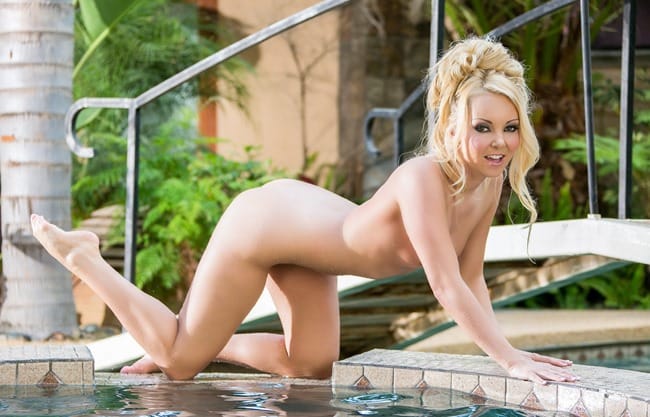 Aaliyah Love Nasty Blondes
When sexy blonde Aaliyah gets horny for some female company, she gets together with her equally spicy platinum friend. They take their mouthwatering hotness to the kitchen, that's where the wild action's at. Some slutty chicks just love to show off their inviting asses in skimpy, tight-fitting lingerie, before taking it all off on camera of course and this pair is all about exposing. Our lusty babes tend to get a bit rough in their lovemaking and they pinch nipples and spank some booty and stroke each other's tingling clits relentlessly.
After busting some racy poses, Aaliyah's sassy friend is about to set her perky titties free, and then her hands go down on her round ass, pulling her panties, and squeezing those kinky buns.
We have no objections whatsoever, and our exquisite gals look pretty damn fine parading those firm boobs and perfect shaved cunts after losing their clothes. Aaliyah and her friend will be banging each other for hours, as their horny desires intensify and so do the orgasms, until they are both covered in sweet pussy juice and neither one can cum any more.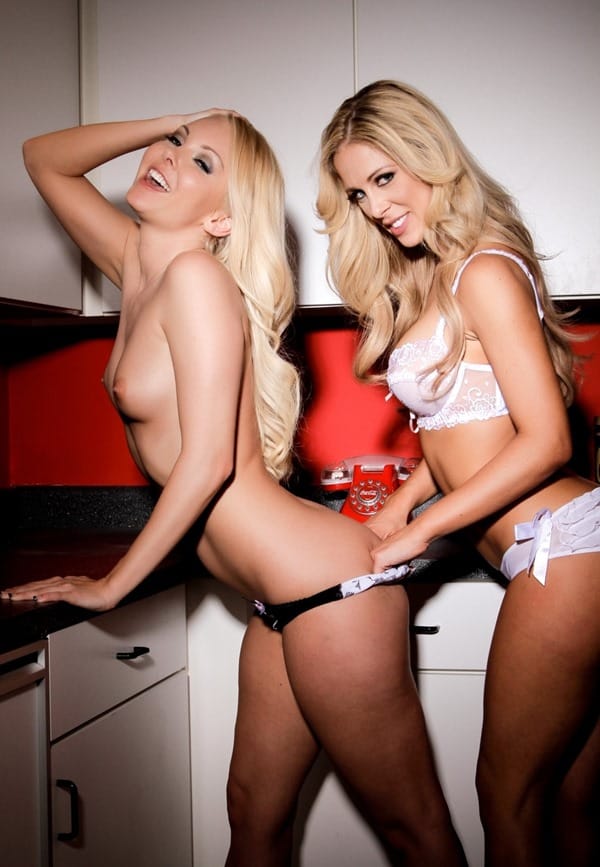 Lesbian 69
Pornstar Aaliyah Love, likes to make things fun in the bedroom, spice it up a little. She and fellow blonde hottie, love playing dress up and they're putting a new twist on their lovemaking, going for kinky thigh high hosiery. The two beauties let their hands do the talking, feeling up every inch of each other's lush bodies, but have no worry, they are perfectly aware you are watching, your loving attention gets their delicious tight cunts all horny and wet.
And what better way to get their climax together than a racy 69. Once the two blondies make it between each other's creamy thighs, they can't keep things slow. The sassy chick gets a good taste of Aaliyah's hungry twat, has her restless tongue all over that sexy soft shaved snatch and plump round ass arched up with her fine buns spread, while she gets the same kind of lovin'. These two eat pussy as if they're starving. They want to taste each other's pussy nectar, they want it running down their chins. Now if this is not something to get you all hard and on the edge of bursting your pants, I don't know what will! Enjoy it! Brooke Wylde has also a video enjoying her girlfriend's pussy, take a look!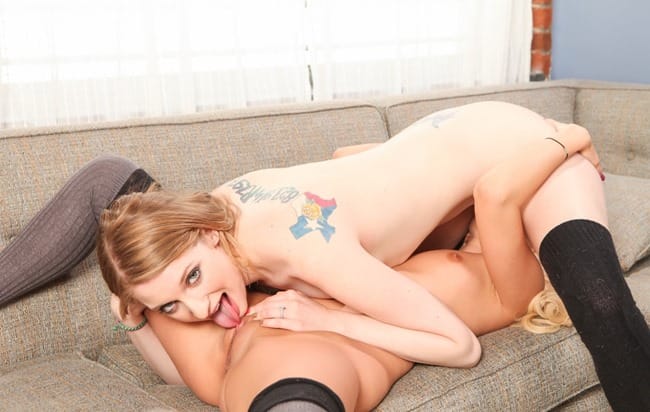 Aaliyah Love Sex Scene
One thing we know for sure about Aaliyah Love, this nasty babe loves to fuck. She barely gets her man on the couch and she's all over him, getting him undressed and loving the feel of his hands on her sweet tight ass, but this horny hottie wants a lot more than that. She wants his cock, thick and hard, running over her tongue and slipping into her throat, she wants it deep into her juicy twat, pounding her through one orgasm after another. That's exactly what she gets, as her hunky guy is all hands on and dick in.
He squeezes her lush titties with his big strong hands, turning her on as her nipples harden against his palms. Slutty Aaliyah is wearing nothing but her hot pink heels, bending over the white lounge, and this hot stud rams his hard rod in her dripping wet cunt. The little whore loves a good dose of cock in her tight cunt, and is just mad about the way he bangs her balls deep and pounding, she moans with pleasure with every thrust he makes. When she's done playing with a thick hunk of man meat, she wants him to spray her with his cream. Hope you enjoy! If you want to watch more hotties, i recommend also Eve Lawrence, she is naughty and hot!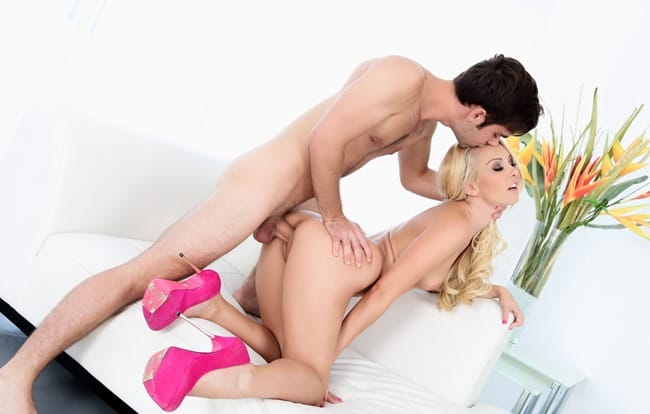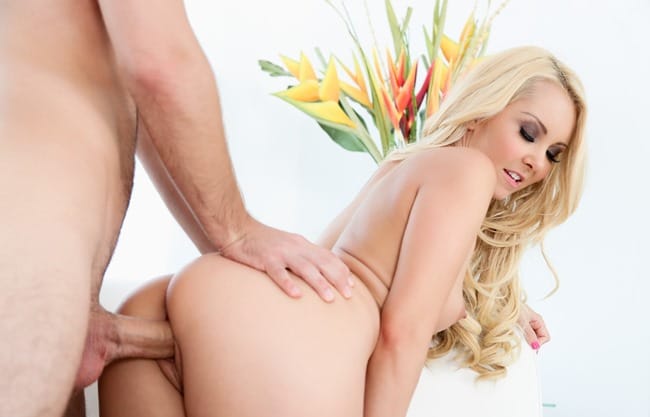 Phone Sex
When Aaliyah invites her dark haired girlfriend over for a good time, she is secretly hoping it will turn into a sexy time. Well, since our foxy blonde beauty opens the door with her flawless tight body only covered by racy black and red top, sexy garters, and no panties on, it quite quickly turns into a kinky love affair. Her equally gorgeous friend only has her alluring lingerie on, long black silk gloves and her tantalizing curves on display, all that being the ultimate sensuous seduction waiting to happen.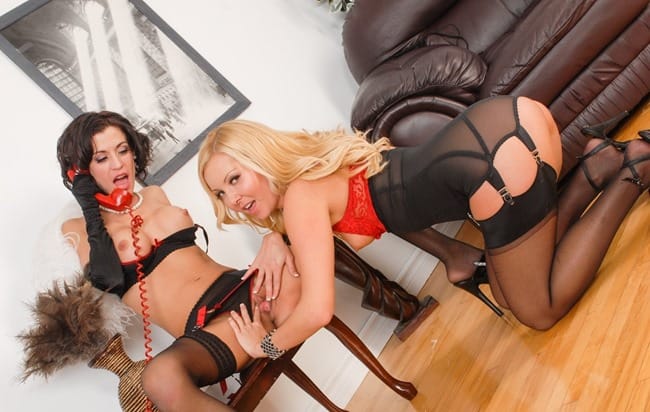 A little role play is always nice and sassy, and our fabulous babes, go for some phone sex make-believe, they start talking about how horny and sexy they both are, so it isn't surprising when these sweet chicks experiment with each other's cunts as they're home alone. Of course the fact that both of them expose their always eager pussies, spreading their legs apart for a nice view, gives a lot of sex appeal to their pillow talk. It all leads eventually to these two best friends enjoying a passionate lesbian sex scene in their cozy bedroom, and there is plenty of wet kissing and pussy licking involved. Enjoy!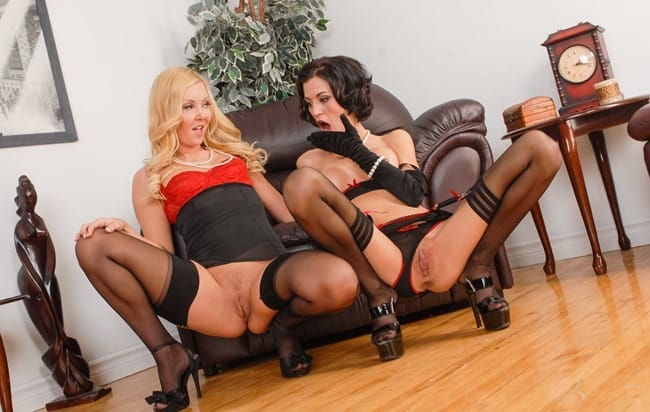 Aaliyah Love's Lesbian Affairs
Our favorite pornstar is going on a hot lesbian ride yet again in today's fresh update. These blonde babes are two fucking wild women. The kind of women that you wish you knew. You know that's the truth. They are oh so hot, horny and just love pussy and they aren't ashamed of it. Our hotties have a great chemistry together and it shows, they strip off naked, going for some very erotic moves revealing their delicious perky tits, and bouncy asses, for the entire world to see. You would love to tap that wouldn't you, give them a helping hard cock for those hungry cunts to enjoy.
Gorgeous Aaliyah goes on fancying over her gal's enticing suckable juggs, caressing and squeezing them up with her masterful hands, until her nipples turn hard as arrows and then goes on touching hers as well. You can tell she got her hot friend so aroused and tingling, as she gently starts stroking her lithe naked body with the tip of her lustful tongue. She buries her face in her fresh tight cunt, just knows how to please her and goes on a pussy eating binge, playing with her tongue on her clit, tickling it, feeling it, making that cooch all wet and moist. Loaded with lust and desire they continue pleasuring each other until they each get their mind-blowing orgasms. Hope you all enjoy it!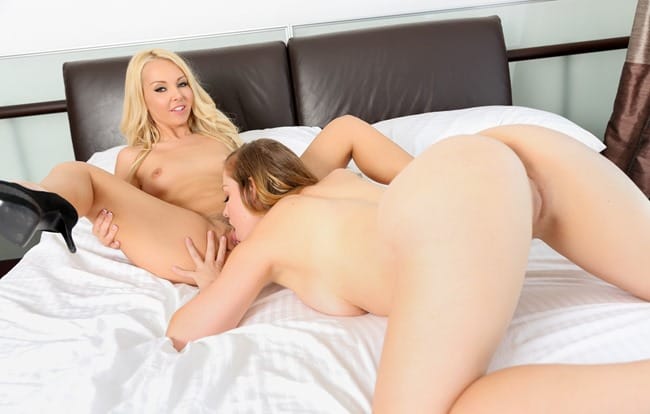 Aaliyah Fingering Herself
Aaliyah is ready to rock your world wearing nothing but pink, touching and pleasuring herself, all alone and just wanting to cum. She's really in the mood, so she's on her knees, on the kitchen countertop caressing her fine naked body, pinching her nipples until they turn hard and her legs wide spread so you can enjoy her slutty cunt in its full glory.
Horny Aaliyah licks her fingers with the tip of her tongue and then gently toys with the outer lips of her wet pussy squeezing them together as she rubs them slowly up and down. With her index finger she then starts hammering on her clit. Her pussy is dripping wet by now and our kinky blondie just slides two fingers inside with the same hunger and appetite you would use a spoon in a hot lava cake. She is going harder and harder at it, biting her lower lips in ecstasy, beginning to moan and scream while her body starts to shiver finally reaching her climax. It's probably one of the best orgasms she had in months! Bethany Benz has a similar update, check her out!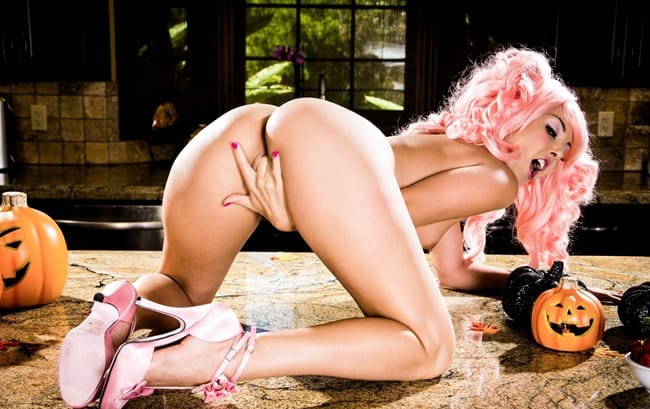 Hot Videos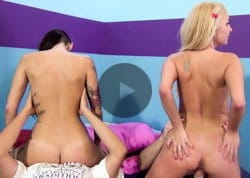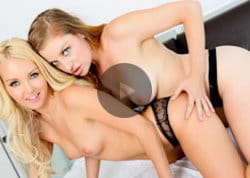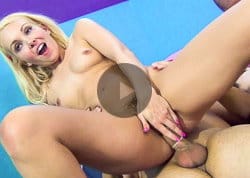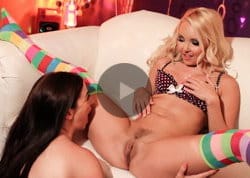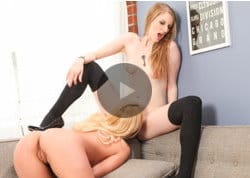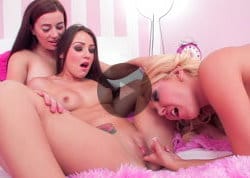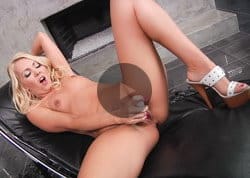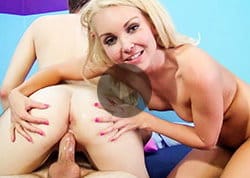 Hot Pics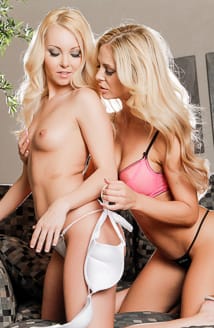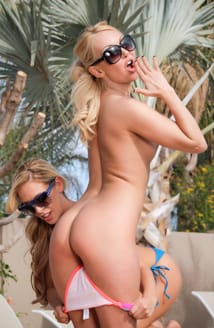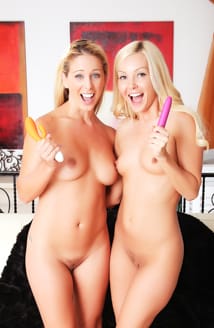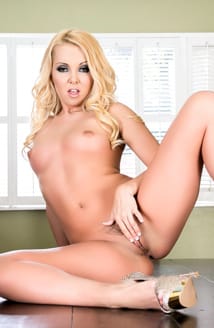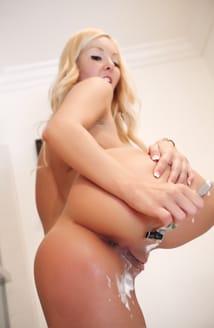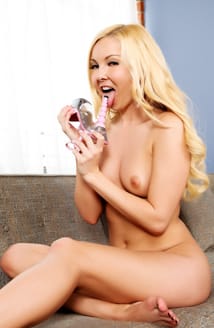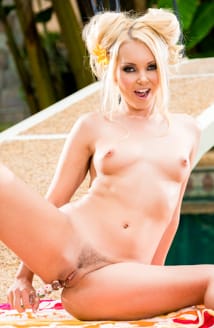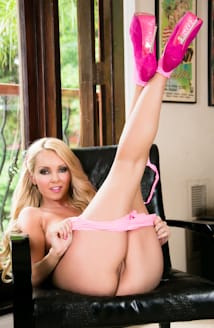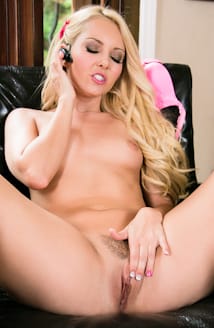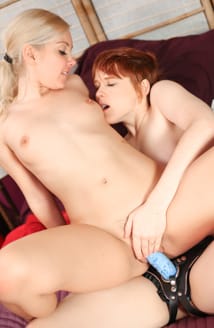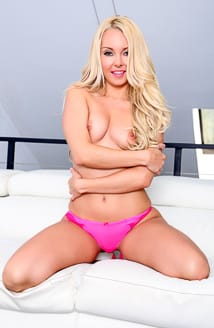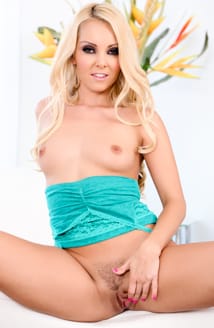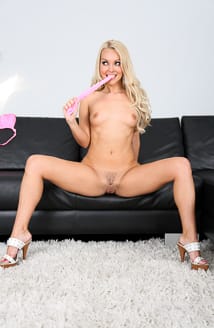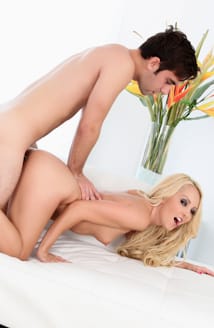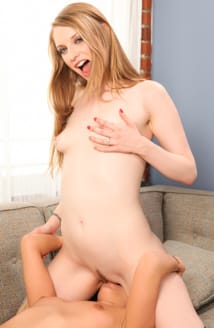 Blue Bikini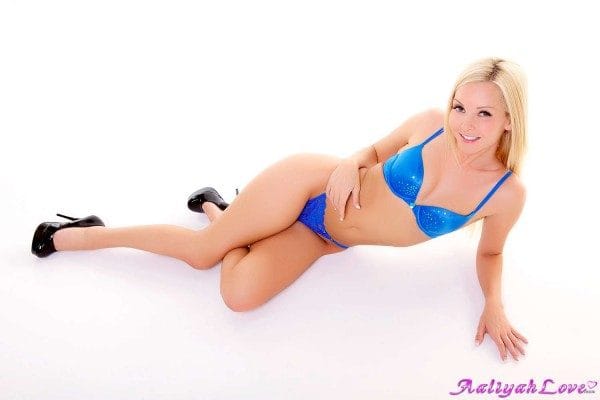 Come and see our Hot Babe full movie here and discover what you have been missing all along. Watch Aaliyah massaging her boobs that are so natural youd want to suck the nipples and make her writhe in so much ecstasy. Shes a nice girl, very quaint, but secretly lusts over guys with big knobs. Thats how the episode goes, and the rest is for you to find out. In the sample photo Aaliyah looks so good in her blue bikini which shows her nice curves. Such a fuckable babe Aaliyah is.
Pool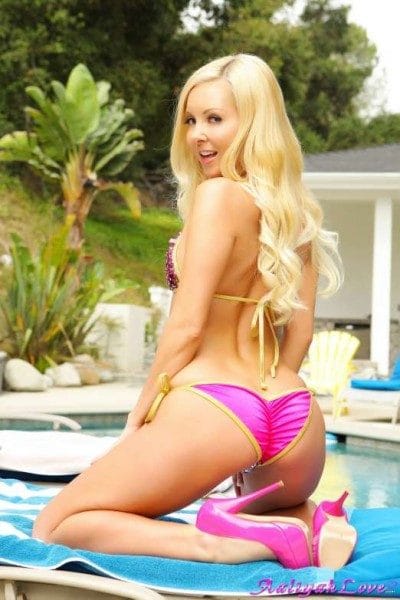 Check out Aaliyah swimming naked in her latest Aliyah Love Pool episode. This hottie knows best she likes to tease with her lovely smile. Even when shes all dolled up, you can easily see how gorgeous she is. Nice figure, well groomed, and very sophisticated. And the plus side, she is very hungry in sex. Aaliyah's sexual appetite can only be satisfied by someone who has weird, thrilling sex ideas. Thats right, you gotta keep Aaliyah on her toes so she could chase you. This teen loves nothing more than tasting fresh cum.
Missy Martinez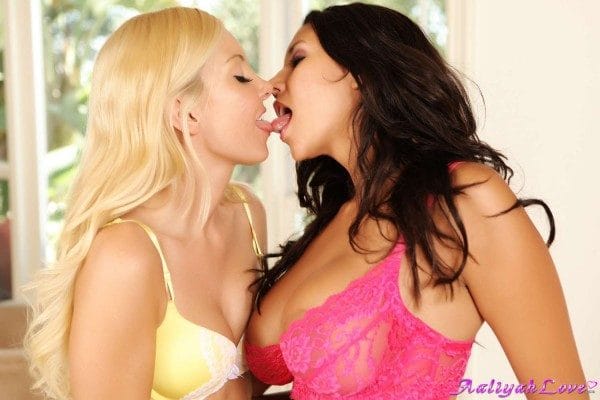 Your weekends will be better with our Lez teen porn pictures and movie. Here, Missy Martinez got the best lesbian fuck of her life with the lovely teen model Aaliyah Love. See Aaliyah french kissing Missy, totally making them both dripping wet down there. What else could be better than watching these beautiful girls go slutty and dirty with each other? That's one of the best thing our movies have shes a fucking instigator, she loves taunting and playing with fire with people as horny and sleazy like her.
Pink Tights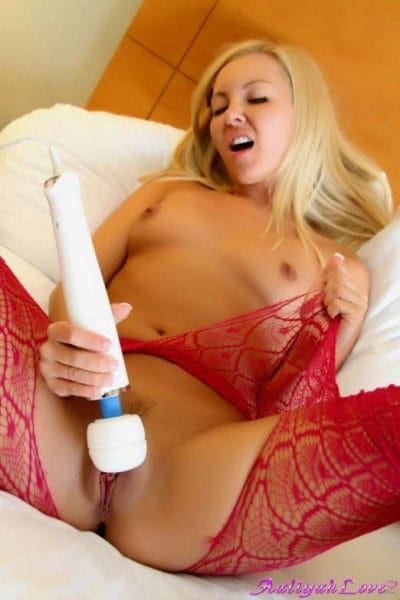 What else could be better than watching our newly uploaded Pink Tights teen video and see the stunning Aaliyah pleasing wet hole with a vibrator. She is such a horny girl, dont you think? Always ready to fuck and suck. Aaliyah's the type to get something hard to please her senses. Its her urges that make her behave naturally like this very hot and exceedingly raunchy for an eighteen year old. So dont be fooled at her angelic looks she wants your cock and you better give it because she wants it so bad.
Dildo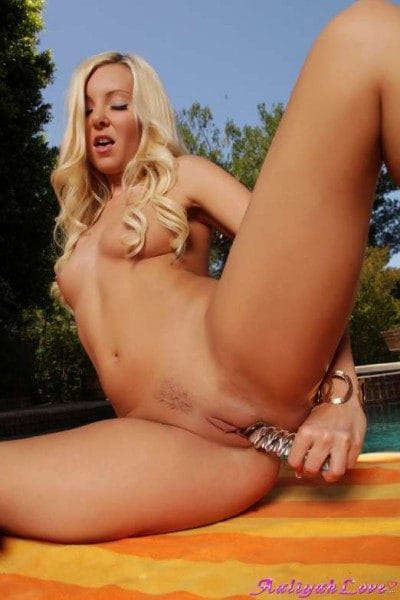 Sex toys are a girls best friend, and this is quite true in our Dildo fuck porn episode and see seductive Aaliyah toying her pussy with a glass dildo right before your very eyes. She loves to play with herself and gets hot real fast whenever Aaliyah has a horny audience to watch her. In this photo you can see how amazingly hot and horny this lovely teen is. Thighs spread open to give you a good peek into her perfectly trimmed vagina. No other teen can give you this much.
Aaliyah Love Lesbian BFF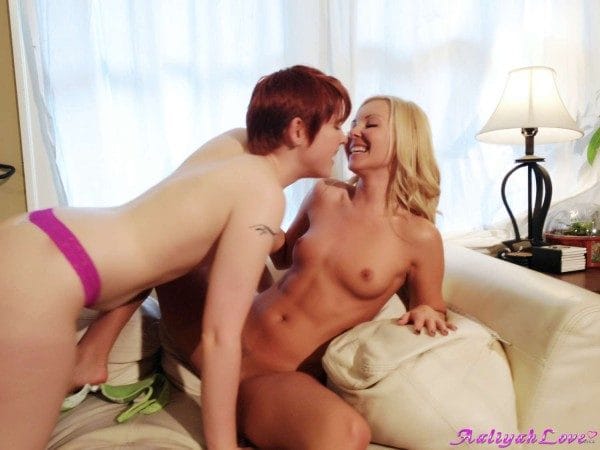 See more hot and sleazy lesbo sex scenes in our Porn episode. This is one of the best girl to girl teen sex videos we have for you about Aaliyah fucking Lily after persuading the pretty, short haired girl to get naked for her. She may appear naive and sweet, but her skills in getting someone to please is never a difficult task for her. expect a lot of steamy and sexy scenes only Aaliyah has. Shes one of the hottest amateur stars who can make anyone cum like woah.
Lovely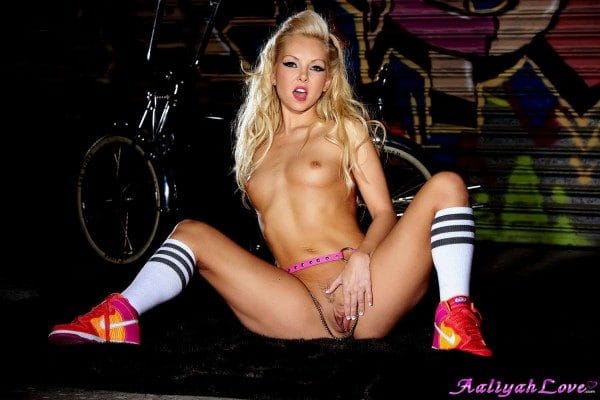 Be one of the first to get a copy of our Lovely teen video and photo gallery which can be downloaded here. This pretty blonde girl has a style of her own classy, yet naughty. Aaliyah has successfully made her way through the adult industry with her beauty, charm, and confidence which helped her amass the popularity which shes currently enjoying. Watch Aaliyah masturbating, deep and hard as her wet fingers ease their way in and out of her teen pussy. Shes the best, and the sleaziest you'll ever see.
Aaliyah Love Naked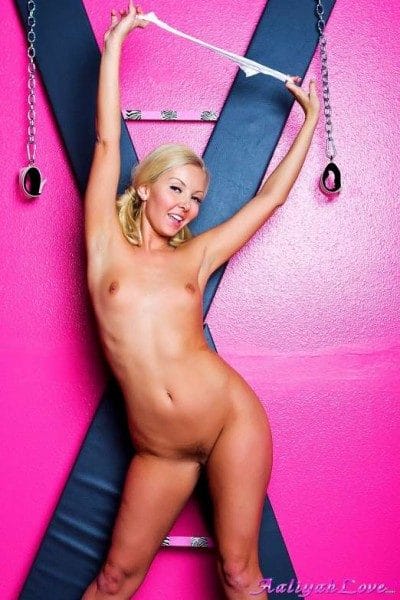 Our Naked pictures and full length clip are now available here for downloading. Watch sexy teen Aaliyah gyrating sexy hips the minute she took off her clothes. She is the best when it comes to showcasing her natural ability to to flirt, seduce, and make your member as hard as a rock. Aaliyah does not settle for anything less she wants perfection and creativity in her affairs. Her kinky yet feminine approach to sex is sure to make you explode right inside your pants.
Lesbian Porn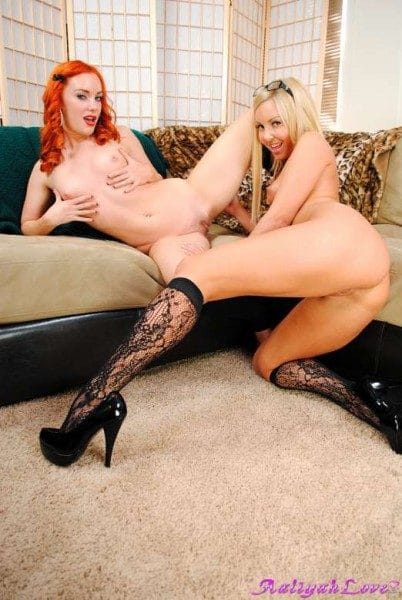 What happens when two lovely yet naughty girls get together will finally be uncovered in our Lesbian Porn video. Watch Aaliyah licking Danis clit, sucking it to taste her wetness. Another more reason for you to be more curious and download this new teen clip with Aaliyah as she gets her freak on with the equally gorgeous teen model Dani Jensen. See how these sweet as sugar bitches roll, exchanging only the hottest touch not known to man. A very good lesbian episode charming, subtle, yet very sexy.
Slutty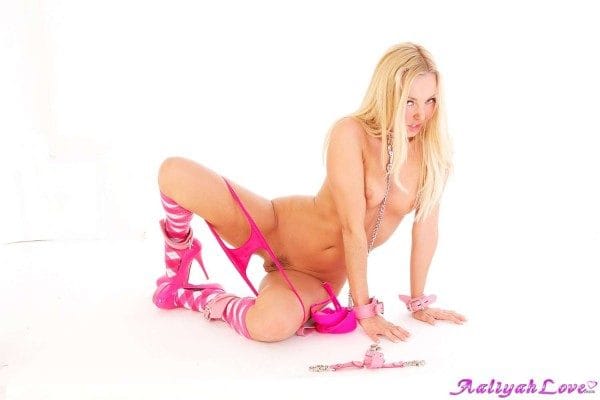 If you have a hot thing for teens who like getting hurt a little, watch our Slutty teen mistress episode. You will no doubt enjoy her video full of subtle yet sleazy sex scenes, which is so erotic. Watch Aaliyah caressing tight hole that is nicely hidden inside her hot pink panties. The story speaks about how a young teen got so curious about associating pleasure with pain, and finally engaged herself in bondage. Nice amateur porn movie here, trust Aaliyah to bare everything gradually teasing until you cant take it anymore.
Hot Girl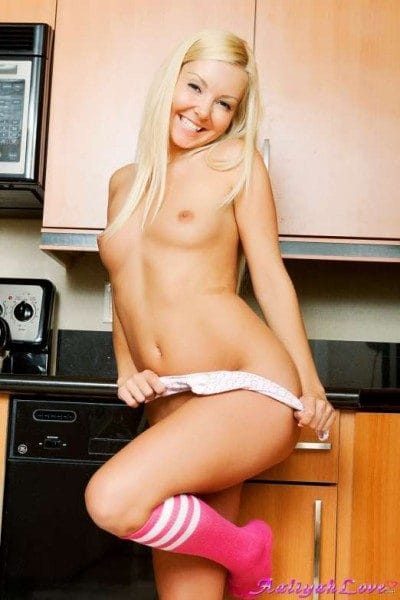 There is someone new for your cock to stroke to, check out our latest Hot Girl erotic porn video clip in full length, and you are in for a great time. This blonde hottie knows more than to tease see Aaliyah stripping herself naked in the kitchen, her favorite place. She knows how to have a lot of fun and her favorite position is missionary, on the kitchen table. You wont get tired watching this pretty teen spreading her lovely legs open for you. All Aaliyah wants is your hard, throbbing cock.
More Hot Pics