Naked In Public – Free Public Nudity Videos And Pics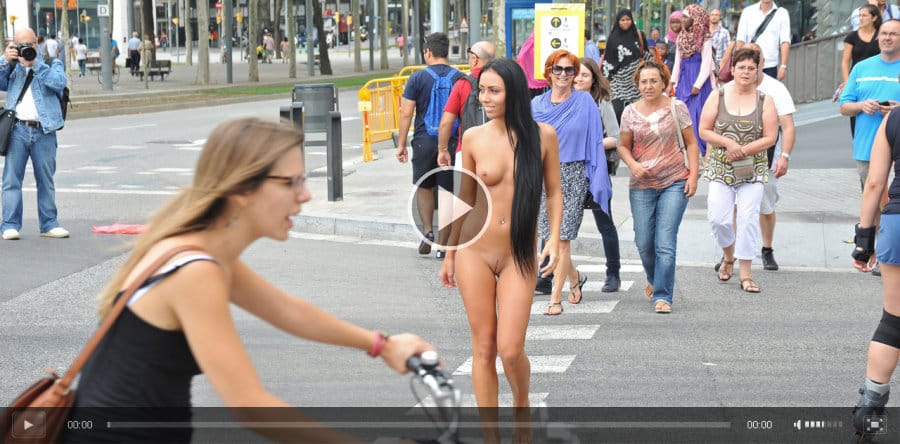 Naked In Public – Naked in the rain
For this naked in public episode we have a young raven haired beauty ready for a most unique and interesting experience. After a long hot summer day, rain comes over and this naughty gal suddenly has the urge to feel all that cooling wetness dripping down on her silky soft skin. The most natural thing to do is have a walk around town, in the nude, of course.
Our brunette gal has a lot of fun doing forbidden things, it's all very exciting for her and with that flawless tight body she adores the attention, just bathing in those judging and admiring looks. She takes her see-through umbrella with her but it's mostly for fun and keeping her dark shiny locks falling sensuously on her shoulders, in place, as she just loves those small rain drops running down on her perky round tits, getting all her body senses tingling and her rosy nipples hard. The young chick all tall and leggy, alluring and lovely, has her feet bare while on her wet stroll and when she looks directly at you, her incredible eyes are absolute intoxication, leading you into an abyss of pure delight. Enjoy this amazing scenes as this feisty one is inviting you to cum closer and take a good look at that luscious hot bod!
Naked in Public – Hot blonde shopping naked
Our model is a Slovakian hot blonde going on a shopping spree completely bare. Just sit back and enjoy our naked in public pics as we follow this cheeky babe running nude around town. When you lay your eyes on this super pretty gal you just know there's nothing to subtle about her, as this sassy fair haired beauty is able to go from a cute and innocent look to a smoldering temptress with just a simple smile. It's no surprise as she just loves to be admired, craving to be the center of attention everywhere she goes, that's why she takes her clothes off and goes on flashing her juicy boobs and fresh pink cunt to anyone who wants to see it.
And believe us when we say this, heads are turning everywhere she goes, people just stop whatever they're doing and lust over her petite body, some are just staring, some are judging, but our blondie doesn't really care about all that. Things get a little dangerous when this fun loving youngster takes her time crossing the street, and drivers are more focused on her fine ass that traffic lights, it's a complete mayhem waiting to happen! But the hottie is just a teaser flaunting all her assets, going on with her shopping and daily activities, sometimes getting a real nice discount over her perfectly shaved pussy, maybe some indecent proposals as well. Who knows what the day brings to this slutty cutie, she may even see something she likes. Enjoy it!
Sexy blonde naked in the pub
Our pics brings you a hot and feisty blonde temptress serving drinks at the bar, all butt-naked and proud. This cheeky babe is working hard to earn some extra money at a local pub, and thought of ways to get her more generous tips. Since she has a nice fit body with gravity defying titties, and sweet round bum, going full nude while attending costumers seemed the perfect way to go. Her boss was more than happy to accept her kinky way of business so she's going strong with endless rounds of beer pints, giving the guys a real naughty treat.
As she's bending over the table, her pert booty is all arched up just asking for some spanking, and her nipples hard as arrows from holding all that icy cold beer. She is strutting her goods, sliding her bod masterfully between the tables perfectly aware of her charms. The heat is up no doubt as this gorgeous blondie shows off her sensational figure all in her birthday suit, with a bright and provocative smile on that naughty face of hers. For more juicy scenes au naturel just check out naughty blonde with sexy tits and we'll see you again, real soon with fresh content. Until then check out the site am see some incredible British babes playing with their huge natural tits! Have fun, guys!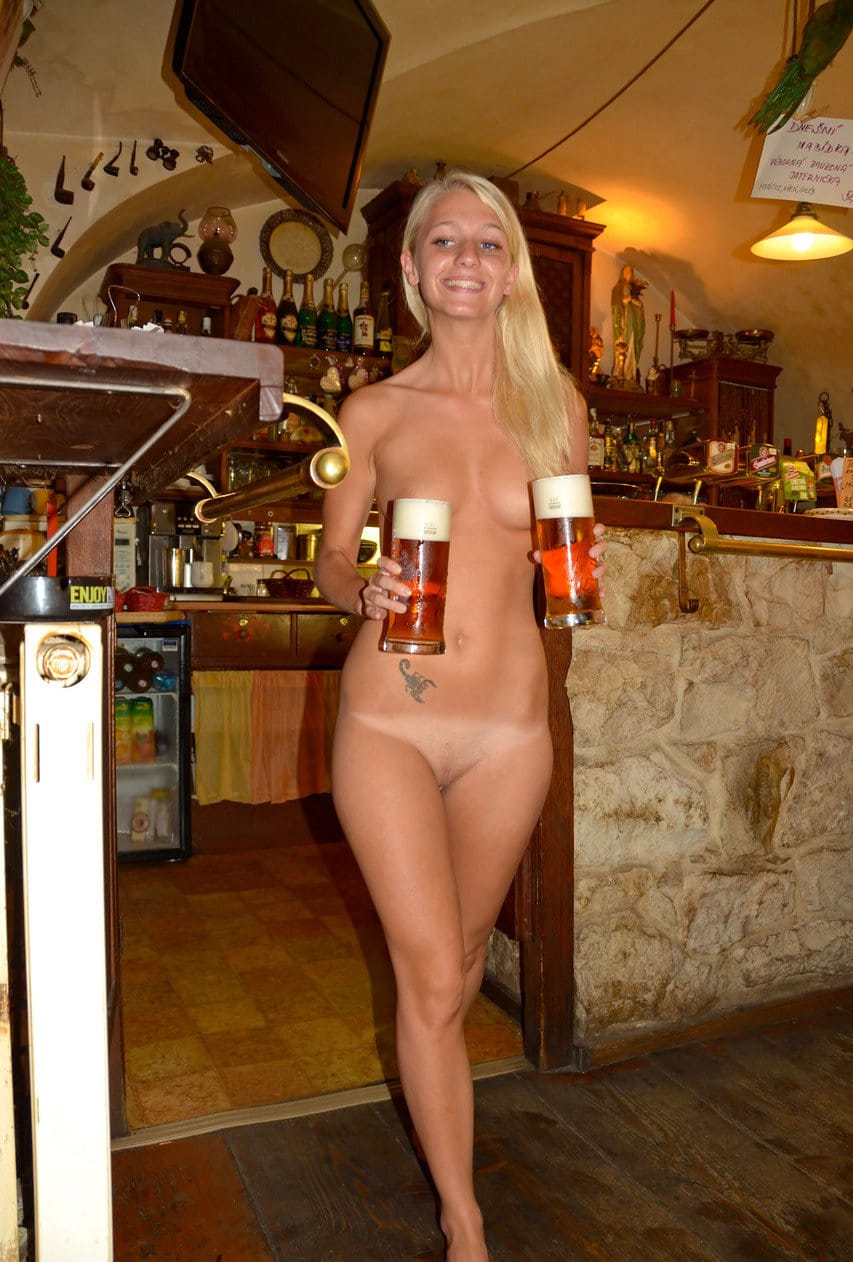 Hot blonde gets naughty outdoors
What better way to start the day than with a mouthwatering naked in public session, as one smoking hot babe goes naughty on camera just for you. The crazy beautiful blondie thought it would be super fun for you to a get an up close and personal dose of her lithe sexy body. It's a nice sunny day outside so she's out for a walk sans clothes on, with her lush boobies and round bum, all exposed. The sassy little tart goes for some slutty outdoor action, sits down on the cold stairs and spreads her long supple legs apart, giving us one hell of a view!
With a cheeky and playful smile on that pretty face, she's showing off her delicious pink cunt, splaying her pussy lips, giving us a nice full view of her tender peach. The young chick is in no hurry, running her soft hands all over her lusty body like a restless horny kitten, and then takes her fingers back to her slit, teasing her tingling clit. This is surely an update you don't wanna miss out, hope you guys enjoy it and we'll be here with more hot naked action! Also you can check out the site if you wanna see another hot chick getting naked and playing with her perfect tits!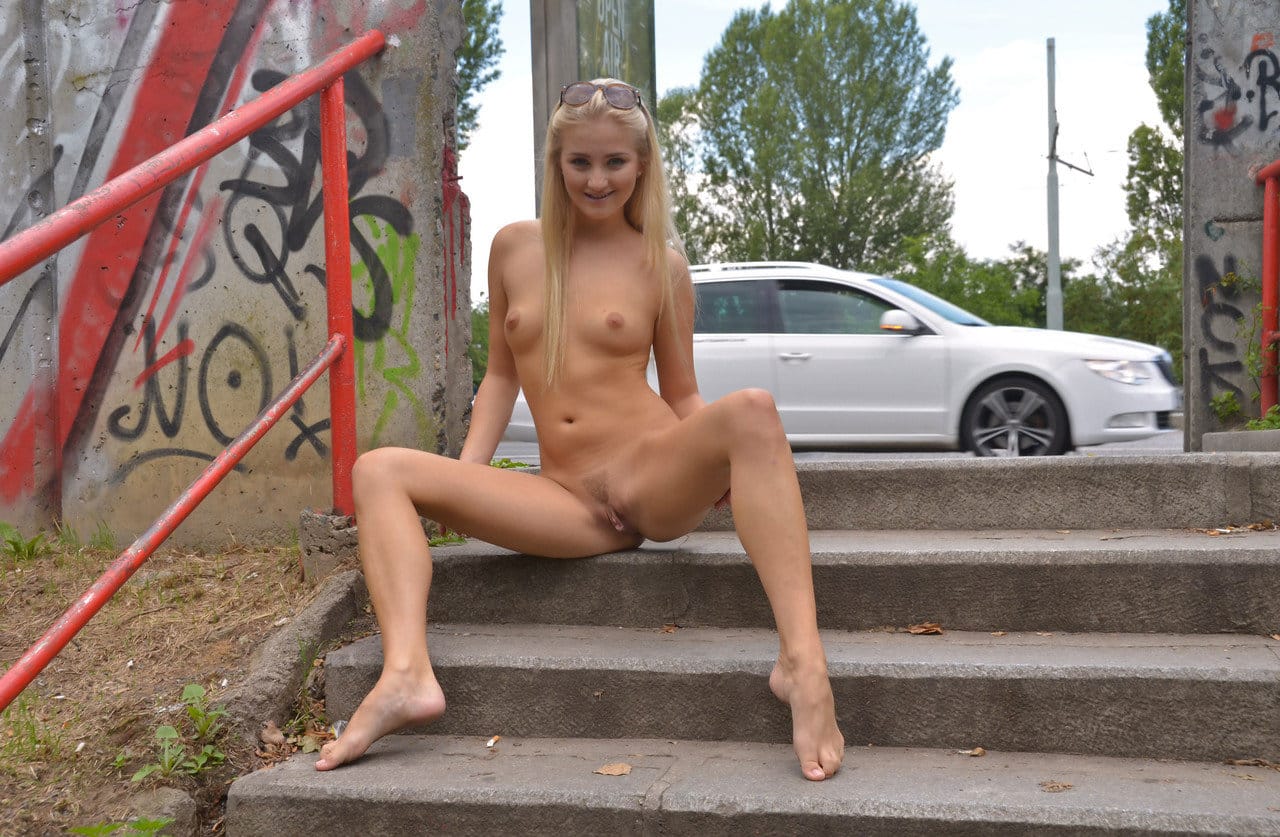 Naked in Public – Naughty blonde with sexy tits
We have a super juicy treat for you as promised in this fresh naked in public episode. Our gal of the day is a bubbly blonde siren, stark naked and ready for a tease at any given time, with her bodacious set of tatas on full display. She's a real show stopper whenever entering a room, it's in the way she walks, her provocative attitude, and let's not forget the way she wiggles her bountiful derrière trying to catch one's undivided attention. Now try to imagine all that hotness bare, with her rose tinted skin all creamy and divine, out loose on the streets, with her tantalizing curves setting all men around her on fire. Just look at their faces as she walks by, all fun and giggling, with her luscious knockers bouncing freely as she takes her steps.
She has us going wild over her Venus body, and when you see buttocks like those the only thing you want is to plant your face in them. Also you can tell she loves the attention, the pervy and kinky looks, the shocked faces, the lusting and adoring ones, they're all rubbing her vanity the right way. Let's not kid ourselves, this fair vixen has a heavy dose of it, but full confidence in her charms and great love for her body is most alluring and sensual on a woman. Like the chicks from the modelstied site, she adores knowing that she turns men on and every move she makes is designed to seduce and get cocks hard as a rock!
Sexy babe naked in town
This long legged brunette went out for a walk on the on the enchanting streets of Prague, all in her birthday suit, the most sexy and fashionable there is. Just sit back and enjoy the whole wild scene in our latest pics. The naughty little exhibitionist is showing off her goods on a stroll right in the center of the city, her all natural hooters, creamy thighs and toothsome pussy, as well as her delish butt cheeks are there for each and every one to see.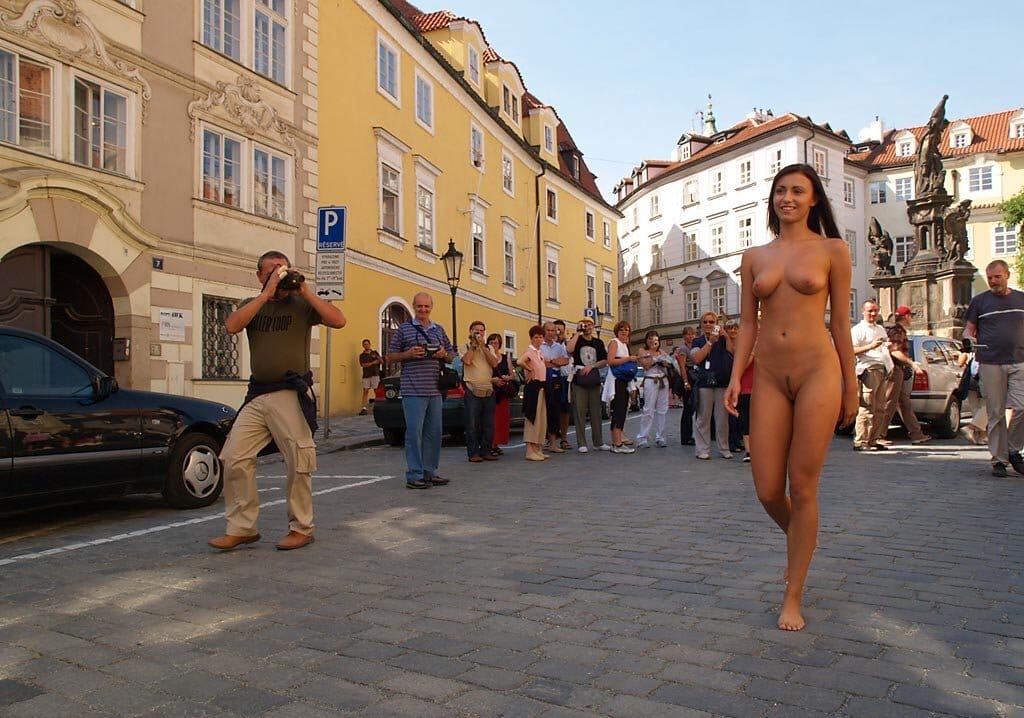 She's as hot and tempting as it gets, and would be able to melt ice with just her smile, or maybe the sight of her super sleek round booty. Considering the place is always packed with tourists, a stunning foxy babe like her parading around all confident and stripped naked, is bound to be turned into a live public flash national attraction. With cameras aimed at her as she walks around, her unparalleled beauty gets a jaw dropping reaction from all the people there. It seems like a one time experience, but this hottie goes out of her way to always be involved in wild and kinky adventures, always bare and the larger the crowd, the better for her. Enjoy it, guys!
Hanging out with football fans
It's Friday night and we have a drop dead gorgeous siren ready to have some kinky hot fun at the sports bar. She's usually one of the guys as she's just mad about football, they hang out together all the time and tonight is no exception. Their team won so what better way to celebrate that staggering victory than taking all your clothes off.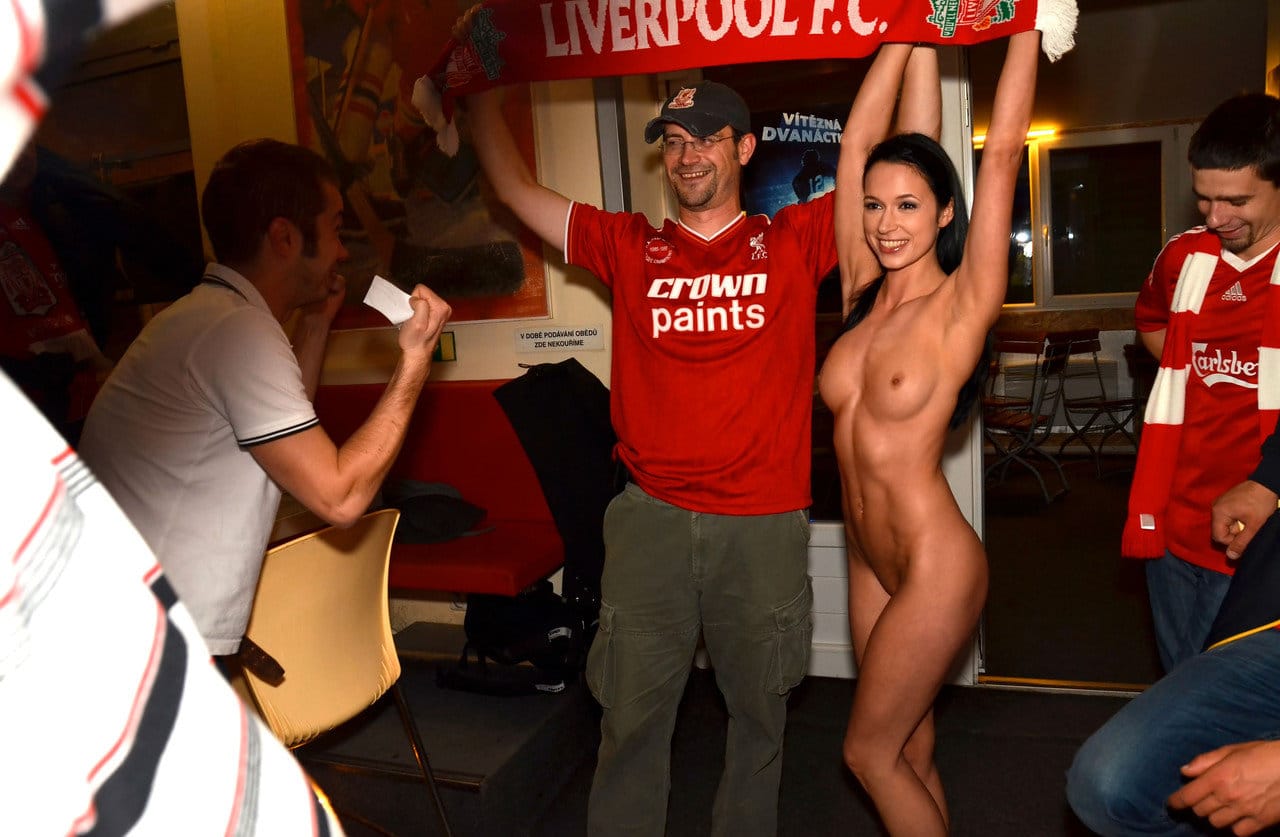 Our dark haired stunner is wasting no time and goes on whipping out her delish pair of titties, dropping off every piece of clothing, while everyone in there was going out of their minds. Her sweet tight pussy and fine ass are also bare and the single target of every man's lusting desire and fantasy. The cameras work nonstop as this kinky bombshell goes on a sexy posing spree with all the guys, smiling and teasing, getting their blood pressure higher and basically just fooling around in the nude. You can tell by just looking at all the happy faces in the bar that she's not gonna spend her night alone, but who's gonna be the lucky dude? Enjoy it and for more similar hot scenes just check out sexy Andrea teasing in the club.
Sexy brunette
We are just ecstatic because our poster gal for today's session is a raven haired, naughty and nice babe ready to spoil us with her absolutely flawless naked body. In these next special scenes, she decided to have some kinky fun just walking around town undressed, giving everyone around a most erotic view of her enticing hot body. This slutty chick really loves being watched, she's aware of her stunning curves and you can tell she's got a cheeky attitude on, instead of her clothes. Her bubble toosh, and round suckable boobs are all on show just for you and you can tell she is all about teasing, with her alluring moves making sure you see every inch of her luscious curves today.
She's quite the little exhibitionist as she seems to have no shyness in regards to exposing her oh so eager pussy for everyone in the street to see, even more so, she enjoys some good sexy and most provocative posing when people with cameras ask of her. Being admired, desired and fancied is something this slutty one really craves for, and receiving it gives her whole persona a naughty and confident boost. Like gorgeous Lindsey Marshal, this hot chick loves getting nude in public places! The tempting tart's perfectly shaved, fresh cunt is already tingling with excitement and being in public with absolutely no clothes on whatsoever, is most thrilling for our kinky youngster, the fact that all eyes are on her, gets her even more aroused. Enjoy it and we hope to have you around next!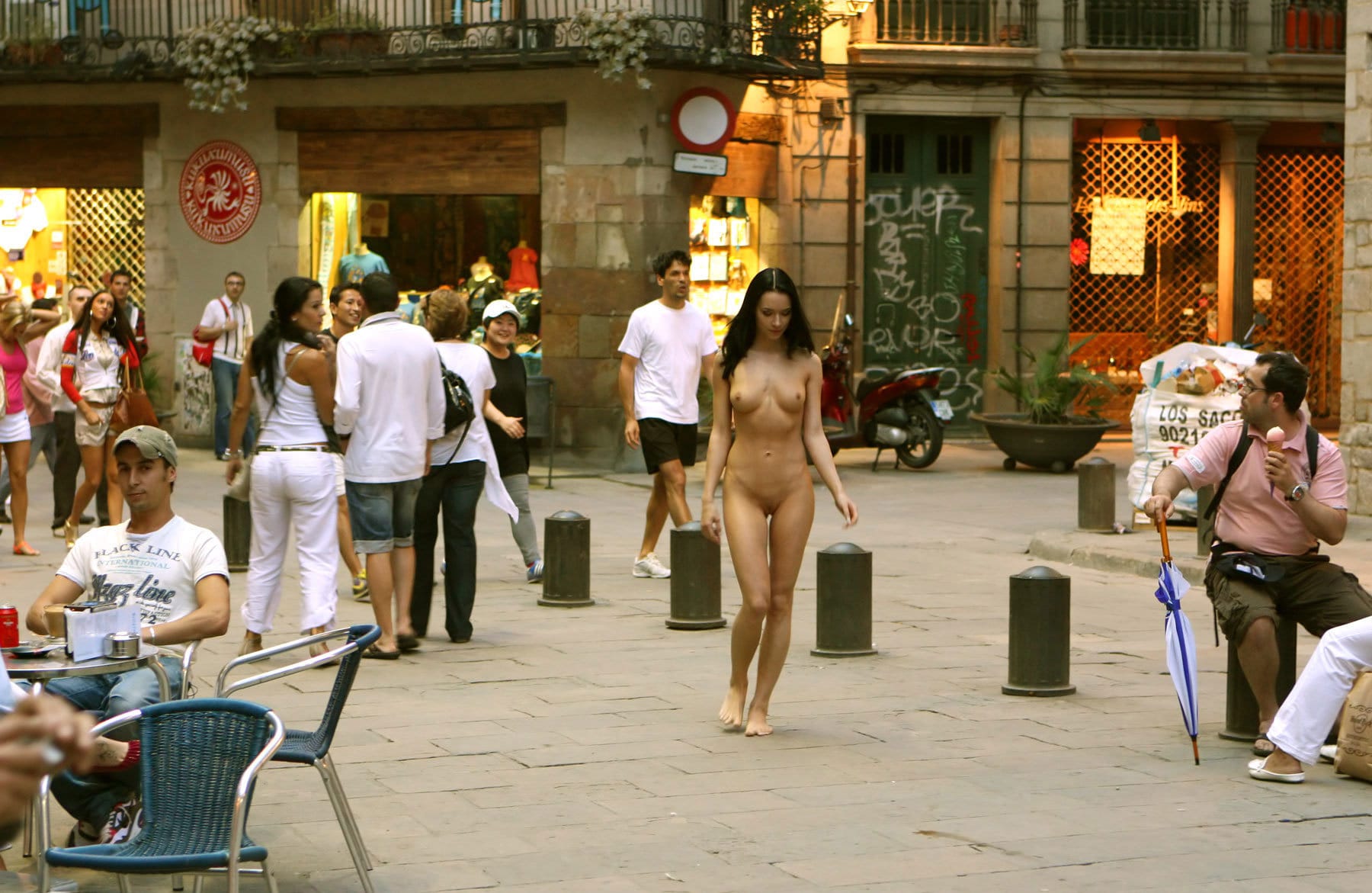 Gorgeous brunette naked outdoors
The hot action is moving to Barcelona and in these pics you get to feast your eyes on this delicious dark haired vixen going nude all the way on camera. We all know how little sluts like this get all excited and ready for it, when doing something forbidden in public and she's no exception. The Spanish babe gets her tantalizing sexy curves out in the sun and starts stripping off her clothes piece by piece, showing no mercy to any of them, giving away that tanned, lithe and lovely body of hers. It just drives her wild knowing that your dick is growing hard for her as she slowly takes everything off and reveals her mouthwatering saucy titts, and hot buns.
Her cheeky fun loving smile is on those full juicy lips as usual, and she goes on a carefree posing session, just for your excitement and pleasure, arching her back, spreading her long sexy legs apart to give you a sweet view of her scrumptious cunt. That's what makes her teasing even more delicious, and it's all because she just loves receiving the attention of everyone around her. With her glorious bod, all built for sin you can be sure she gets all kinds of kinky fun reactions from men who meet her, and the jaw dropping kind from all the rest. Hope you all enjoy this and we'll be back next with another juicy update. Until then, visit the site and see some gorgeous babes getting naked on public beaches!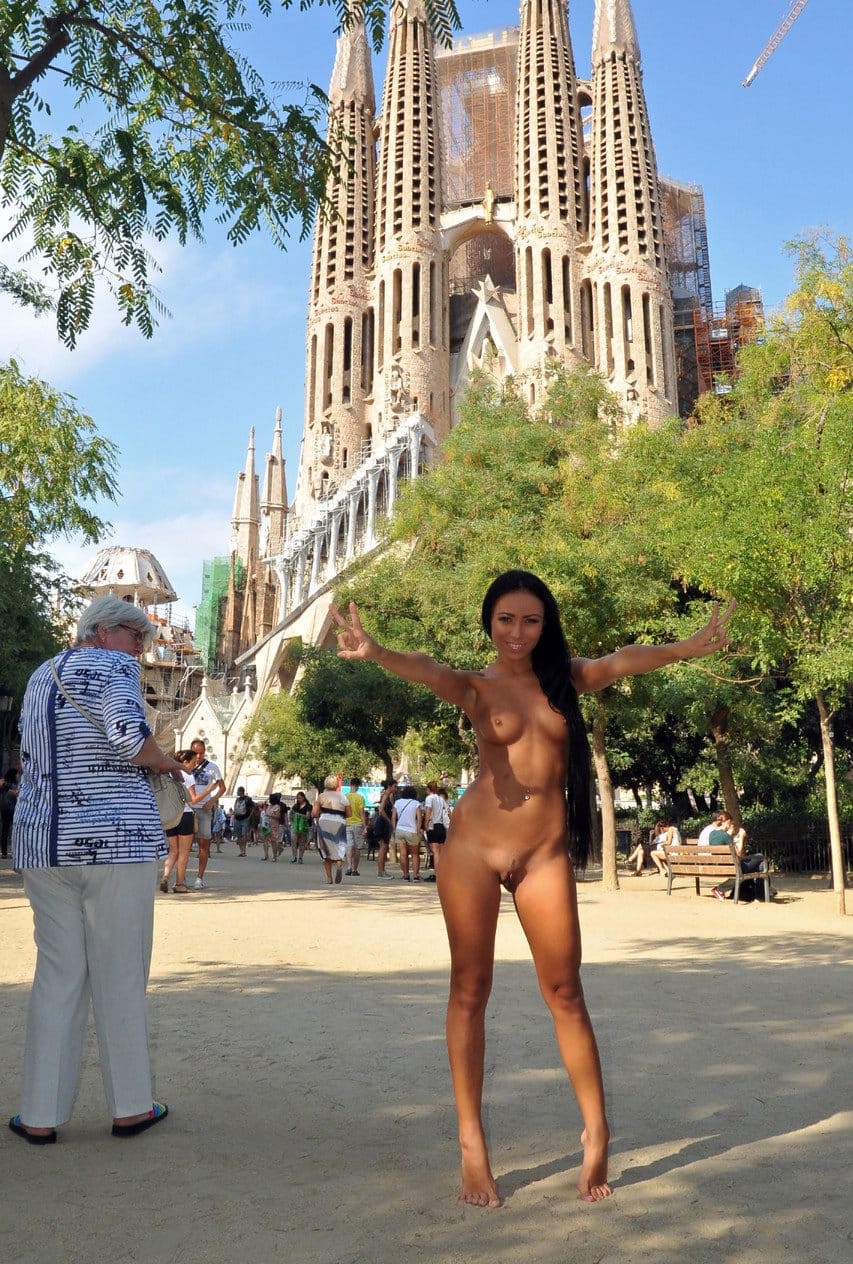 Naked in Public – Babe taking a walk naked
It's just perfect for one of our hottest videos. We are here again with a fresh and funky, chestnut haired nasty babe who's gonna tease a lot of guys today as she's going out for a walk in the grass totally nude. Well, this crazy bitch does have a strange way of wanting to be admired and lusted over by all these unknown men she meets so just sit back and let's have a look at what is she up to!
The stunning gal is flaunting her brazen décolletage all nude and bouncy as she walks around the park, and she's a real sensuous dream in motion when we get to feast our eyes on that luscious round booty of hers. Now that's a sight to see! The fact that her stroll takes her near a busy road, is also super exciting for her, as she loves causing traffic chaos, distracting men as she flashes her lusty cooch. Our nude amateur babe does like to see all these guys loving her nasty idea and their dicks going straight up. Hope you all enjoy this crazy scene with our nude hottie and we'll see you again next!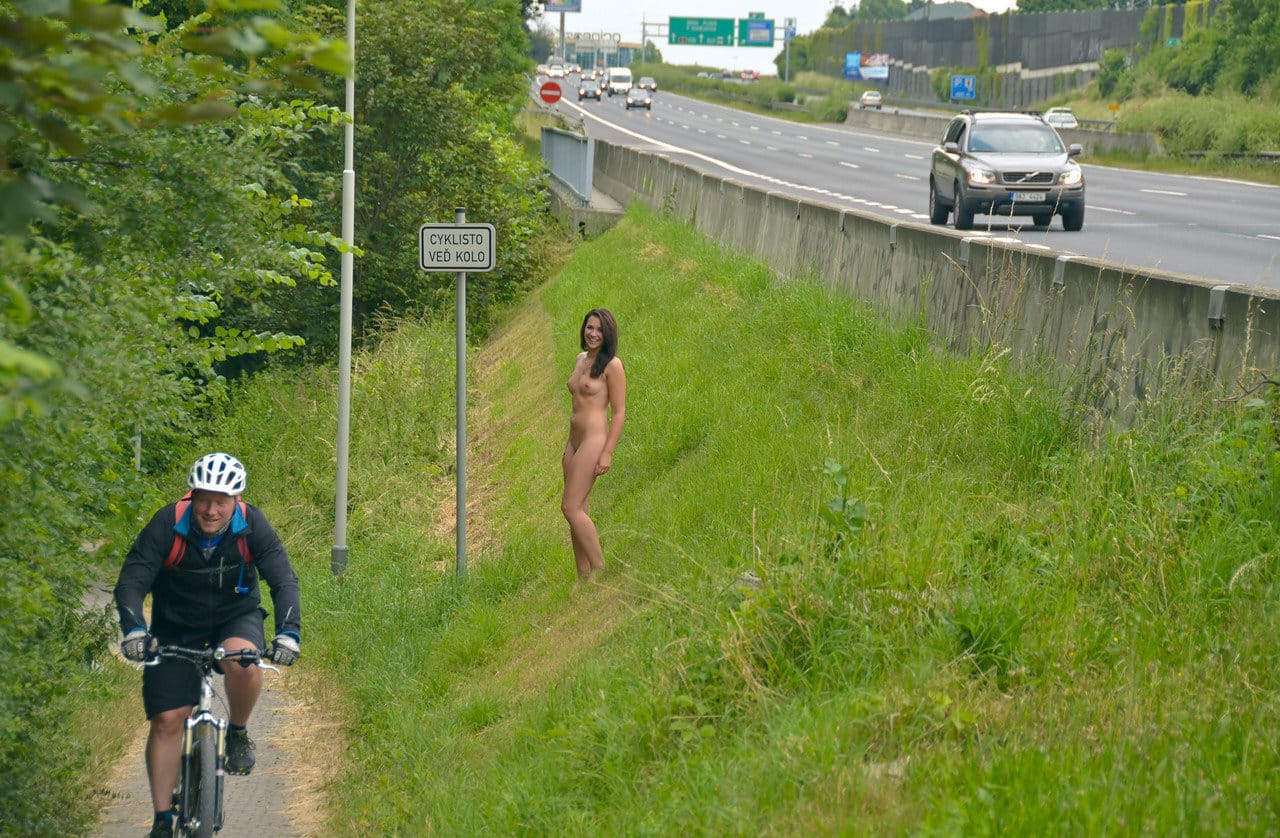 Sexy Andrea teasing in the club
Our next nude seductress takes partying hard to whole new level of kinkiness. Sit back and enjoy this super hot update, featuring a delicious brunette taking all her clothes off just for fun! It's Saturday night and our foxy gal never misses a night out, she's all dressed up ready for fun. With all that music turned loud, the heat is up and this sassy chick is feeling super horny and rather naughty, so she goes on dropping her clothes off on the dance floor and exposing her luscious curves in all their glory. She's so damn sexy, that she's driving all the men insane with her sizzling hot body and let's not forget, her sensational moves.
You should see her working her way on that dance floor, strutting her fine ass with a feisty attitude on, arching her back, tossing her long silky mane around her shoulders, spreading those creamy and tantalizing thighs apart and flashing her juicy slit. Her motions are designed to get hearts racing, just like DomKarin, so there's no doubt about it. Have a great time guys with wild Andrea going super kinky at the club, you'll have the best time ever!
Naked In Public Videos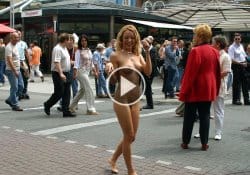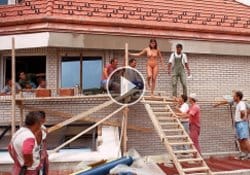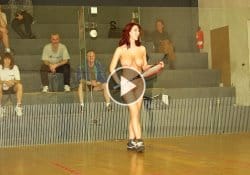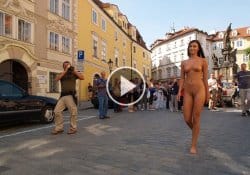 Girls Nude In Public