Charlotte Springer – Free Videos and Nude Pics Starring Charlotte Springer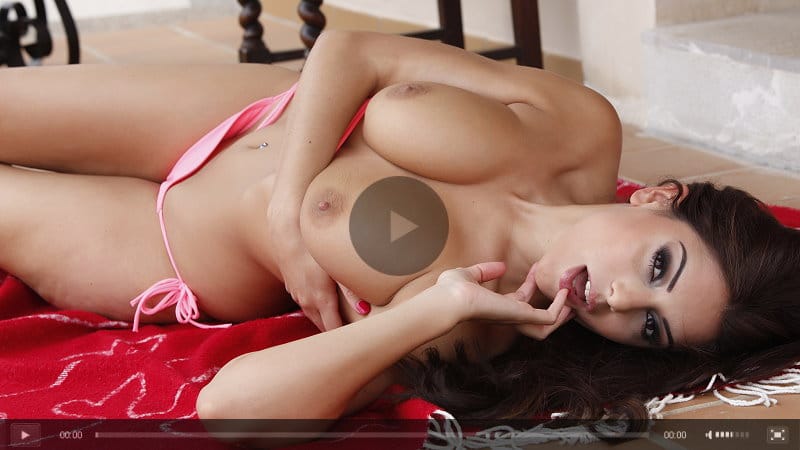 Charlotte Springer Nude By The Pool
Beautiful busty babe Charlotte is all curvaceous and succulent in our next video, flaunting her goods in black lingerie and pink lace stockings. The sexy British is having some naughty fun by the pool, lounging and strutting, giving you a heavy dose of sensual erotic posing, before proceeding to take off every little piece of garment she's wearing in a most seductive manner.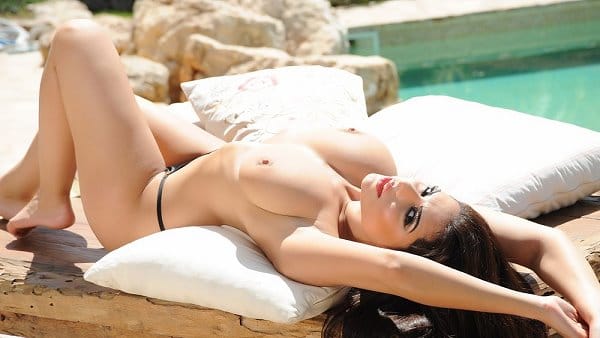 She's perfectly aware of her charms and knows exactly what you want to see, also she's more than eager to give it all to you, it's just that going for a little teasing first make things so much more interesting. Her racy hot colored hosiery is the first to go, showing off those incredibly tantalizing long legs, exposing her juicy derriere in all its roundness, leaving behind only her kinky string bikini. She's toying with all of us, getting on her hands and knees, on her sunny lounge, arching her back and spreading her creamy thighs to give us a little glimpse of her oh so inviting slit, while her string is captive between her pussy lips. She's a picture of pure seductiveness! The gorgeous coquette just loves the attention, loves to play, have fun, and that cheeky smile on her face is the secret to her charm! By the way, you can see other beauties getting naked and masturbating around here too!
The all new Charlotte Springer videos are here everyone!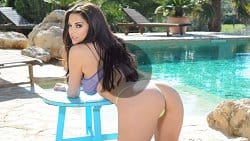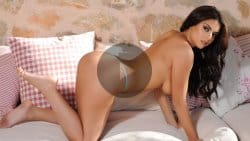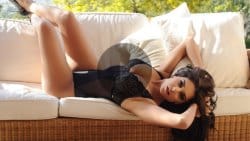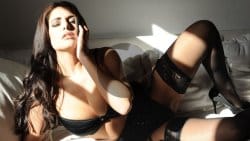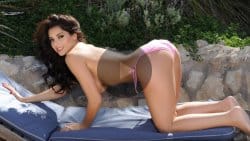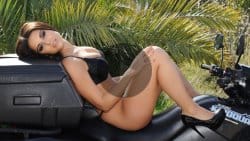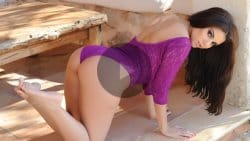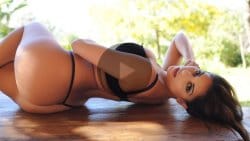 Sexy Black Lingerie Video
What better way to start the day than with a mouthwatering Charlotte Springer video. This naughty dark truffle haired glamour model is showing off her flawless curves in racy black lingerie, on a sunny day by the pool. It's all for you to enjoy and we are talking bangin' hot booty, her stunning face, luscious hooters and sweet juicy snatch. This voluptuous enchantress is getting all worked up for some naughty posing in front of the camera, flashing some of that alluring hotness, getting on her knees with her sensual back all arched up, her tantalizing legs apart, and her masterful hands running all over her creamy and delicious body.
Our curvaceous minx has her juicy buns all exposed in teeny-weeny string panties, barely covering her always lusting peach, and it's sole sexy purpose is to tease us all. She bares her enticing round juggs next, and those melons are large and lush, and her rosy nipples are to die for, all sweet and savory like little candies you just want to suck, lick and get them to melt in your mouth. When she strips off the rest of her knockout bod, her curves just mesmerize you, bringing all kinds of fantasies to mind involving some hard riding and feeling her tender puss wrapped tightly around your big dick. This bombshell just aches to be fucked and her full sensuous lips would just love to go at it as well. She's is one babe you just can't get enough of! For similar videos, check out the upskirt times site! See you!
Teasing In The Pool
Gorgeous temptress Charlotte Springer is here getting wild in a frisky bikini riot. She looks stunning in her skimpy animal print two-piece and that tiny outfit can barely contain her ample, fleshy hotness. This busty honey is so plush she's dangerous, with milky soft skin and a luscious, daring body you just can't wait to get your hands on. Every inch of her killer curves, as she poses for you, is sheer perfection all sleek and completely captivating, and just wait until she starts unraveling her goods! Our super naughty one loves getting naked in the pool, feeling the cooling water spoiling and pleasuring her delish body, getting her sweet pussy all wet and tingling.
She pulls her top and flashes her heavy duty titts, runs her slutty hands all over her curvy bod and she's tossing her silky long mane around her shoulders, allowing you to get a good closer look at all that luxurious beauty. There is nothing quite as sensuous as this little sex goddess in some risque posing and stripping session and she just loves sharing it with you. Care to take a dip in the pool with her? We know we would! For more juicy scenes like these, just check out Charlotte playing with her perfect tits and enjoy! Also you might visit the blog and see some beautiful Asian sluts massaging their impressive knockers!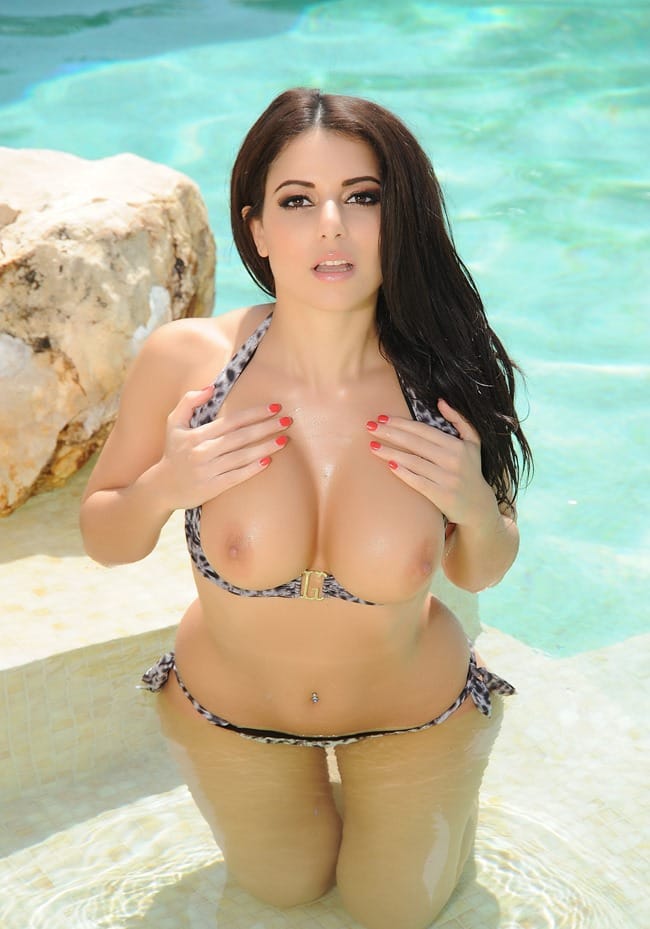 See Through Blue Bodysuit
Luscious and alluring Charlotte Springer is one sexy hot brunette vixen in a racy blue bodysuit. Like any seductive babe with a fiery temperament, she loves the way silky lingerie garments make her feel and taking it all off for the whole world to see makes it even better. As the camera starts to roll, we find the decadently beautiful glamour model lounging on a matching pillow, with her blinds in the background, and her sky high heels wearing long legs, up.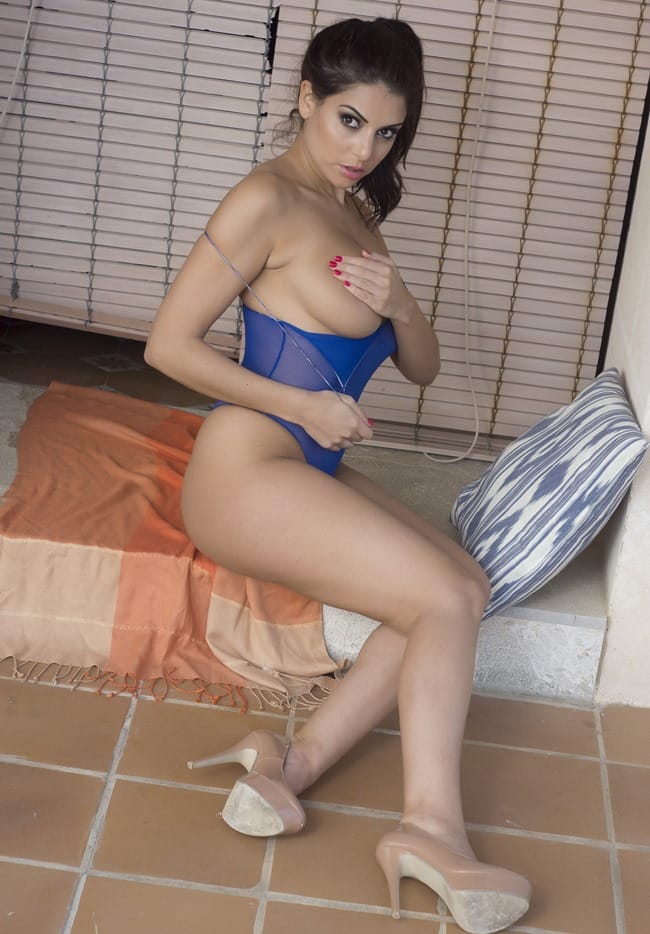 Her amazing outfit is giving away most of those juicy curves, but the cheeky and playful smile on that stunning face reassures us we're gonna see it all fully exposed on camera. Slowly she strips, dropping one of her straps with a provocative and delicate move, baring her lush bouncy hooters, but still enjoying a good tease as she covers her rosy nipples with her hands. There's a touch of sorcery in every move she makes, giving her the ability to enchant those dangerous boobs, and a mere mortal doesn't stand a chance when faced with her sultry charms. She turns around and flaunts her bountiful and curvaceous ass, and you can tell she loves to flash her titties and her pussy at you, driving you wild with her naked treasures. If you liked this scene, join the site and see some gorgeous babes showing off their big butts!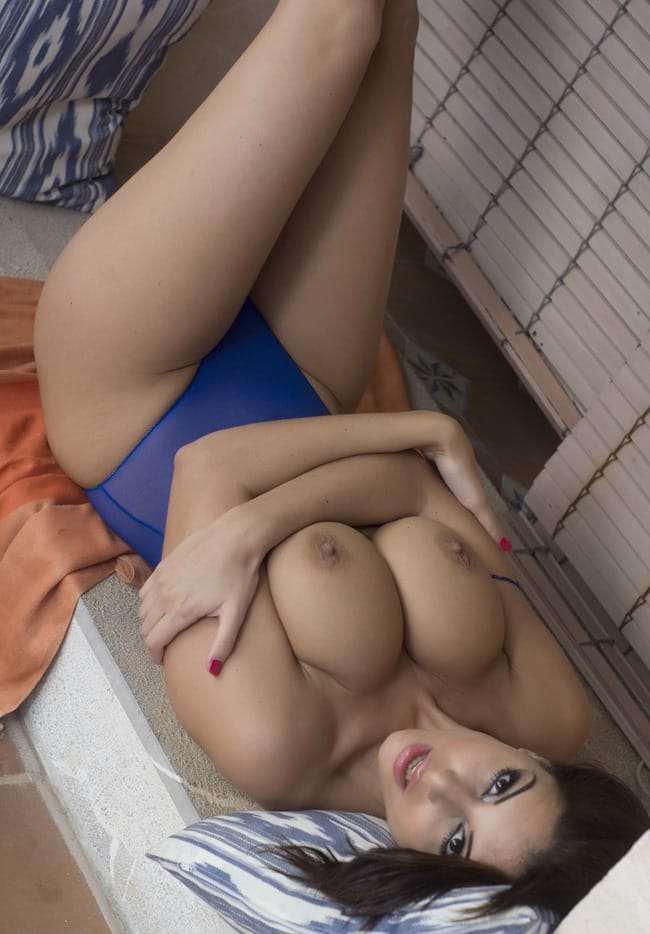 Red See Through Lingerie
When a hottie like our juicy busty dark haired one, is relaxing at home with a lover, she takes a big fancy in enticing him good with her naughty ways. You are the lover this sex goddess is seducing, all in her racy red lingerie she's well on her way, about to show us just how hot those brown haired babes can be. The delicious brunette is hot and curvy in all the right places, she's got those huge boobs of hers snuggled tight inside her skimpy babydoll nightie, and her sweet pussy covered in matching red panties.
All the dirty action takes you to her bedroom where she really shows off her kinky side in tantalizing detail. She loves taking her mouthwatering titties out to play, exposing them in a most temping and provocative manner, caressing them with her fingers, trying to cup them all in her hands and pinching those scrumptious nipples until they turn hard and pointy. This tempting bombshell lets you know straight up that it doesn't get naughtier than this, she's a very bad girl indeed! Hope you all enjoy and if you'd love more of this seductress going down and dirty just check out strip outdoor on the patio and have fun!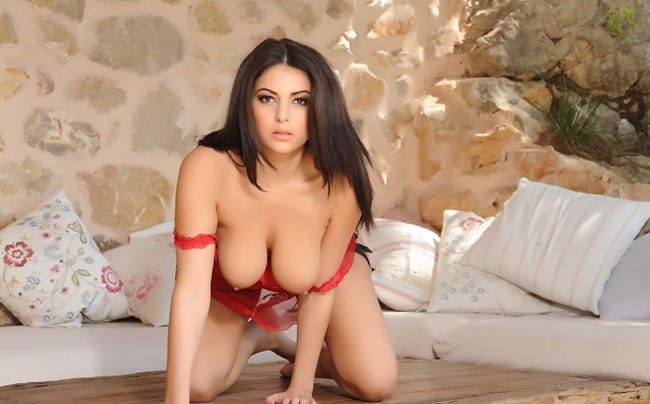 Charlotte Springer – Playing With Bubbles
Our favorite glamour model is looking fierce in her naughty and alluring red lingerie and black stockings. She's a horny dream come true as she takes the wild action to the counters of her kitchen. Of all the things that might need some good thorough cleaning, our gorgeous vixen goes for her hot and always tingling body. The seductive beauty gets her sweet plumpin' round toosh up on the kitchen sink, her delicate hands on a bubbly wet sponge and just sets her deliciously hot knockers free.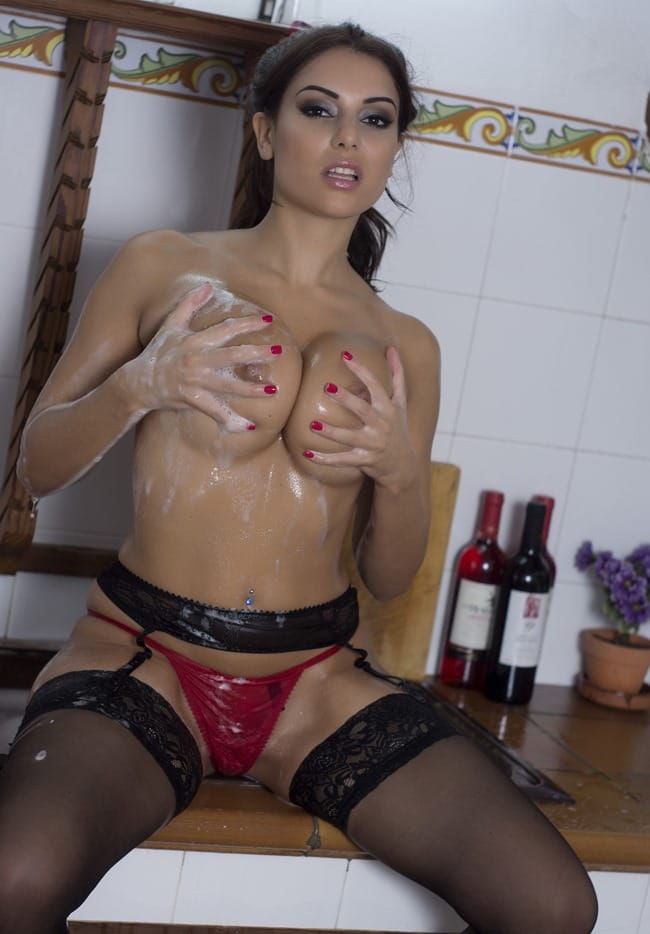 With her long legs all spread, a dirty look on her stunning face, with her juicy sensuous lips all lusty, you can tell there's a wild fire burning deep inside of her, getting her all horny and worked up. Her nude big suckable titties are so inviting, and as this feisty siren gets them all wet covered in bubbles and their tiny nipples all perky, you can be sure she's also gonna make you whip your hard dick out ASAP!. That stunning smile alone will drive you crazy with desire, as she wraps her hands around those giant slippery puppies, massaging and squeezing them good. All that hotness will take your breath away and is surely enough to get your stiff cock ready to blow! Wanna see another beauty getting wet and wild? If you do, you might wanna join the site and see a sexy Latina chick playing with herself!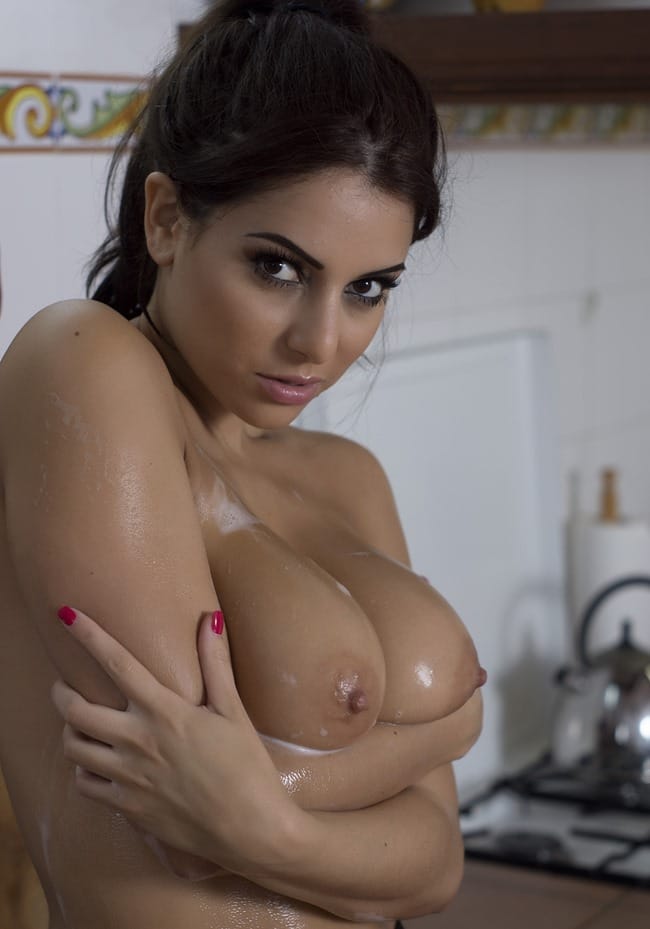 Pink Bras and Panties
This seductive chestnut haired porn babe can sure fill out a swimsuit, and with her voluptuous goodies this hot pink bikini makes no exception. She loves spending time by the pool, wearing barely there outfits, getting her tan on and this tiny bra and panty set, hardly covers her savory naughty parts. With a luxurious background, this fleshy honey is tossing her long hair, strutting and posing dirty on camera just for you, all horny and craving for attention. Her silky smooth skin is only tickled by the sun, and thankfully our sassy vixen can't wait to be completely naked, exposing every inch of her ravishing figure all built for pleasure, like the dirty little slut that she is.
The pink top is the first to go, showing off those ostentatious round jugs as she's giving them a proper handling, squeezing them tight and pressing them together in a richly intoxicating way. She's one decadent treat in every way she moves, no doubt about it! Our stunner is teasing us hard but she needs those panties to go down as well and reveal that ripe and eager pussy, and all that is one knot untying away. For more hot and kinky content, just check out Charlotte strips in the garden. Enjoy it! If you wanna see more hot bikini models massaging their perfect tits, visit the blog!
Strips Outdoor On The Patio
Hot day in the sun for our little minx, and you can see the absolute joy on her face as she's smiling brightly while she catches the rays on nearly every inch of her beautiful plump body. Her long dark hair is swept back from her pretty face as she steps outside wearing a kinky pink polka dot bra and lacy black panties, walking around and posing on her crazy high platforms. She goes for some dirty Venus attitude on camera, twisting and turning, wiggling her slutty ass at you and shaking her fleshy hips, all followed by lounging in the sun and spreading her tantalizing legs apart.
Caressing and squeezing her voluptuous curves is every man's dream, but it's her gifted hands that get to do it, taking her top off and parading her decadent funbags for us to lust over. This belle may seem like she has an innocent girl next door charm about her, but looking deep into those big hazel eyes you see the cheeky one has a sexy mischievous streak about her. She loves to tease and torment, going slowly about it before giving all her nude curvaceous assets away for you enjoy! You can also join the site and see some bikini models massaging their tits!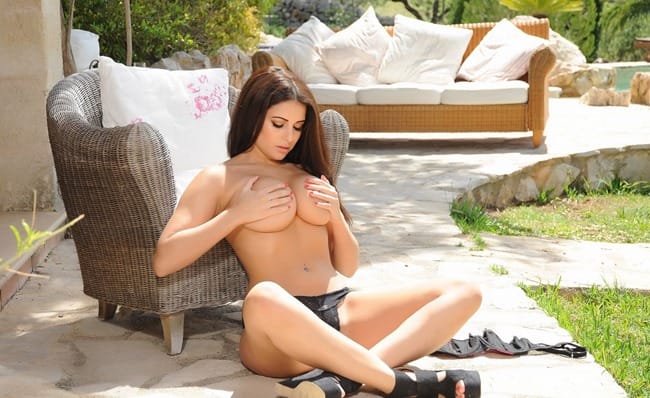 Charlotte Springer Strips In The Garden
We all know by now how much this porn babe adores her fun in the sun and her love for pink is also well documented in our super hot sessions. This British vixen is drop dead gorgeous and curves just don't come any hotter than this, she's all ready to go for a roll in the grass and you're the man she wants to do it with. At first we get the sensual sight of her hotness in a curve hugging floral top and lacy pink thongs of course, as she goes for some erotic pirouettes showing off her toothsome figure before going for a most alluring stripping session.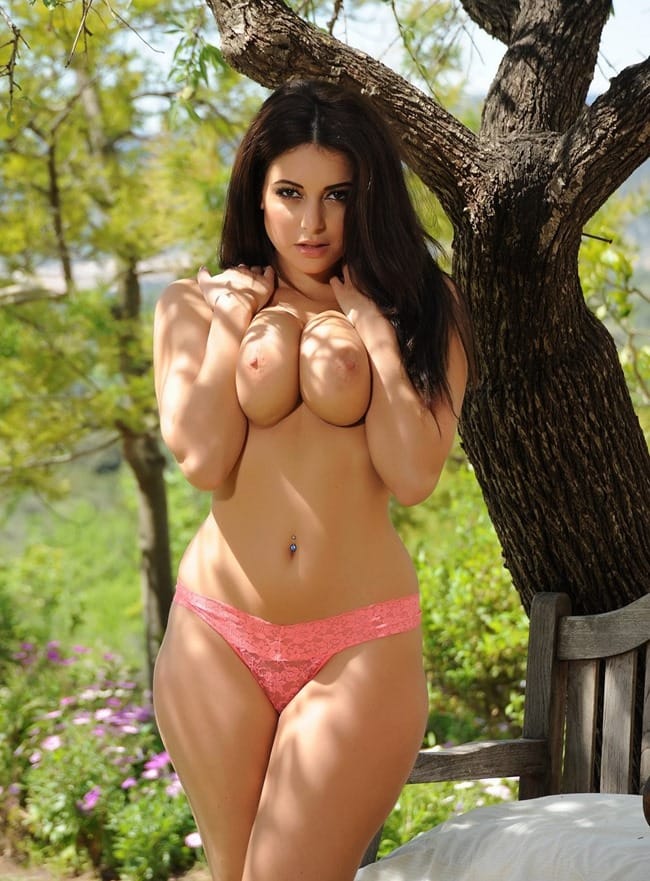 This might just be the perfect chance to watch this glorious brunette babe running her masterful hands all over the luscious contours of her incredible bod, and going for some fine booty twerking while she's at it. She just knows it's time to let her soft round, all natural brazen titts enjoy the feel of the cool air all bare, perking up those tight little nipples as well. She doesn't wanna keep us guessing so she removes her g-string panties flashing her totally naked and completely horny cunt. Hope you all enjoy it, and we'll see you next with more fresh and enticing episodes. Until then, visit the site and see some beautiful amateur chicks showing off their impressive bodies!
Strips From Black Lingerie
Lovely Charlotte Springer has a big and naughty smile on her gorgeous face. Her hair is dark chestnut, all long and silky cascading most sensuously around her shoulders making her look every bit the tantalizing siren with all men wrapped around her little finger. In her lacy lingerie with turquoise garters and racy black stockings, she's a true beauty all the way, bathing in her admirers lusty attention, oh so seductive and arousing. This risqué outfit clings to her voluptuous curves just right, emphasizing her fleshy round juggs, barely covering up her hard nipples and of course her creamy hips and hot jiggly buns as well.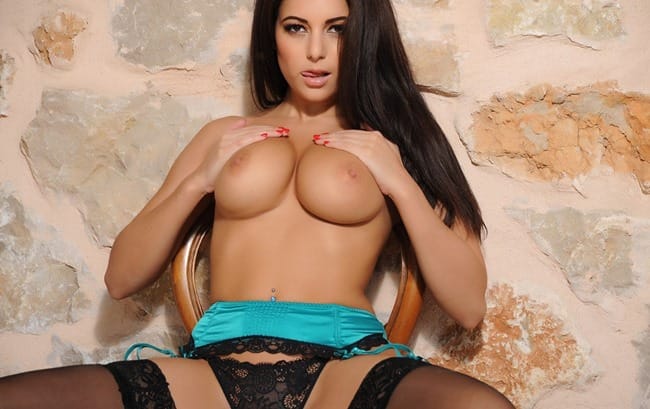 But this sexy honey loves to do more than just hang out in provocative lingerie pieces, she needs to show off her monster titties and their rosy nipples, and goes on exposing one and the other, bestowing a big juicy smile on you with her tongue rolling over her plump watery lips, all while slipping her bra straps away so you get to enjoy her busty goods in all their glory. This babe aches to get all topless, playing with her boobs until you can't think about anything else but sticking your hard shaft between them. Our playful little slut enjoys a good tease and she'll push and squeeze and bounce those tatas until you can barely contain yourself. She just wants to be your wet dream, and she'd be the best kind of dream you've ever had! Enjoy it all! If you wanna see another gorgeous model massaging her perfect tits, join the Francine Dee website and have fun!
The beautiful Charlotte Springer is here to show off her beauty!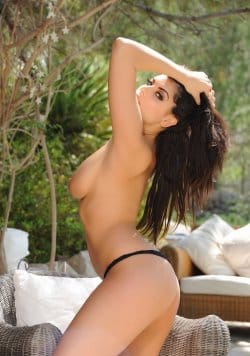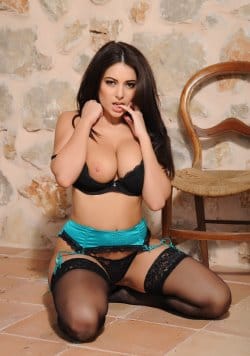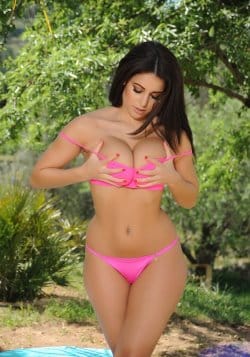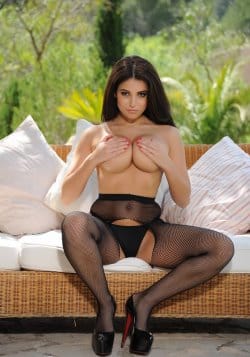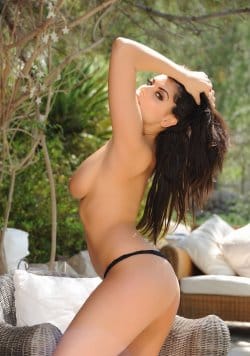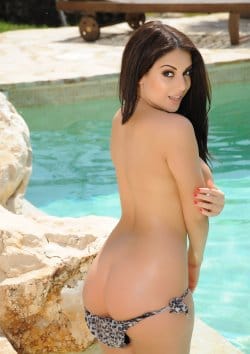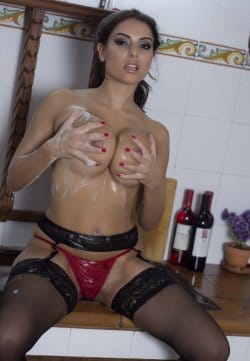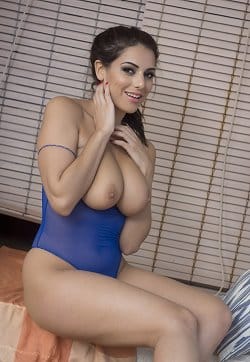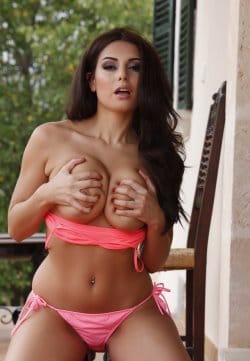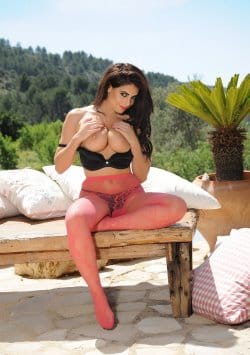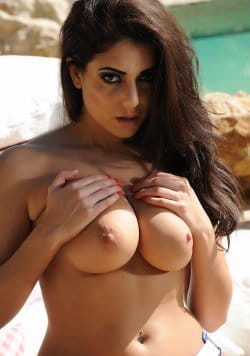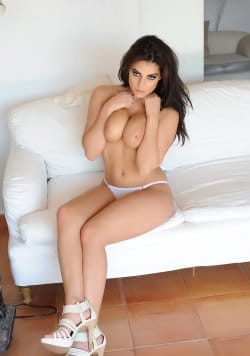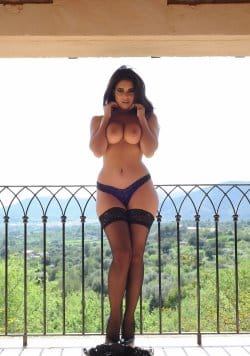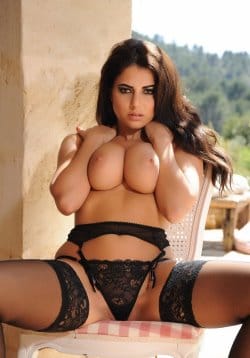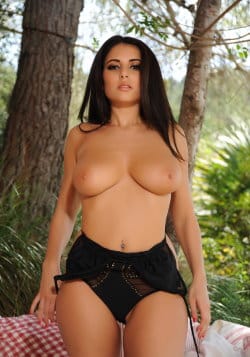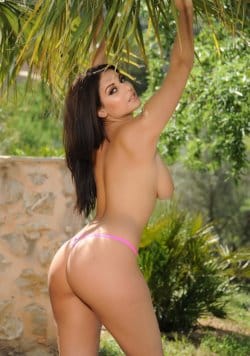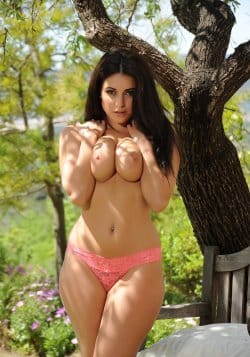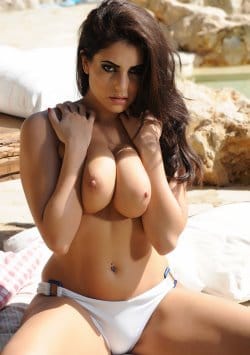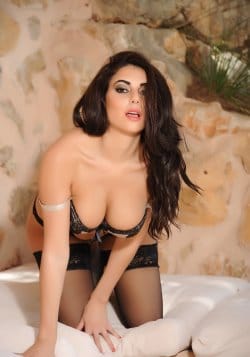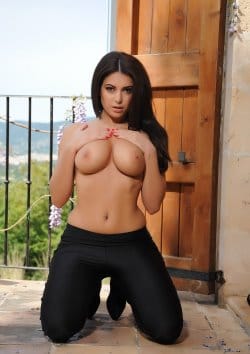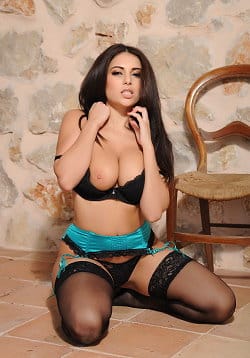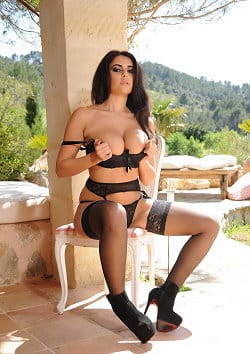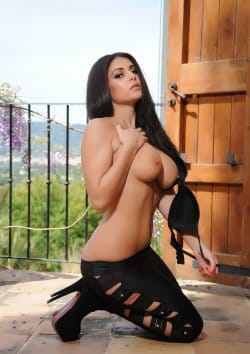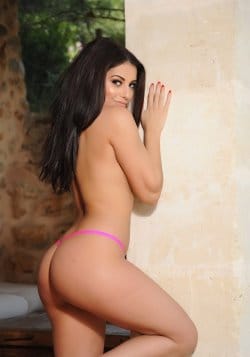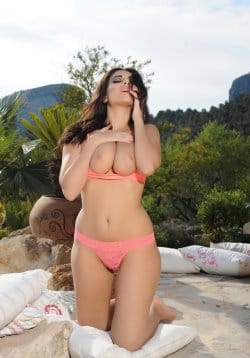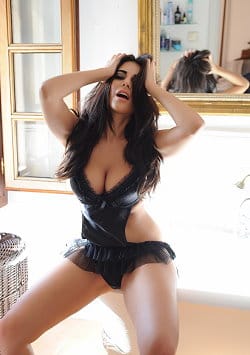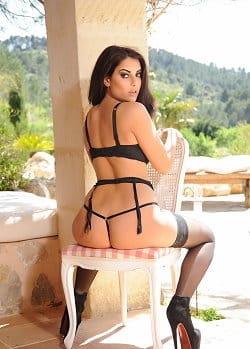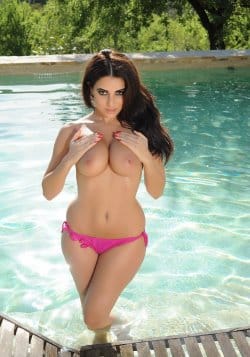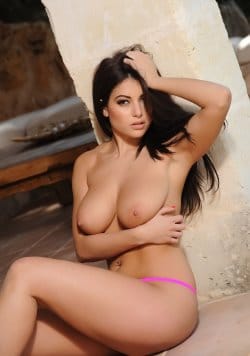 Sexy Black Bodysuit
Charlotte Springer is one of those babes that just knows how hot she is and she's got attitude and confidence oozing from her every pore, which is most alluring and a major turn-on. This dark haired honey is one of the sexiest curvaceous chicks in the biz, there's no denying it and this session is the perfect proof of that. She's wearing a fancy black bodysuit and sky high booties and our little minx finds it super hot that it barely holds her huge titties in place. Our slutty gal gets her grove one, busting some sexy provocative moves to get you all boned up and ready, strutting her voluptuous goddess-like contours, arching her back and spreading her long legs apart.
She gets to take her tiny suit off and goes about it real slow, teasing, knowing that you can't wait to see if her juicy knockers are as luscious as you imagine them to be. At the sight of those big plush and milky titts, it's hard to resist the urge to get your hands and lips all over them. This nude babe is definitely one of the sexiest chicks from the internet! The dirty little vamp has a kinky way of having fun, bouncing her lush puppies for you, perfectly aware of her seductive effect. Enjoy!