BBW Milf – Free Videos And Pics From BBWMilf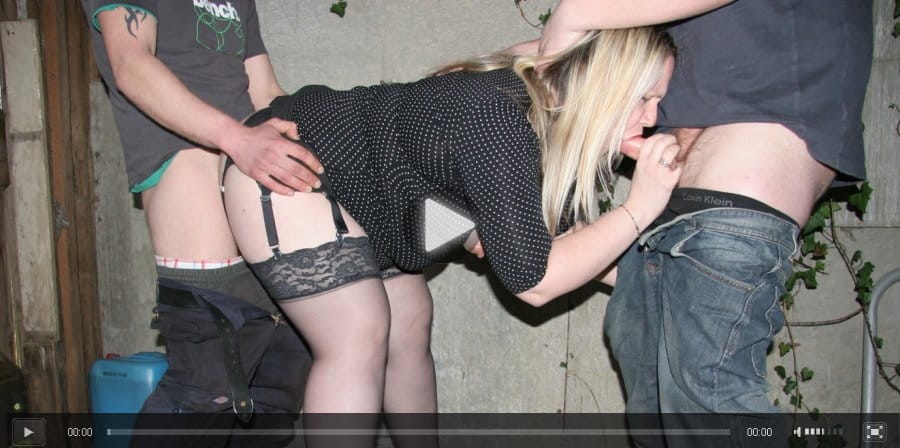 BBW Milf Louise teasing
We have our curvy BBW Milf, Louise ready to entertain us today, with her naughty ways and provocative attitude. This big gal is known for her love for fat cocks, but when there's none around she's more than capable to take these lusty matters into her own hands and please her constantly craving pussy like nobody's business. So make yourself comfortable, and let's see her in full action!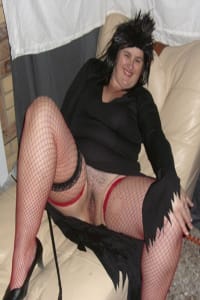 As the camera guy steps in we have this randy babe lounging on her cream leather couch wearing a kinky black outfit and red fishnet stockings. She's got a cheeky devil kinda smile on that round face of hers and that's before she makes her panties disappear and expose her hungry cunt in all its glory. The plump gal loves the attention and knowing someone is watching her do all sorts of nasty things, gets her oh so aroused and tingling. All in the mood and ready, she takes her masterful hands down to her cooch, toying with her already moist pussy lips, squeezing them together and going for some nice clit hammering. She's all flushed and ecstatic, and slides two of her fingers inside her snatch like you would your spoon in a hot lava cake. What's coming next you can all guess, but it's more fun to just check it out!
Sexy Louise getting naughty outdoors
This juicy BBW Milf porn episode we have a full shaped blonde babe going for some kinky fun in the sun. Our voluptuous fox loves doing forbidden things in public, the thought of getting caught is super exciting and most exhilarating and we don't even need to mention her alluring and provocative self confidence. It's the perfect recipe for a wild afternoon, so let's not waste any more precious time and enjoy her naughtiness!
So she's out for a relaxing stroll in the park and she suddenly has this little urge to go wild and dirty while she's there with not too many people around and taking her pants off is the most natural thing to do, of course. Her panties are about to go down next, giving us a real nice view of her randy milky cunt, and while she's at it, a sexy posing session, half naked is the perfect teasing move for all of us. She can really work that plump luxurious body on camera, no inhibitions in sight. Enjoy these oh so inviting up close hot scenes with our feisty blondie.
Louise teasing in red lingerie
Our feisty blonde Louise is back in action for you, and it's a more cozy sexy time as we get to enjoy her in the intimacy of her own bedroom. The curvy seductress has her fleshy goods displayed in a full fiery red lingerie set, matching stockings and heels included. She's showing off her true colors, because she may seem a little innocent, her pretty face giving away a shy vibe at times, but she's a real kinkiness pro, mastering the art of the tease, posing and stripping without inhibitions.
And that is exactly what she does next, taking off every piece of her sexy outfit, dropping her heels first, running her hands all over her full figure, caressing her plump bod and stroking her lush suckable titts. Those boobs are the first assets to go nude as she takes her bra off and sets them free so she could have a jolly good fun squeezing them together, trying to cup them in her hands and tickling her rosy nipples until getting them hard like little candies. It's not long until she's pantyless flaunting her chubby ass and giving away a nice shot of her lusty pink pussy. Have fun, guys!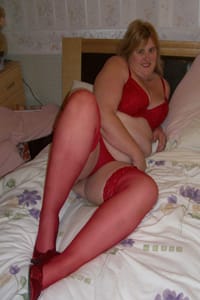 Flashing boobs outdoors
We bring you a wild BBW Milf porn adventure featuring our favorite chubby blonde. Another nice day out there, so it's another perfect opportunity for our crazy babe to turn her exhibitionist ways into a steaming hot episode for you to enjoy. It seems our curvy lady is just asking for trouble, the sexy kind that is, not missing out on any chance of exposing her voluptuous goods for the whole world to see, and even if there aren't any strangers around whom she can see, that doesn't mean she can't be seen.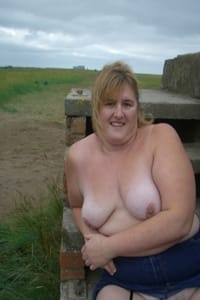 That's what makes it a whole lot more exciting, good ol' dogging fun to get her senses and pussy all tingling. She's in a super cheerful mood, so she decides to take her shirt off and celebrate it by flaunting her bouncy knockers, getting her nipples all stiff as the cool wind blows. Lifting up her skirt and flashing her snatch is part of her slutty treat, and we so love her for it! If you fancy more of our curvy bad gal in action just check out BBW Milf taking a trip and we'll even bring you some more next. Enjoy it!
Time for a nice long bath
Good to have you for our latest BBW Milf porn episode as we are bringing you our naughty blonde MILF all wet. What better way to spend an afternoon than in a relaxing and comforting bath, and if your admirers get to enjoy it with you, handling their hard cocks, then it's twice the fun to do it! Our plump cheeky one gets stark naked in no time and she's just ready to dive right in that lush foam. She just loves the feeling of her fleshy curves all drenched and of course toying with her slippery tatas, getting them covered in bubbles and teasing us all.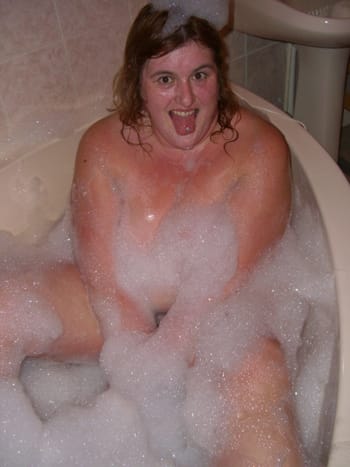 You can tell she knows exactly what she's doing, covering up all the right spots but leaving enough exposed to entice us, and her fun and playful disposition is the most alluring thing ever. Her skin is all flushed from the steamy heat, and she takes out her naughty pierced tongue, another perfect example of her always bubbly attitude. Posing and playing in the water is all nice, but it does get her all hot and bothered soon enough, and taking care of her needs is always a must for our randy tart. With her rosy nipples stiff like arrows, already hinting for cum time, she gives her pussy all the attention it needs, stroking and caressing it, hammering her clitty and going for some wild finger fucking motions all until she gets that mind-blowing orgasm she's been craving for. Have fun!
BBW Louise ready for a fuck
In this scene we get to enjoy our BBW Milf getting ready for a wild night out. It's just that all this dressing up turns our sexy plump blondie all horny and oh so ready for some hot action. She gets her astounding desirable full figure, all clad in a racy black satin bodysuit, tall kinky boots, all accessorized with red feathers. This always eager MILF sure knows how to spice things up! So much it even has an arousing effect on herself, and you get to see her run her naughty feathers all over her chubby contours, tickling every inch of her body, just getting more worked up and ready to strip down naked.
She proceeds in doing so, untying her pink ribbon and baring her tantalizing cleavage. It's fun time with boobs, caressing and stroking them, gets her all glowing, radiating warmth and sexual heat, and her toothsome nipples also love the attention, turning as stiff as they've ever been. She's a real seductress with every move she makes, and exposing her nude cunt next, is bound to get our blood pressure rising!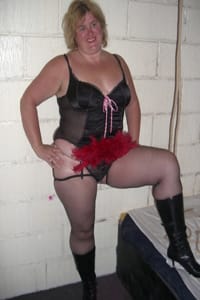 Horny Milf is ready to play
We have gorgeous Louise in our BBW Milf videos and pics of the day, running her hotness in front of the camera going on a real teasing spree in her racy outfit. She's wearing a tartan print bodysuit and a black top over it, kinky black stockings, garter belt included, and to top it all of some sort of furry hat. It's a little strange looking piece of her wardrobe, but luckily she'll take it all off soon enough, so it's a win in the end.
Her daring décolletage gives us a nice front seat view of her plump set of funbags spilling out of her red suit and her spread legs, a hint of her puffy snatch. Like we mentioned before, her dressing game leaves a lot to be desired so we're anxious for her busty mature hotness all nude, and like the nice slutty vixen that she is, she's not gonna make us wait any longer. The clothes are gone like we hoped, and her amazing fat body, fleshy rump and the gem of her jewels, her tingling wet pussy, are all bare, ready to be fondled and just craving for pleasure. Have fun, everyone!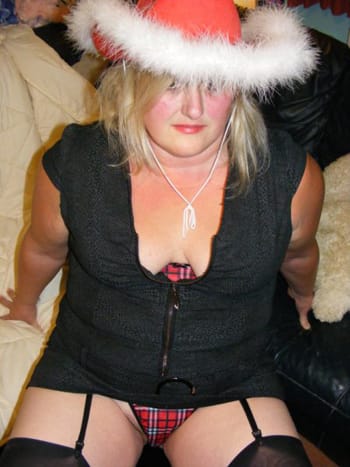 BBWMilf – Expecting company
The star of our BBW Milf porn session is a slutty curvy lady, with a fiery hot temperament and most sensual attitude, just keeping men on their toes. We find her dressing up for a sexy encounter, getting her chubby contours all enticing in a black and white silky babydoll, kinky hosiery and red shoes. Her man is one lucky guy, that's for sure! But not to despair as we know our lusty blondie likes to keep things spiced up and until her dude arrives she's gonna give us her delish voluptuousness on a platter.
Watching this foxy honey strutting her fleshy assets in front of the camera is unexpectedly arousing, she's so hot and desirable all you have to do is take a look. Her wiggly round ass is just asking for some naughty spanking, her creamy titts for a good squeeze and fondle, and her constantly hungry snatch that got us here in the first place, will sure love some deep pounding, no doubt. You'd love to join her wouldn't you? Trying all sorts or incredible fuck moves, shoving your hard cock up her fat pussy and just watch her beg for more!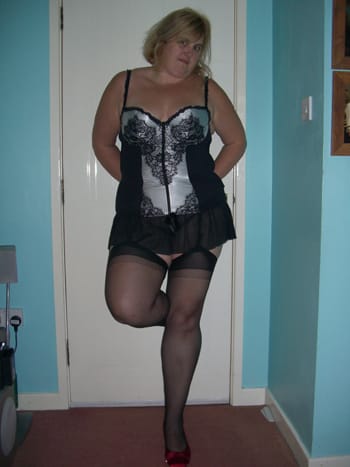 BBW Milf taking a trip
Our amazing slutty Louise is taking things to a whole new level ok kinkiness and is ready to entertain us in these next hot scenes as we get to see her on a wild naked drive. She was more than thrilled to take a friend's convertible for a test drive, and while she was at it, decided to get all creative and naughty. Now that's the bubbly babe we all know and love! With her dark sunnies on, silky blonde hair flowing in the wind, and wearing a curve hugging floral dress, this looks like the perfect time for a little exhibitionism. A little dangerous while driving of course, but our gal loves a good challenge.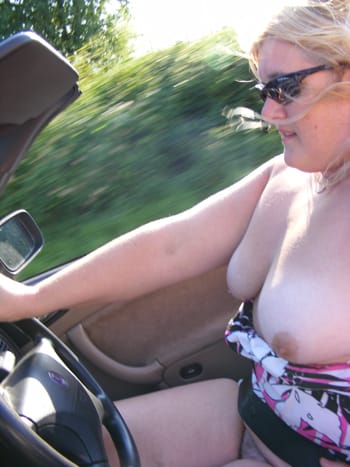 The fact that she's not wearing any panties or bra today, also takes things a little more on the achievable side. She slips off one strap of her dress at first and you can see her brazen milky cans taking a peek out of her robe, while she's giving away a most seductive and mischievous smile. With the second one, that juicy décolletage is fully exposed and she's taking one hand off the wheel to caress and squeeze them as her peachy buds are already hard and pointy against the blowing wind. Next, it's time for lifting her skirt up and it's a no brainer for this horny chick, flashing her glorious cunt, for anyone who's driving past her to see. Enjoy it everyone, and we'll be here with fresh content. Have fun!
Nice day at the beach
Most erotic BBW Milf porn update, staring our naughty mature Louise, enjoying some hot fun at the beach. A day in the sun was the plan for today, and all she wants is to roll in the hot sand, strike a pose in the nude, giving you a full view of her fat ass and creamy hooters, and of course get a good tan on. Her milky soft skin hasn't been tickled by the sun in a while, and the same thing can be said about her peachy snatch, so it's no wonder nasty ideas come to her dirty little mind.
We all know by know this randy slut loves being watched, she actually craves the attention and what better place for it than this. Watch her spreading her fleshy legs apart, with her hands placed in front of her slit, trying to tease and torment us a little first, because we know just how much she enjoys exposing every inch of her plump bod in a provocative manner. Handling her breasts is right on the menu, squeezing them together like in a kiss, leaving her pussy bare for us to enjoy and fantasize!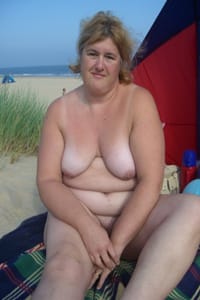 Hotel Gangbang
Your favorite BBW MILF, Rachel, is here and this time you are in for a treat because the slutty mature has a hotel gangbang for you. We're sure you guys don't want to miss seeing her getting her pussy fucked by three guys. You gotta love these MILFs, you can't find something like this elsewhere. For more MILF sex scene you can check out to see more 50 plus matures getting their pussies fucked in hardcore scenes. The hotel gangbang wasn't planned but somehow these things happen a lot when Rachel's around she must be really lucky.
She was trying to get home and was looking for a ride home, to avoid a really long walk to her place in the middle of the night. She saw this car stopping with three guys in it, the guys offered to take her home, but when they almost got there Rachel asked the guys if they are in the mood for a night ride. It was clear what she was asking for so the guys took her to the closest hotel to please the cock hungry MILF. So you can say that she actually asks for it, at least this time she did. Rachel took care of the guys one by one and she sucked off all of the dicks in the room the guy got to stuff the horny MILF, one was busy with that filthy mouth and the other guy was pounding her pussy. Enjoy it and stay tuned for more!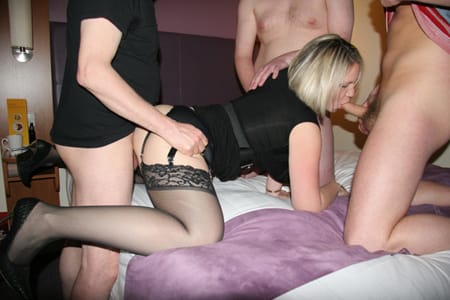 Midnight Fuck
The best thing you could ask for gotta be a BBW MILF. Just look at the one in the preview below getting fucked in the middle of the night by a guy younger than her. We've always enjoyed seeing a younger guy fucking a hot MILF. There's something about this combination that makes it so hot and so hard to resist for all of us. You can also find that on www.allkindsofgirls.org where you are going to find a lot of hot girls getting their wet pussies fucked in the best scenes. We don't know if you are going to find midnight fuck though. The MILF needed a ride home from work, she lost the last bus and it was a really long way to get home.
That must've been her lucky night cause right before she started walking this guy offered her a ride home. He overheard her speaking on the phone so he wanted to help her out, things didn't go that way. In the middle of their ride the horny MILF couldn't keep her hands to herself and she started messing around with the younger guy. Having her rubbing her leg and grabbing him by the crotch maed him stop the car in the little forest next to the door and drive in a more private place. Once the car stopped the MILF took him outside and there you have her getting fucked in the middle of no where. This was a really lucky day for him!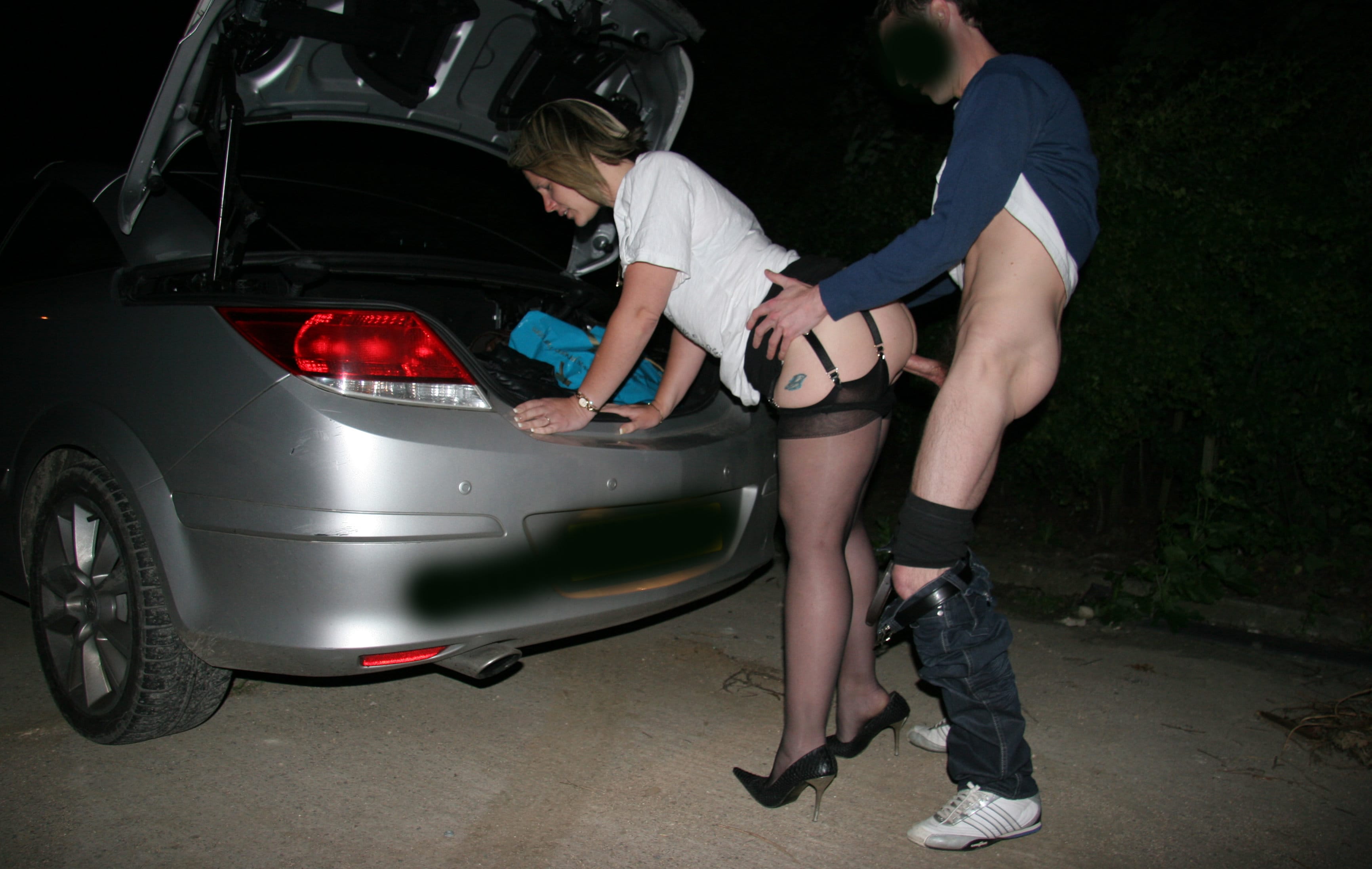 Naughty Milf gets naked outdoors
We all know by now just how much this BBW Milf loves her kinky fun out in the open, as we've got that well documented in our previous sessions. This time, chubby Louise takes her stripping talents to the countryside, thinking her Rubenesque figure would fit right in. She takes her clothes off masterfully like always and we realize that there might be some kinky truth to what she's thinking if we take a good look at her full curvaceous contours, milky white skin, ample boobies and fat ass.
The lusty way she's working that pose is also a big plus. It could be one of her best scenes ever, as we get to see her completely naked from the moment the camera starts to roll, with a confident and alluring smile on her face, always hinting for some naughtiness. She lets her melons and always eager cooch feel of the cool air caressing them, perking up her rosy nipples as well. If you guys wanna see it all in full detail, you'll just have to check out the complete scene. Enjoy it!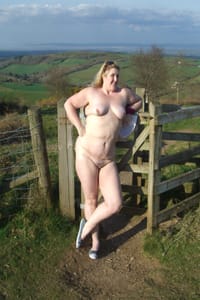 BBW MILF Pics